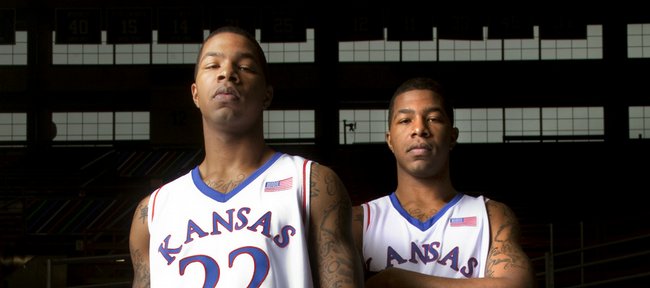 Marcus Morris is thankful Tuesday's Kansas University-Memphis basketball game will be played at a neutral site in St. Louis, not the Tigers' 21,165-seat FedEx Forum.
"I know they'd boo us. That's why it's not there. I'm happy it's not there," Morris said of Memphis.
He and twin brother Markieff were the toast of Tennessee in November of 2006 when the seniors at Philadelphia Prep Charter High signed letters of intent with coach John Calipari's Memphis program.
Their popularity faded when they asked for — and were granted — releases from their letters in September of 2007.
After re-opening their recruitment, they chose KU over Villanova and St. John's in October of '07.
"If it wasn't at a neutral site, I think it should be here because we did beat them in the championship (game)," Marcus Morris said of the 2008 NCAA title contest, played when the twins were at APEX Academies, a prep school in New Jersey.
The title game rematch between the No. 1-ranked Jayhawks and the unranked Tigers is 9 p.m. Tuesday at Scottrade Center.
"It seems like a long time ago," Marcus Morris said of the time he and Markieff were committed to the Tigers. "I feel I'm getting a lot older quick. I haven't talked to any of those guys (on Memphis' team). I had a good relationship with a few of them.
"I knew Jeff Robinson. He transferred to Seton Hall (last January). I was real close to Derek Kellogg (former Memphis assistant), who is at UMass and beat us last year. I talked to him not too long after that game," Marcus added.
Markieff indicated he knows "Kemp and Mack and Pierre. I think that's it."
He was referring to Willie Kemp, Doneal Mack and Pierre Henderson-Niles, coincidentally the only three Tigers who played in the '08 title game, won by KU, 75-68 in overtime.
"They are nice guys, down-to-earth," Markieff added.
Marcus Morris said the twins first were attracted to Memphis because of personable coach John Calipari and his system.
Calipari last spring moved on to take over Kentucky's program.
"I wish coach Cal was there so I could see him. I did get along with coach Cal well," Marcus Morris said. "The style of play (dribble drive motion offense) was the best thing for me. I don't think I'd ever seen anybody play like that in college. It's, 'You take your man. You take your man.' That style excites players coming out of high school."
It's an offense that stresses attacking the rim and/or shooting wide-open jumpers.
"I liked him (Calipari) and the assistant coaches, too. We just felt Kansas was the best for us," Markieff Morris said.
The twins never really have elaborated on what soured them on Memphis. It has been speculated that the two were concerned when Memphis began recruiting 6-10 Angel Garcia, who played the same position.
Calipari first defused the situation when he made a trip from Memphis to Philly to talk to the twins in July of '07. They reaffirmed their commitment to Memphis at the time, but decommitted for good shortly after.
"We weren't sure about a lot of stuff," Markieff Morris said. "Me, my brother and mom … we weren't all into it. We had to find somewhere that was like home."
"We were not 100 percent sure," Marcus noted. "I didn't have a better relationship with Cal than I did with coach (Bill) Self and the other coaches. I wouldn't trade Kansas for any place."
Markieff said he didn't feel any extra incentive playing Memphis.
"I play my same game every game. I look at them like any other team," he said.
Pastner a stellar recruiter: First-year Memphis coach Josh Pastner is off to a good start in recruiting. He's signed No. 8 Jelan Kendrick (6-6, Marietta, Ga.); No. 11-ranked Will Barton (6-6, Baltimore); No. 12 Joe Jackson (5-11, Memphis); and No. 66 Chris Crawford (6-4, Memphis).
Knight update: Brandon Knight, a 6-3 guard from Pine Crest High in Ft. Lauderdale, Fla., visited Florida over the weekend. His dad, Efrem, told Rivals.com that he does not expect his son to sign before making an official visit to Miami of Florida.
Knight, who is Rivals.com's No. 1-rated player, has visited KU, Kentucky, UConn and Florida.
"We don't have a visit to Miami-FL set yet, but we know it's going to happen," Efren told Rivals.com, noting "signing early probably isn't an option."
More like this story on KUsports.com