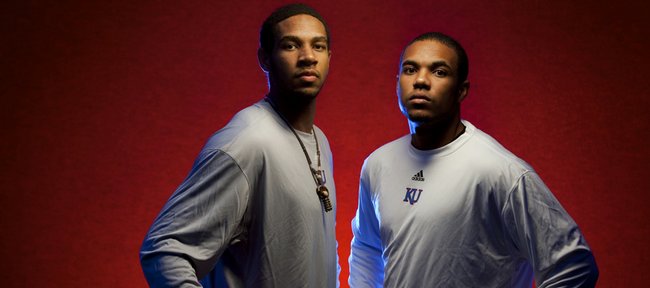 Kansas University freshman basketball guard C.J. Henry said Monday afternoon he's been cleared to play in Tuesday's game against his former school, Memphis.
Considering the 6-foot-4 Henry has only practiced the past couple days — after missing two weeks of workouts because of a swollen right knee — chances are he won't see much, if any, playing time in the 9 p.m. game at Scottrade Center in St. Louis.
"I feel good. I feel healthy," Henry said before Monday's practice. "I missed two weeks so it's all up to coach (Bill) Self. If we need me, I'll be in there, but my first game back ... nationally televised game ... I'm not expecting to get major minutes tomorrow night because that wouldn't be right. It wouldn't be fair to my teammates. I may not be ready, just conditioning wise. I think I'm fairly ready."
KU coach Self said the likelihood is Henry would not play Tuesday.
"I would probably guess, 'No,''' Self said. "He still hasn't made it through a (full) practice yet. He's feeling a little bit better. I don't know if I'll put him out there unless I feel he's close to being 100 percent."
Henry said he's tried to "stay positive" while battling his sore knee.
"I try to support my other teammates, help them do well if I'm not able to be out there," Henry said. "Stuff happens for a reason. It's kind of ironic I'm cleared to play coming back against Memphis, the school I went to last year, but I'm taking it day by day."
Releford: Red-shirt was "a very tough decision to make"
KU sophomore Travis Releford commented Monday for the first time on his decision to red-shirt the season:
"It was tough, a very tough decision to make," said Releford, who said he made the decision last Tuesday, waiting until Friday to announce it. "I feel I made the right decision. I just sat down, talked to my family and coaches. I just figured it'd be the best decision for me this year. I have another year to get better and improve on my game."
He said one of his teammates helped in the process.
"I talked with Brady Morningstar. He said it was one of the best decisions he's made," Releford said of Morningstar, who red-shirted the national title season. "A lot of people have made me feel comfortable about this decision. I think I'll make an impact on the team next year for sure."
More like this story on KUsports.com