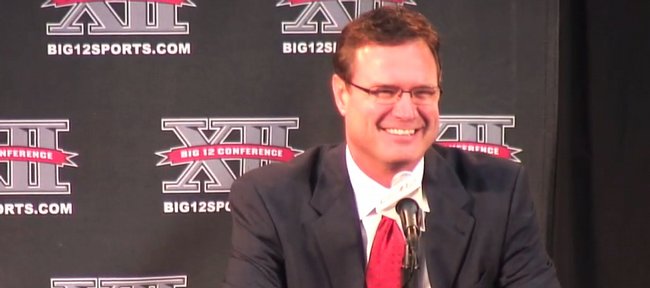 Memphis basketball coach Josh Pastner, who had used up his allotted 10 minutes on Saturday morning's Hall of Fame Classic media teleconference, wasn't about to hang up the phone.
Not when he heard Kansas University's Bill Self — counterpart in Tuesday night's KU-U of M game — connecting on another line.
"I want to say this. I've got to say this. I said this last night to a gentleman from the St. Louis Dispatch, and I mean this. Coach Self … obviously, the guy is going to be in the Hall of Fame" gushed first-year Tigers' coach Pastner. "The guy has won a championship. I think he's won like 100 games (98) in the last three years, a ridiculous record.
"I can call him up and ask him questions. To have an opportunity to coach against a guy I respect and is a future Hall of Famer, internally for me, is an unbelievable opportunity, one of those cool things being a part of college basketball."
And that little speech put the finishing touches on a couple of firsts.
• The 32-year-old Pastner's first national media teleconference.
• And the first time KU coach Self, at the ripe young age of 46, had the tables turned and was referred to in hushed, respectful tones usually reserved for somebody near the end of his career, not in the middle.
"I thought Josh read that exactly the way I'd written it," Self joked, adding, "Cal (former coach John Calipari) may be gone, but who has had a better recruiting class (so far for 2010) based on commitments than what Josh has done?
"They will be right back with a national top-five, top-10 ranking by next year. That's pretty good when you are starting a rebuilding phase. We think they'll be good this year and great in the future."
And so concluded the mutual-admiration-society portion of the conference call.
Some specifics regarding the 9 p.m. contest in St. Louis' Scottrade Center also were discussed, including the obvious fact this is a rematch of the 2008 national title game, won by KU, 75-68, in overtime.
"We only return two who played in that game," Self said of Sherron Collins and Cole Aldrich. "They have three or four (Pierre Henderson-Niles, Willie Kemp, Doneal Mack). It's two different teams."
Both teams are off to identical starts. The No. 1-ranked Jayhawks pounded Hofstra, 101-65, while Memphis — which is expected to struggle some this year after Calipari's departure for Kentucky and the loss of several players and recruits — devoured Jackson State, 82-53, Friday night in home games for both teams.
"For us, what we have tried to say is, 'Hey, we are the underdog.' That's the facts. I told everybody here, this is the situation. The last four years, the success at Memphis was unmatched, never done in the history of the game," Pastner said of an NCAA-record 137 victories.
"I said, 'This year, everybody is saying this is the year to get Memphis.' We are the underdog, but still have a huge bull's-eye. People are saying, 'Payback time.'
"We have to play nearly a perfect game, scrap, be as high-energy as we can. If we do that, we give ourselves a chance. We're not picked to win the conference (USA). Some polls have us fourth in the league. In a majority of games, we'll be the underdog. I'm not a big mind (games) player. This is what we have to focus on, leaving it all on the floor."
Memphis in its opener was led by 6-foot-5 sophomore Duke transfer Elliot Williams, who scored 19 points in 33 minutes. Will Coleman, 6-9 out of Miami Dade College, scored 16 points and grabbed 10 rebounds, while 6-9 sophomore forward Wesley Witherspoon had 13 points and four boards.
"I am only 799 behind coach Boeheim," Pastner said, jokingly comparing his first victory to Syracuse's Jim Boeheim, who won No. 800 on Monday night. "It was a good game. Our guys played well, played hard."
KU was paced by Xavier Henry and Sherron Collins, who had 27 and 23, respectively.
"Our team looked OK," Self said. "We made shots. When you make shots, it covers a lot of weaknesses. We're doing OK. We don't guard or rebound yet. Hopefully we can get to that point."
The game films showed Henry, who originally committed to Memphis before switching after Calipari's departure for Kentucky, played as well as Self thought Friday night.
"Xavier, as all Memphis people know when he was recruited, has a chance to be a really good player," Self said. "He's been pretty good so far. He wants to please so much and do what he feels we want him to do. Last night was as relaxed as he's been. He will not get 27 every night, but has the capability of getting it every night."
Self said that Xavier's brother, Memphis transfer, C.J. (swollen right knee), could play Tuesday night, but is definitely questionable since he has just recently returned to practice.
More like this story on KUsports.com