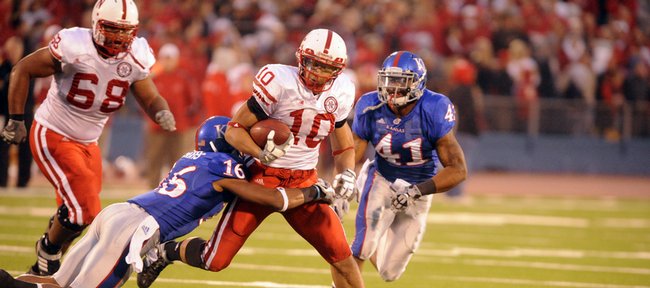 FINAL: NU defeats KU, 31-17
The final seconds are filled with chants of "Go Big Red!" reverberating across Memorial Stadium.
After a draw play to Opurum, the clock runs out. KU has the cellar of the Big 12 North all to itself after its fifth conference loss.
NU 31/KU 17 — 29 seconds left in 4th quarter
On third-and-10, KU can't stop a simple pitch play to the right side. Helu gets to the corner and breaks free untouched for 30 yards down the right sideline. The Huskers were going conservative and were content to punt it away, and KU's defense wouldn't even accept the invitation.
Helu runs for nine more yards, and Dontrayevous Robinson checks in to pick up four yards and the first down.
Three plays later, NU puts the exclamation point on its win, as on third-and-4, Helu runs through a huge hole up the middle before being slingshoted into the end zone for a TD.
NU 24/KU 17 — 3:16 left in 4th quarter
Reesing overthrows Briscoe down the field, and Meier can't hold on to a pass over the middle. NU brings pressure on third down, and Reesing dumps off to Opurum, who loses two yards. Rojas booms a 56-yard punt that, as a bonus, lands out of bounds. NU takes over at its own 26.
Helu runs for four yards to the left on first down, then six yards to the left on second down. It's starting to look like last week all over again.
Helu grinds for a yard up the middle, and Harris knocks him down for a one-yard loss on second down.
KU calls its first timeout of the second half.
NU 24/KU 17 — 6:19 left in 4th quarter
Well, that's one way to lose momentum.
Paul runs through a hole on the kickoff return, going 44 yards all the way to the KU 36. Add on a five-yard off sides penalty on KU, and NU starts its drive in Henery's field-goal range.
KU's fans rise to the occasion, though, as NU is whistled for a false start before first down. After a 1-yard Helu run, Tharp knocks away a pass deep downfield on second down. On third-and-14, Thornton breaks up a screen pass, but he makes a huge mistake, grabbing a fistful of facemask. That play never would have gone for a first down, but 15 yards and a penalty keeps NU's drive going.
The next play, NU cashes in, as Helu runs 20 yards around the right side for a touchdown. KU can't stop the two-point conversion either, as Lee finds Paul in the back of the end zone.
The Huskers need just 64 seconds to rebuild a touchdown lead.
And just when KU's offense shows some life in a game, the KU defense gives up 24 points to a suspect offense.
KU 17/NU 16 — 7:34 left in 4th quarter
KU tries a reverse on the kickoff return, and though Wilson tries to get to the outside, he fails. NU corrals him at the KU 11.
Reesing rolls to his right and fires a strike to Meier, who takes it 19 yards upfield to the KU 30.
KU has the perfect play called at the perfect time, and Reesing delivers a perfect ball deep down the field to Sharp on a wheel route. The ball hits Sharp square in the hands before he drops it. That would have been a 40-plus yard gain for KU if he holds on.
Reesing feels pressure and throws the ball away on second down, and on third-and-10, Meier can't hold onto a pass over the middle, but NU's Dejon Gomes is flagged for defensive pass interference, giving KU 10 yards and a new set of downs.
Reesing once again has success rolling to his right, flipping it to Meier, who goes up high to make a 15-yard reception.
Opurum gains six yards a pop on two consecutive carries up the middle, and KU has advanced it to the NU 33.
Briscoe takes a reverse, but NU's defensive end Barry Turner, with blazing speed, runs down Briscoe from behind for a one-yard loss. With great protection, Reesing finds Meier on a slant for 11 yards, and third-and-1 belongs to Opurum, who drives forward for two yards.
The old magic returns for one more play, as Reesing slings a pass over the middle to Briscoe, who charges 21 yards into the end zone for a TD. Reesing emphatically pumps his fist in celebration before leaping up to chest-bump both Jeremiah Hatch and Briscoe.
Branstetter's all-important extra point sails through, and KU has a late lead.
NU 16/KU 10 — 11:53 left in 4th quarter
Harris tackles Helu for a two-yard loss on first down, and the KU run defense has been much better with penetration this game as compared to the KSU game, when Daniel Thomas had no negative runs.
After an incompletion, Lee calls an audible to run the option and is tackled after a one-yard gain on third-and-12.
Henery makes a 38-yard field-goal attempt, and NU extends its lead.
NU 13/KU 10 — 13:28 left in 4th quarter
There's been a Jamal Greene sighting at Memorial Stadium, as he bursts through the line and takes down Helu for a three-yard loss. Where has Greene been all year?
Helu gains six on a sweep right, and on third-and-7, McNeill catches a ball for five yards. Unfortunately for the Jayhawks, they still can't catch a break, as Greene is whistled for a roughing-the-passer penalty that gives the Huskers an automatic first down. After watching the replay, the call was iffy at best, as Greene's hit wasn't vicious or extremely late. The penalty moves it to the KU 20.
NU 13/KU 10 — End of 3rd quarter
KU forces a third-and-5, but a huge hole opens up for Lee in the middle of the field, and he sprints 14 yards for an easy first down.
Completions of 2 and 7 by Lee set up a third-and-1, and Lee leans forward on a QB keeper to pick up a new set of downs at the KU 43.
NU 13/KU 10 — 2:43 left in 3rd quarter
Reesing shuffles to the left, shuffles to the right, then finds a hole up the middle. With both arms latched around the ball, Reesing bolts forward for 17 yards and a first down.
Reesing's first-down pass is deflected, and on second down, McDougald can't hold on to a screen pass that led him too far. Wilson drops a four-yard pass on third-and-10, and KU has decided to abandon a running game that was working right before the half.
Rojas' punt rolls out of bounds at the NU 28.
NU 13/KU 10 — 3:42 left in 3rd quarter
NU's Brandon Kinnie brings in a nice, one-handed catch on the sideline for eight yards, but Maxwell Onyegbule follows with a sack on third down to halt the drive.
Henery puts a 34-yard field-goal attempt through, and a 13-play, 79-yard drive gives NU the lead.
NU 10/KU 10 — 4:55 left in 3rd quarter
NU continues its success with play-action bootlegs, and tight end Mike McNeill stops dead in his tracks to avoid Stuckey before advancing for 10 yards and a first down.
McNeill is the target again on third-and-3, as he holds on to a tough catch for a seven-yard gain to the NU 44.
Paul once again strikes for a big play deep down the field, as Lee finds him for a 45-yard reception all the way down to the KU 11. Chris Harris was beat on the play in single coverage.
NU's left guard Keith Williams is flagged for an unusual tripping call, and that moves the Huskers back 15 yards. Helu gains nine on first-and-25, as KU didn't have many players lined up on the right side of the field.
NU calls timeout before second down.
NU 10/KU 10 — 10:57 left in 3rd quarter
Bradley McDougald returns the kickoff to the KU 23. Jayhawk fans applaud because, well, I guess it could be worse.
Opurum gets four yards and a cloud of dust. Reesing follows with a rollout and pass to Tim Biere for the first down.
McDougald drops a pass on second-and-10, but KU beats a blitz with a screen to Meier. The senior breaks a tackle and takes it 21 yards up the sideline for a crucial first down.
Reesing is starting to look more like himself, as he dances a bit in the pocket before finding Briscoe for a 19-yard catch down the sideline.
On third-and-9, Reesing once again makes the play, as he rolls to his right and throws back to his left over the middle to Meier. KU's senior receiver makes a huge error, though, as he's stripped from behind inside the KU 5. NU recovers at its own 4, and Meier drops his helmet to the turf in disappointment for a few seconds before picking himself up.
Huge, huge mistake by Meier, and also a huge momentum-buster for the Jayhawks, who looked destined for a touchdown on that drive.
Halftime Stats
Kansas
• Reesing 10-for-22, 108 yards; 7 carries, 25 yards, TD
• Opurum 8 carries, 23 yards
• Meier 5 catches, 43 yards
• Briscoe 2 catches, 37 yards
• Wilson 2 catches, 24 yards
Nebraska
• Lee 4-for-9, 107 yards; 4 rushes, 44 yards
• Helu 10 carries, 39 yards, TD
• Paul 3 catches, 109 yards
Other stats
• NU outgained KU, 185-171, but KU more than doubled NU's first downs (11-5).
• NU had just one first-half sack.
NU 10/KU 10 — Halftime
A short kickoff and poor coverage by KU gives NU good field position at the Huskers' 43, but KU's defense feeds off the new energy in the stadium. Chris Harris nearly picks off an incompletion on first down, and KU effectively strings out an option right that results in a five-yard loss for the Huskers.
Lee breaks a pair of tackles to gain 10 on a scramble, but Harris brings him down short of the chains.
Henery's punt sails 52 yards into the end zone for a touchback, and KU takes over at its own 20.
Opurum is still in, but KU runs the option right with him for a one-yard loss. Running the big guy outside doesn't make much sense.
Reesing loses three on a quarterback draw, and KU is in a deep hole.
NU brings a blitz, and Reesing floats a pass out to Briscoe, who makes a great cut to the inside. The junior outruns two NU defenders up the field, gaining 28 yards to pick up the first down on third-and-14.
Reesing's pass to Meier sails high, but on second down, a throw to Wilson is true, and the junior turns it upfield for a nine-yard gain. Opurum is KU's third-down-and-short weapon, and he squirms forward for a yard-and-a-half to move the chains.
Reesing starts to work it to Meier over the middle, gaining eight yards and six yards on consecutive passes. The Jayhawks waste about 10 seconds dialing a play in, though, and an incomplete pass leaves the Jayhawks with just 21 seconds left and two timeouts to work with at the NU 32.
KU gets some Senior Day luck, as Reesing's pass is batted up by NU's Alonzo Dennard and caught by Wilson for a 16-yard gain with 11 seconds left.
With no one open, Reesing wisely throws the ball away with 4 seconds left. Bransetter puts a 33-yard field-goal attempt through, and KU has tied the score with two impressive drives to end the half.
NU 10/KU 7 — 4:58 left in 2nd quarter
KU rushes to the line and quickly hands off to Toben Opurum, who runs around the end for five yards and an easy first down. Not bad for his first carry of the game.
Opurum gets three yards on first down, then takes an option pitch for two yards.
Reesing's pocket crumbles on third-and-5, but he still is able to fall ahead for four yards. On fourth-and-1, Opurum gets the ball up the middle, and the freshman punishes an NU defender while pushing ahead for three yards and a first down.
Opurum is on a roll now. He bounces off one defender and spins off another for six yards. The next play, he grinds forward for three more. A receiver screen to Meier catches NU off-guard after all the running plays, and Meier follows blockers ahead 12 yards for a first down all the way to the NU 5.
On first down, Reesing drops back to pass then see an opening to the right, sprinting ahead and diving forward for a touchdown. The QB throws his hands up in celebration, and KU has its best drive in a long, long time. Thirteen plays, 80 yards on that drive for KU, and Opurum has given the KU offense and KU fans a much-needed shot of adrenaline.
NU 10/KU 0 — 9:42 left in 2nd quarter
Reesing has looked good running the ball today, and he follows blockers up the field for 13 yards before sliding. After giving himself up, Reesing is blasted by NU's Larry Asante, and the personal foul for a late hit give KU 15 free yards.
Reesing throws wide to Meier on first down, and Briscoe takes a screen 9 1/2 yards on second down.
Instead of running, KU tries a bootleg pass on third-and-inches, and Reesing's pass is batted away.
KU coach Mark Mangino calls timeout before fourth-and-inches at the NU 42.
NU 10/KU 0 — 10:47 left in 2nd quarter
A comedy of errors for KU's defense on first down, as Maxwell Onyegbule bites on a play fake and a missed tackle in the secondary allows Lee to gain 32 yards down the sideline on a QB keeper. The next play, KU is gashed again, as Lee hits Niles for 37 yards after Niles ran past everyone in the Jayhawks' secondary.
KU's defense holds the next three plays, but it's too late to prevent points. Henery splits the uprights on a 25-yard field-goal attempt, and KU's defense has been less-than impressive today against the worst statistical offense in the Big 12.
NU 7/KU 0 — 12:43 left in 2nd quarter
On a quarterback draw, Reesing finds a hole to the right and gets 13 yards before wisely sliding.
Another designed running play for Kale Pick, and this is the first time I can remember a gadget play with him gaining positive yards. The option left goes for five yards, and Meier saves the drive with a diving five-yard catch on third-and-five.
Reesing's inaccurate passing hasn't gone away, though. Two consecutive short passes miss the mark by a wide margin, and a jailbreak blitz up the middle on third-and-10 forces Reesing to throw the ball away.
Rojas rolls a punt to the 22.
NU 7/KU 0 — End of 1st quarter
This has quickly turned into a punt-fest. A wide-receiver screen is snuffed out by Anthony Davis, who tackles Khiry Cooper for a two-yard loss. Helu rushes for two yards, and a third-and-10 screen pass is knocked away by KU's Justin Thornton.
Henery delivers a nice punt to the sideline, and the Jayhawks will take over deep on their own end at the KU 6.
Sharp falls forward for four yards on a first-down run, and the clock runs out on the first quarter.
NU 7/KU 0 — 2:07 left in 1st quarter
KU's senior captains aren't having the best of first quarters. On second down, Paul beats Darrell Stuckey in one-on-one coverage, and Paul finally is dragged down after a 37-yard gain.
NU's offense hasn't gotten much going besides deep passes, though. On third-and-7, NU's coaches opted for a strange play call — a speed option to the short side of the field. Helu was knocked out of bounds short of the first down, and Alex Henery trots out for his second punt.
KU's offense doesn't waste any time going backwards. Sharp runs for three, miscommunication between Reesing and Johnathan Wilson leads to an incompletion and Reesing is sacked from a backside blitz on third down. Rojas comes out to boot it away.
NU 7/KU 0 — 6:19 left in 1st quarter
After allowing an eight-yard run to Helu on first down, KU's defense holds. Lee is tripped by Huldon Tharp for a one-yard gain (NU sure didn't look like it received a good spot) and Helu is stacked up on third-and-1 for a loss. After a punt, KU will start with great field position at the 50.
The Jayhawks once again are haunted by an offensive pass interference, though, as Tim Biere block downfield opened up Dezmon Briscoe for a catch. Though I didn't see it as the play happened, Biere draws two separate flags, so his clearout must have been blatant.
Reesing completes a pair of passes to take back some field position, and Rojas executes another nice punt that skips down to the NU 5.
NU 7/KU 0 — 10:58 left in 1st quarter
Jeff Spikes is back in the starting lineup, only he's in there at right guard. KU moves Sal Capra to left guard and takes red-shirt freshman Trevor Marrongelli out of the lineup.
Jake Sharp drops a catchable ball on first down, and Reesing scrambles forward for two yards on second down.
On third down, Kerry Meier is open, but he has a pass clank off his hands. Two drops already for KU and a deflating start for the Jayhawk seniors.
Alonso Rojas booms a rugby punt, though, blasting it 57 yards, and a block-in-the-back moves back NU farther. The Huskers will take over at their own 8.
NU 7/KU 0 — 12:05 left in 1st quarter
Tim Marlowe starts NU with good field position, as he returns the opening kickoff 40 yards to the NU 42. I think that's the first missed tackle I've seen KU kicker Jacob Branstetter have this season.
KU opens in a 4-3 defensive set. Are the Jayhawks expecting more rushes than passes from NU?
The Huskers strike on their first play with a deep pass, as Zac Lee hits Niles Paul for a 35-yard pass down the sideline. Anthony Davis is burned on the play, and he might return to the doghouse quickly.
A few plays later, Lee fumbles on an option play at the 1, but Roy Helu alertly runs up to fall on it in the end zone.
So much for NU not scoring a TD on its last 44 possessions starting in its own territory. That streak is broken, and the Huskers are up by a touchdown early.
2:35 p.m.
KU wins the toss and defers. Nebraska will receive.
2:32 p.m.
Here's a weather report: It's 53 degrees here under cloudy skies with winds out of the north at 8 miles per hour.
2:29 p.m.
Funny moment in the senior introductions, as Todd Reesing ran full speed and jumped into the arms of his parents on the field.
2:18 p.m.
As many feared, red is splashed all the way across Memorial Stadium. There are some red-clad fans in every section of the stadium, and I'd say NU fans make up about 35 percent of the total attendance here so far.
2:03 p.m.
Here are a few notes about today's game.
• Nebraska defensive end Ndamukong Suh, who had 12 tackles (and four tackles-for-loss) against KU last year, also has been a force on special teams. He has blocked three kicks this year.
• NU's other defensive tackle, Jared Crick, has nine sacks this year, which is the most by a Cornhusker since 2005. He had five sacks in one game against Baylor earlier this season.
• NU running back Roy Helu has been battling a shoulder injury, but he looked almost fully recovered last week against Oklahoma, when he had 20 carries for 138 yards. The junior had 78 rushing yards and a touchdown in the fourth quarter alone of last year's game against KU.
• Thanks to the Omaha World-Herald for this stat: In NU's last four games, it has had 44 offensive drives started in its own territory. The Huskers have scored touchdowns on none of those drives. In fact, NU has mustered just three field goals in those 44 possessions. For the season, NU has had 68 offensive drives started in its own territory against FBS competition and has just two TDs on those 68 possessions.
• NU's 63 first downs this season isn't just last in the Big 12 — it's 19 first downs behind 11th-place Baylor.
• NU has not allowed a point in the fourth quarter in its last three games. The Huskers have shut out four of their five Big 12 opponents in the final quarter.
• KU has not lost five straight games since losing the last seven games of the 2002 season.
1:25 p.m.
Welcome back to the Newell Post Live, coming to you from Memorial Stadium in Lawrence where the Kansas Jayhawks are getting set to take on the Nebraska Cornhuskers on Senior Night.
I know Kansas fans are looking for any good vibes they can get following KU's four-game losing streak, so let's start this blog with something positive.
Here goes: KU is 2-0 against NU in its last two games at Memorial Stadium in Lawrence.
I've posted the 6Sports videos on the left side of this blog from both of those games. Make sure to give them a look, as both were monumental games for KU's program.
We'll be back with more analysis later. Be sure to vote in the poll on the left and also to use #kufball on your tweets so they show up in our grid on the left side.
More like this story on KUsports.com