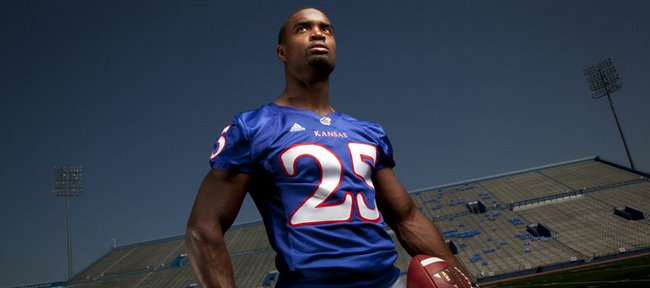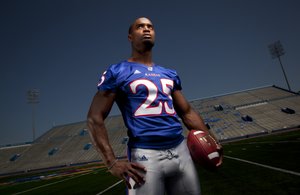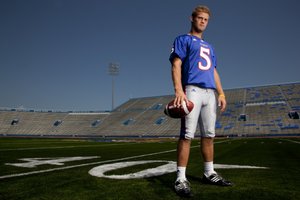 Four years is a lot of time.
Spend four years winning and losing and sweating and hurting with the same four guys — as Kansas University senior captains Todd Reesing, Kerry Meier, Darrell Stuckey and Jake Sharp have — and a certain bond is bound to be forged, the kind of bond in which the spoken word, often, is not necessarily a requisite for interaction.

"A lot of times," Stuckey said, "I can look at Kerry and see on his face exactly what he's thinking, just because we've been around each other so long and we've seen so many different sides of life together."
Today represents a final act of sorts for the four players and the rest of their senior classmates. The Jayhawks' 2:30 p.m. game against Nebraska will represent a day of "lasts." Last game in Memorial Stadium. Last time to take the field to Metallica's "Enter Sandman." Last opportunity to play in front of a hometown crowd, before going down as arguably the most accomplished senior class in the program's history.
Since arriving in Lawrence four years ago — in some cases, five — members of the group have helped lift the program to sights unseen. An Orange Bowl title. Back-to-back bowl victories. Twenty wins in two seasons. What's more, they've helped to change the culture of a program. They made Saturdays at Memorial Stadium a happening, and, perhaps most astonishingly, caused people to divert their attention — at least temporarily — from the men's basketball program.
And this was due in no small part to the four captains, all of whom have etched out the kind of legacies that figure to last long past their tenures in Lawrence.

Take Meier. He switched positions midcareer and proceeded to become the school's most prolific pass-catcher, grabbing 97 passes last season to shatter the previous single-season school record.
Sharp, from Salina, played through pain every season and, if coaches and teammates have anything to say about it, will go down as one of the toughest players to wear a Kansas uniform.
Stuckey, always wearing a smile, is the team's unofficial players spokesperson. As Kansas coach Mark Mangino once put it, "When he's about 35, 40, he's gonna smoke somebody in a governor's race."
And then there's Reesing.
You know his story. How could you not? Overlooked in high school, he earned the starting job before the 2007 season and hasn't really stopped tossing touchdown passes since. Three weeks from now, he likely will hold every significant school passing record.
Still, things have not gone as planned for Kansas' seniors this season. The Jayhawks are mired in a four-game losing streak. They've gone silent on offense and haven't won a game since Oct. 10, when they beat Iowa State, 41-36. Preseason hopes of a Big 12 North title ended with last week's 17-10 loss to rival Kansas State.
It hasn't been easy.
"We had so much success here," Stuckey said. "We literally broke almost every KU record in the era of our senior class. But we can't sit here and think that this is a fairy tale and this is a fantasy. If it was, we would have won all four of those last four games, and we'd be headed for 30 wins in three seasons. Instead, we're on the other end."
Maybe one day down the road — someday soon, possibly — they'll look back on what could have been if a last-second pass had been completed against Colorado or a turnover or two had been avoided against Oklahoma or Kansas State.
But for now, there are still things to strive for, more milestones to reach. If they can qualify for a third-straight bowl, for instance, it will be the first time the team ever has done so.
"Right now, (there's) a lot of different thoughts," Meier said. "But the ultimate thought right now is just coming out and getting a win and leaving this place on a good note. What's happened these past four weeks has happened. It's in the past. We're ready to move forward."
Who knows what the next three weeks will hold? Based on the events of the past month — a sputtering offense, bizarre turnovers, slumping stars — it's tough to say.
But with just three more games, guaranteed, to cement their legacy — to end their careers on a high note, the way they feel their careers should be concluded — they're looking to make the most of the limited time they have left together.
"We're going to enjoy it," said Sharp. "We're going to have fun. The senior class, we've worked very hard for ourselves and our university.
"Too hard not to enjoy it."
More like this story on KUsports.com