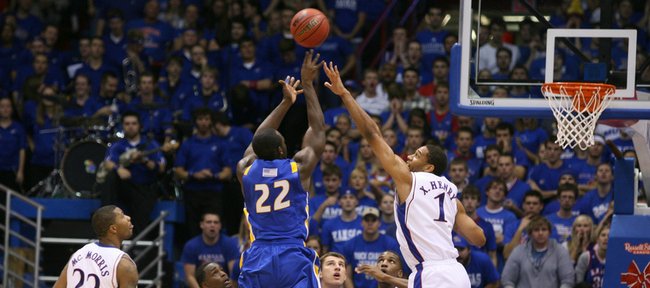 9:45 p.m.
It's official: Self said after the game that both Travis Releford and Mario Little will red-shirt this season, unless something unforeseen happens.
Kansas scoring — Xavier Henry 27, Sherron Collins 23, Cole Aldrich 11, Marcus Morris 9, Elijah Johnson 8, Tyshawn Taylor 8, Markieff Morris 6, Thomas Robinson 5, Conner Teahan 3, Chase Buford 1.
KU was 32-for-63 from the floor (50.8 percent), 11-for-27 from three (40.7 percent) and 26-for-40 from the free-throw line (65 percent).
Hofstra was 26-for-71 from the floor (36.6 percent), 5-for-21 from three (23.8 percent) and 8-for-13 from the free-throw line (61.5 percent).
KU had the rebounding edge, 49-37. Hofstra had 17 turnovers to KU's 12.
FINAL: KU defeats Hofstra, 101-65
The 100th point goes to Chase Buford, who was fouled underneath after an offensive rebound. He drained the first free throw to put KU at the century mark.
The Jayhawks wrap up a 101-65 victory.
KU 95/Hofstra 55 — 3:28 left in game
Norm Cook's KU freshman debut record of 21 points in 1973 won't stand after tonight's game. That's because Henry, adding his fifth three, is up to 27 points. Henry checks out for the final time with 5 1/2 minutes remaining, receiving a nice ovation from the KU fans.
Nice ball movement for KU, and the beneficiary is Conner Teahan, who shoots in a three from the left corner.
Walk-on Chase Buford checks in before the final media timeout.
Nice spin move in the lane by Taylor, who finishes with the layup. Suddenly, you look up, and KU is leading by 40.
KU 82/Hofstra 45 — 7:23 left in game
Just when it looked like KU was forgetting about its inside guys, Aldrich gets the ball in the post and knocks down a turn-around for two.
Markieff Morris adds a soft 10-footer that swishes through in the lane, and he should save that shot as a zone-buster against teams in the Big 12.
Collins somehow slithers under a defender and scoops a layup softly off the glass and in for two.
Collins comes around a screen and rattles in another three. With so many weapons on KU this year, it's impossible for teams to give Collins the attention he deserves on the offensive end.
KU 71/Hofstra 40 — 11:25 left in game
So much for that three-point shooting slump I talked about in the first half.
Henry gets loose for yet another three, and he drains it for his 24th point.
Collins follows with consecutive three-pointers of his own, holding up three fingers on each hand on his way back to the defensive end. The Jayhawks are 4-for-7 from beyond the arc this half.
Robinson is looking a bit more like a freshman this game. He tries a tough pass underneath, and it's stolen away by Hofstra. It's the second turnover by Robinson, but KU has just eight total.
KU 61/Hofstra 36 — 15:48 left in game
Henry has taken over the start of the second half. He's fouled on a three and hits all three free throws, then follows that with a three-pointer from the side. Collins comes away with a steal and throws ahead to Taylor, who kindly drops the ball to Henry for another jam.
Henry springs free again, and he drains another three-pointer. He claps his hands together while going back to the defensive end. That's 11 straight KU points for Henry, who's up to 21 in his Jayhawk debut.
KU scoring — Collins 12, Henry 10, Aldrich 9 (3-for-3 shooting), Marcus Morris 7, Elijah Johnson 4, Tyshawn Taylor 3, Markieff Morris 2, Thomas Robinson 1.
KU was 14-for-25 from the floor (56 percent), 2-for-10 from the three-point line (20 percent) and 18-for-27 from the free-throw line (66.7 percent).
Hofstra was 12-for-36 from the floor (33.3 percent), 2-for-8 from three (25 percent) and 1-for-2 from the free-throw line (50 percent).
KU out-rebounded Hofstra in the first half, 21-18. Hofstra had 11 turnovers to KU's seven.
Random Thoughts
• Twenty-seven free throws to two? That's not something the Jayhawks can count on each game.
• KU is still struggling from three, as it did during most of the exhibition season.
• Hofstra's leading returning scorer Charles Jenkins had just five first-half points on 2-for-8 shooting. He had no assists and three turnovers but three steals.
KU 31/Hofstra 22 — 5:46 left in 1st half
Three quick whistles on KU on the defensive end. The fans don't like it, but all three looked like good calls to me. Plus, KU still has only four fouls compared to Hofstra's nine.
Collins comes around a screen and hits an 18-footer for KU. The Jayhawks had hit a bit of a lull offensively.
Two more free throws by Taylor. The Jayhawks hit a good percentage of their free throws in two exhibitions games, and they've continued that trend today, making 11 of 14 (78.6 percent) from the stripe.
KU is getting beat on the boards, as Hofstra is cleaning up the offensive glass. Following a putback by Halil Kanacevic, Self calls timeout with the lead down to 31-18.
Taylor and Collins follow with back-to-back turnovers, and another offensive rebound leads to two points for Hofstra. Self calls timeout again, and the lead is down to nine at 31-22.
Hofstra has seven offensive rebounds and is even on the boards with KU, as both teams have 14 rebounds.
KU 25/ Hofstra 10 — 11:31 left in 1st half
KU is playing so quick right now. Following a Hofstra miss, Marcus Morris throws ahead to Tyrel Reed, who shovels back to Collins for a three in transition that hits nothing but net. Timeout Hofstra. The Pride can't seem to get back on defense quickly enough to defend the Jayhawks.
Elijah Johnson checks in, so that officially means no red-shirt for him (not that he was going to take one anyways). He wastes no time getting his first points, taking a pass from Thomas Robinson and swishing a 19-footer. Ten-nothing run for KU.
Johnson follows with a steal out top, and he goes around a defender with a nifty move in the lane for two points in transition.
Robinson gets called for a foul inside, and that's KU's first whistle. Szabo hits a free throw to end a 12-0 KU run.
Marcus Morris adds a tough baseline jumper. A year ago, that's the shot he airballed at least four times.
KU 13/ Hofstra 7 — 15:49 left in at half
Miklos Szabo scores the first points on a long two, but KU answers immediately.
Xavier Henry drains a three from the right wing, and in transition, Cole Aldrich gets it underneath and dunks it home with a foul. The crowd is already roaring.
Interesting that Hofstra opened the game in what appears to be a 2-1-2 zone. KU's players don't seem to know exactly how to attack it just yet. That should change after the first media timeout.
Henry puts up a tough shot but is bailed out by a whistle. It was right in front of me, and that's a tough call to go against a defender. Xavier makes both foul shots.
More Xavier on the offensive end, as he follows a Markieff Morris miss with a one-handed slam on the rebound to go with a foul. So that's the offensive rebounding from Henry that Self has been talking about.
Collins throws an alley-oop across the rim, and Markieff slams it in. This team already is filling this early season with highlights.
7:05 p.m.
I said it in the Cram Session video and I'm not backing down: Xavier Henry will be KU's leading scorer tonight.
7:04 p.m.
They brought back the old intro video. KU fans rejoice.
KU's starters: Tyshawn Taylor, Xavier Henry, Markieff Morris, Sherron Collins, Cole Aldrich.
6:57 p.m.
Travis Releford is in his warm-ups and is going through the layup line. I would have expected to see him in street clothes if he was red-shirting.
6:13 p.m.
Here are some notes about tonight's game:
• The top returning scorer in this game is not Cole Aldrich or Sherron Collins. It's Hofstra's Charles Jenkins, who averaged 19.4 points per game last season. The 6-foot-3, 220-pound junior is the only returning NCAA player to average at least 19 points, 4 rebounds and 4 assists per game last season. He also was named the preseason co-conference player of the year.
• In Jenkins' last six games of last season, he was even better, averaging 24.2 points and 6.6 assists per game.
• Jenkins drew 6.4 fouls per 40 minutes last season, which ranked 46th nationally. He drew as many fouls per 40 minutes as Iowa State's Craig Brackins (6.4), more than Notre Dame's Luke Harangody (6.2) and more than any other KU player last year (Marcus Morris led the team with 5.3).
• Hofstra shot just 31.3 percent from the three-point line as a team last season.
• The Pride led the nation in close wins last season, as it was 12-3 in games decided by five points or less.
• Here's an interesting stat: Jenkins put his team ahead for good in the final two minutes six times last season.
• Hofstra returns five players this year, and all of them started at least one game last season.
• The Pride has six freshmen and one junior-college transfer this season.
• Hofstra has won 20 games in four of its last five seasons.
• KU has won its season-opener in seven straight seasons.
• Seven KU players (Sherron Collins, Tyshawn Taylor, Markieff Morris, Xavier Henry, Marcus Morris, Thomas Robinson, Cole Aldrich) averaged at least 11.5 points per game in the two exhibition contests.
5:52 p.m.
Welcome back to the Newell Post Live, coming to you from Allen Fieldhouse where the Kansas Jayhawks are getting set to open their season against the Hofstra Pride.
Because it is the beginning of a new basketball season, I thought we'd try something different for this pre-game blog.
In the comments section below, post the link to your favorite KU basketball video. This can be a YouTube video or any other video floating out there on the Internet.
In case you were wondering, this is one of the best KU videos I've seen produced in a long time (Warning: there is some profanity).
I'll try to post some of the best videos from the comments section in this blog before the game.
Also, be sure to vote in our poll on the left and use #kubball to have your tweets show up on the left side of our screen.