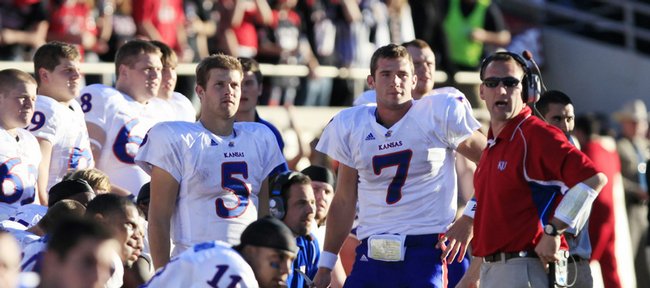 It's easy to look at a college football player and see his physical strengths.
Chiseled arms, strong frames and athletic builds are common for most. But, at Kansas University, the one characteristic of strength that you can't see just might be the most important. Particularly this season.
"Our players are strong emotionally," said KU coach Mark Mangino when asked how his team has handled falling from a fast 5-0 start to a 5-4 football team filled with question marks. "The reason they are is because we spend a lot of time in the offseason and training camp building emotional strength. Some coaches try to develop their players just for how to deal with adversity. Some work on how to get mentally ready to play. What we've done in the time that we've been here is that we work on building emotional strength. That means preparing kids for everything."

Two guys equipped to talk about mental toughness — junior Chris Harris and sophomore Daymond Patterson — weighed in with their thoughts at a news conference Tuesday.
Harris, a defensive back who exploded onto the scene as a true freshman, suffered a season-long slump in 2008 but has bounced back and often been one of the best defenders on the field for the Jayhawks during 2009. KU's third-leading tackler said his turnaround came because he never stopped believing in his abilities, even during the darkest days when he was benched.
With his team struggling through a four-game losing streak, Harris has tried his best to push his positivity onto his teammates.
"Sometimes in football you go through slumps," Harris said. "I went through one myself. But you just have to stay together. I still have faith in this team and we still have faith in each other. Right now we just want to get some wins and finish off strong."
Patterson, meanwhile, has experienced some of the same types of hardships. After a fast start as a wide receiver, Patterson was shipped over to defense midway through last season. The Jayhawks made that movie largely because they needed help on defense, but the transition took its toll on Patterson. Today, after playing prominent roles at wideout, cornerback and punt returner in a little more than a year and a half in Lawrence, Patterson is dealing with some new adversity, that which comes with not playing a single snap in the Jayhawks' 17-10 loss to Kansas State last Saturday.
Despite the setback — both personal and team-wide — Patterson said the Jayhawks have gone about their business with confidence as they prepare for Saturday's 2:30 p.m. kickoff against Nebraska.
"Even though we're on a four-game losing streak, everybody really has kept their heads up," Patterson said. "We still have our composure, and we're still working hard. It's no different than it was at the beginning of the season when we were undefeated. If anything, the intensity has picked up just because we want to get back on the winning track."
Added Mangino: "We're not going to get down from losing games. We're going to find a way to get better. That's the way we do it here. We keep looking for solutions. Nobody is feeling bad for themselves, there is nobody pouting."
More like this story on KUsports.com