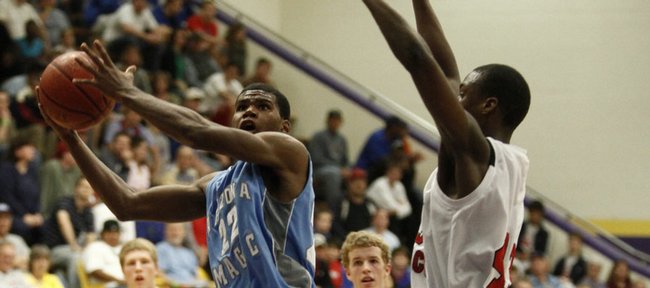 Some college basketball recruiting battles are full of high drama — dragging out month after month for more than a year — with coaches never exactly knowing where their programs stand until Signing Day.
Others?
Well, they are not as stressful.
Take, for instance, the case of Royce Woolridge, a 6-foot-3 senior combo guard from Phoenix's Sunnyslope High, who orally committed to KU on May 1, 2008 — 23 days after the prep sophomore and his mom, Victoria, initiated contact with Kansas University coach Bill Self.
"This one was easier than most. It was right after we won the national championship, literally. He liked how we played, and they got word to us. We went and watched him play, offered a scholarship, and, boom, it was done," Self said Wednesday afternoon, three hours after Woolridge signed a national letter of intent with KU in a ceremony at Sunnyslope High.
"Royce committed over the phone basically after coach (Kurtis) Townsend had seen him a few times. I saw him on tape and liked what I saw on tape."
Self since has watched a batch of high school and AAU games of Woolridge's.
"Royce has been loyal and certainly done everything we've asked him to do from a loyalty standpoint. We are very appreciative. He was first to jump on board (in recruiting class of 2010), and we always have a fond appreciation of that," Self said.
Woolridge — who averaged 28.5 points and 5.3 rebounds per game for last year's 24-5 Arizona state champs — said he was sold during his sophomore season, thanks in large part to "cousins, uncles and aunts" who live in Prairie Village and filled him in on KU hoops.
"My family that lives in Kansas are Kansas fanatics. They'd talk of KU, and I tried to look into it more," Royce said in a phone interview after a news conference attended by 60 family members, coaches and friends.
"The history behind it — it's where basketball started, and the atmosphere is crazy, and the fans love the game. It's where I feel I'll fit in best."
Woolridge, who received recruiting interest from Arizona, Arizona State, UCLA, Georgetown and other schools, has never regretted his quick decision to become a Jayhawk.
"That's the kind of kid he is. He's an old soul. He's not indecisive. It amazes me," said his mom, Victoria Sallis-Woolridge, who works in real estate and soon will be applying for her license in Kansas. She has decided to move to a "suburb of Lawrence" to be close to her son and be able to follow his academic and athletic career.
"He made a great choice. He never ever wavered. He wanted to get it (recruiting) done, and if he committed as a sophomore it would be over," Victoria explained. "We don't like the recruiting part of it. We don't believe in taking free vacations. We believe in loyalty and what we want.
"I appreciate how Kansas realizes loyalty should be noticed. Lew Perkins (KU athletic director) made a big deal about that. He acknowledged Royce's loyalty (when they visited for Late Night in the Phog) and said that's what he values at KU — loyalty."
Self is just as impressed with Woolridge's on-court skills.
"He is a combo guard that has pretty good size. He may have a chance to grow some more. He's a very good shooter, is good off the bounce. I see him as a guy who will be a real good player in the program," Self said.
Woolridge — his dad, Orlando, played in the NBA — is currently Rivals.com's No. 117-ranked player.
"You watch when the rankings come out at the end of the year. He'll be one of those guys I would say definitely has a chance to be a top-50 player," Self said, indicating he does not consider rankings when recruiting.
Victoria says the Woolridge family also doesn't fret over numbers.
"I don't put any feeling toward rankings. When we get to KU, it's on,'' Victoria said. "Royce knows how to use it as ammunition to get better. I think the KU fans will be very surprised. I don't think they have any inkling of what Royce will bring. He's been underestimated a bit. I think Royce will wow Kansas."
He was standing tall among his peers Wednesday.
"I feel so good I'm finally part of the Jayhawk family officially," Woolridge said. "It's a huge moment, a huge day. It's crazy. It makes me feel great. There's no school like Kansas."
•
Who else?
Self said he'd like to sign at least three players in the Class of 2010.
"We are only recruiting a handful of guys. Hopefully of that handful we can get a couple more. I don't know if we'll get two more early," Self said.
Harrison Barnes, a 6-8 forward from Ames (Iowa) High, will announce for KU, North Carolina, Duke, Oklahoma, UCLA or Iowa State in a 3 p.m. news conference Friday. The announcement will be aired at 3:10 p.m. on ESPNU.
Three other players who visited KU this semester may wait until the spring, according to Rivals.com.
They are: Brandon Knight, 6-3 point guard from Pine Crest High in Fort Lauderdale, Fla.; Josh Selby, a 6-2 point guard from Lake Clifton High in Baltimore; and Doron Lamb, 6-4 shooting guard from Oak Hill Academy in Mouth of Wilson, Va.
•
Bumps, bruises
Freshman guard C.J. Henry, who has missed two weeks of practice with a swollen right knee, returned to practice Wednesday. He's been listed day-to-day. It probably will be a longshot for Henry to play in Friday's 7 p.m. regular-season opener against Hofstra.
More like this story on KUsports.com