Photo Gallery
KU vs. Pittsburg State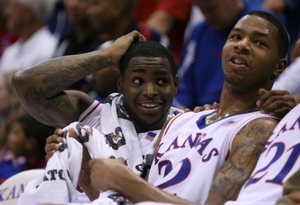 Photos from KU's 103-45 exhibition victory against Pittsburg State.
Reader poll
Marcus Morris

4%

170 votes

Markieff Morris

2%

89 votes

Thomas Robinson

88%

3202 votes

Xavier Henry

2%

100 votes

Other

1%

44 votes
3605 total votes.
One of the coolest things about the game Dr. James Naismith invented in Springfield, Mass., as it's played today, is that no two players are alike.
When a new player comes along and one hoop junkie who hasn't seen him play mines impressions from another who has seen him, the question, "What player does he remind you of?" quickly surfaces.
The delayed response starts with a name and then a qualifier that describes how the players differ. Far more differences than similarities are listed, and the conclusion is reached that he really isn't like anybody.
For example, try answering this question: What former Kansas player does Thomas Robinson call to mind?
Darrell Arthur? He runs the floor like Arthur, is the same height and has similar leaping ability. If you've been in many such comparison discussions, you know the next word: but.
But he has a broader build, a far more aggressive approach to the game, especially when rebounding, better post moves and has much more upbeat body language, particularly in the area of facial expressions. He has neither the shooting touch nor range of Arthur.
Darnell Jackson? His enthusiasm and energy recall Jackson, but he has far longer arms, better footwork with his back to the basket and does more of his scoring close to the hoop.
Cole Aldrich? They share insatiable hunger to rebound, and both are comfortable playing with their backs to the basket, not as common a trait among basketball players as in eras past. The faster, quicker Robinson doesn't have as many ways to score yet and although a good shot-blocker, doesn't have Aldrich's shot-blocking range, is two inches shorter and is more liable to turn it over.
In Tuesday night's exhibition against Pittsburg State, Robinson was nothing short of the best player on the floor. Dominating a Div. II football school doesn't compare to doing it against Big 12 competition, but the way he amassed 17 points, seven rebounds, three blocked shots and two steals portends a long, lucrative career for the muscle-bound, 6-foot-9 freshman from Washington, D.C.
And the most encouraging moment didn't make a box score that showed KU with a 103-45 victory. With 40 seconds left, Robinson sprinted to the corner to chase down a loose ball. He didn't quite get to it, which is entirely beside the point.
So many Robinson highlights play over in the mind when reviewing this game: executes quick drop-step followed by a bank shot after a catch on the block; pump-fakes to send his defender in the air, banks in the shot; catches a pass from Tyshawn Taylor on the break and slams it home; jumps into the passing lane, dribbles the length of the floor and throws down another one-hander; blocks a shot off the backboard, sprints to other end, collects a missed dunk by improved Marcus Morris, is fouled, hits both free throws; one-handed jam on which he is called for a technical for hanging on the rim; misses a jumper, doesn't sulk, sees an opportunity to cut to the basket, receives a pass from Chase Buford and throws down a one-hander.
Words such as "active" and "motor" have been tossed around a lot about Robinson. He's far more than that. He's talented. He's skilled. He's smart. He's every opponent's nightmare.