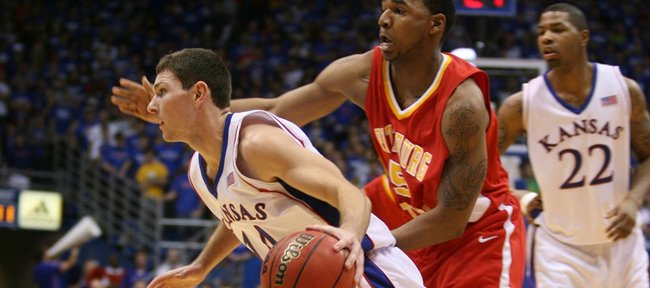 Photo Gallery
KU vs. Pittsburg State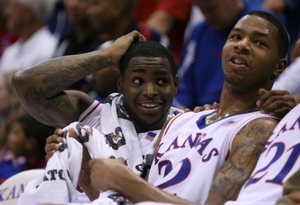 Photos from KU's 103-45 exhibition victory against Pittsburg State.
Reader poll
Marcus Morris

4%

170 votes

Markieff Morris

2%

89 votes

Thomas Robinson

88%

3202 votes

Xavier Henry

2%

100 votes

Other

1%

44 votes
3605 total votes.
Prior to the opening tipoff of Kansas University's exhibition basketball game against Pittsburg State on Tuesday night at Allen Fieldhouse, KU coach Bill Self presented Pitt State coach Gene Iba with a one-foot-square piece of the Allen Fieldhouse floor that was used from 1992 through 2005.
The gift was in recognition of Iba's announcement that this would be the final season of his 30-year coaching career, a stint that has included stops at Baylor, Houston Baptist and Pitt State.
That generosity was the only thing Self and the Jayhawks gave Iba all night as KU cruised to a 103-45 victory.
Despite the lopsided loss, Iba, the nephew of legendary Oklahoma State coach Henry Iba, had nothing but good things to say about the Jayhawks.
"I can only try to express what that meant," Iba said. "The people of KU have been nothing but tremendously gracious to us, and that thing tonight, my family, in particular, will remember for a long time."
The game itself was one his players would just as soon forget. Despite hanging around for the first eight minutes, the Gorillas saw an early 16-11 deficit deteriorate into a 55-21 mountain of a setback by halftime. The Jayhawks doubled up the Gorillas (48-24) in the second half to set the final margin at 58 points. On Sunday, Pitt State fell, 89-53, at Kansas State, where Iba received a wooden basketball on a pedestal.
"You want to go out and have a good showing and play your best, but this was kind of embarrassing," said PSU senior Spencer Magana, who tied with Rodney Grace to lead the Gorillas with 11 points. "But I think just seeing this kind of pressure defense is definitely going to help us in the long run. They're very tall, very athletic, they're long, they're quick in all spots. They're just really, really good. It's enjoyable for any basketball player to come in here. It's an awesome place to play."
Iba said the Jayhawks hurt his team most in two areas. Midway through the first half, Kansas began to trap the high-post pick, which led to 33 PSU turnovers. And throughout the night, the bigger, stronger Jayhawks owned the rebounding edge.
"That really hurt us, and that broke the game open," Iba said.
Iba's connection to Kansas goes well beyond coaching against the Jayhawks a few times. When he was 8 years old, while his father was the head coach at the University of Tulsa, Iba remembers regular visits to his home from legendary KU coach Phog Allen.

"He was a chiropractor," Iba recalled of Allen. "And back then they didn't have trainers, so Dr. Allen came to the house to show my dad how to tape and how to do things. They didn't have medical dummies back then, so they used me instead."
Pittsburg State (0-2 in exhibition play) will wrap up its preseason schedule Saturday at UNLV. The Gorillas will open the regular season Nov. 17 at home against Sterling College.
More like this story on KUsports.com