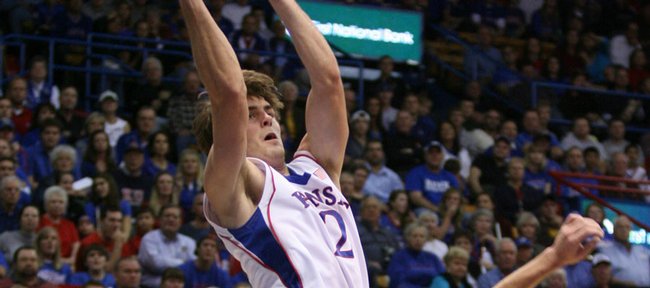 Photo Gallery
KU vs. Pittsburg State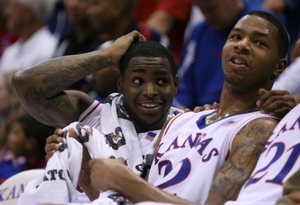 Photos from KU's 103-45 exhibition victory against Pittsburg State.
Reader poll
Marcus Morris

4%

170 votes

Markieff Morris

2%

89 votes

Thomas Robinson

88%

3202 votes

Xavier Henry

2%

100 votes

Other

1%

44 votes
3605 total votes.
Teahan won't red-shirt
Kansas University junior guard Conner Teahan will not red-shirt this season. He scored seven points while playing 15 minutes in Tuesday's 103-45 rout of Pittsburg State in Allen Fieldhouse.
"It looks like Travis and Mario are both going to red-shirt," Teahan said of Travis Releford and Mario Little, who did not play in the game. "Even if Travis doesn't, it looks like the best decision for me. We'll see what happens, maybe possibly red-shirt in the future.
He said he might be needed in games, "if we need a 3 (small forward) or if 'X' (Xavier Henry) gets in foul trouble or if I play well (and make rotation)."
KU coach Bill Self said indeed it looked as if senior Little and sophomore Releford likely would red-shirt, but the decision has not been finalized.
"I think that's probably the percentage play with both of them even though we'll sleep on it a couple nights," Self said. "I think the likelihood is Mario will red-shirt. Travis ... I think that is definitely the strongest possibility. Even if you announce a guy is red-shirting, if next week a guy sprains his ankle, you can bring him out of it."
Robinson excels
Freshman forward Thomas Robinson scored 17 points and had seven rebounds, three blocks and two steals in 23 minutes.
"I still have a long ways to go, getting better guarding the post, knowing our offense and defense and getting used to the program," Robinson said. "I'm better than when I first got here. There's still work to be done."
He was called for a technical foul for hanging on the rim after a vicious dunk.
"Freshman mistake," Robinson said.
Bruises
Self said Sherron Collins, who wore a wrap on his left knee, is "fine." Collins scored 13 points with five assists and four steals in 20 minutes. ... Tyrel Reed, who sprained his right ankle last weekend at practice, had three points and two assists in nine minutes. ... Freshman C.J. Henry, who is day-to-day due to a swollen right knee, did not suit up.
Signing day
Royce Woolridge will sign a national letter of intent with KU today on the first day of the weeklong signing period.
Woolridge, a 6-foot-3 combo guard from Sunnyslope High in Phoenix, orally committed to KU in May of 2008.
"It's a big deal around here," Kenny Mullins, coach of Woolridge's Arizona Magic AAU team said of a noon CST signing ceremony at the high school to be attended by several of Woolridge's family members, teammates, coaches and friends.
"You've got a big-name player in the Phoenix area signing with the No. 1 team in the nation. He's excited. We're all excited."
Meanwhile, Harrison Barnes, a 6-foot-8 forward from Ames (Iowa) High, will announce for either KU, North Carolina, Duke, Oklahoma, UCLA or Iowa State in a 3 p.m. news conference Friday. The announcement will be aired at 3:10 p.m. on ESPNU.
Three other players who visited KU this semester likely will wait until the spring according to Rivals.com.
They are: Brandon Knight, 6-3 point guard from Pine Crest High in Fort Lauderdale, Fla.; Josh Selby, a 6-2 point guard from Lake Clifton High in Baltimore; and Doron Lamb, 6-4 shooting guard from Oak Hill Academy in Mouth of Wilson, Va.
Stats, facts
KU's 58-point margin of victory was sixth largest in exhibition history and largest since a 120-51 victory over Emporia State in 2000. KU has won 35 straight exhibitions and is 8-0 versus Pitt State all-time.
More like this story on KUsports.com