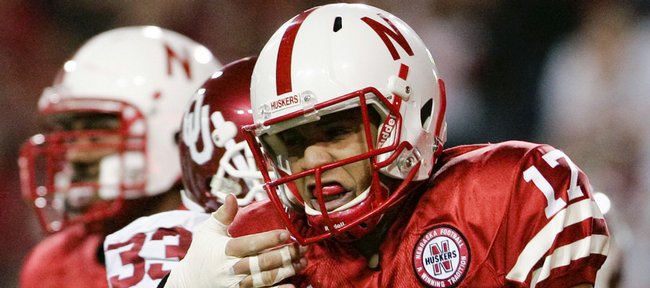 Omaha Neb. — Just when Bo Pelini seems to have Nebraska's defense rebuilt, he's facing a crisis on offense.
"It's very critical," the Cornhuskers' second-year head coach said Monday. "We need to start generating some offense. We need to get more consistent. It's a tremendous sense of urgency."
The Huskers remain in the Big 12 North race because of a defense that has gone from being one of the nation's worst in 2007 to one of the best in 2009.
Oklahoma was held without a touchdown for the first time since 1998 in Nebraska's 10-3 victory Saturday, and the Huskers are giving up just 10.3 points a game — 9.3 when opponents' defensive scores are discounted.
Pelini said the offense must start carrying some of the load.
With three games left in the regular season, Nebraska (6-3, 3-2 Big 12) is a half-game behind Kansas State (6-4, 4-2) and has no clear-cut quarterback.
Zac Lee started the first seven games, then was replaced by freshman Cody Green for the Oct. 31 game at Baylor after an eight-turnover debacle against Iowa State. Green also started against Oklahoma, but he failed to make a first down and was pulled after five series.
Pelini said he sensed that the big-game atmosphere was too much for Green.
"I just felt an aura out there. That game was a little bit different," Pelini said. "I wanted to protect him a little bit. That's one of the reasons we did what we did. It wasn't that we lacked confidence in Cody. It's a long-term deal with him."
The games keep getting bigger as Nebraska bids to get to the Big 12 championship game for the first time since 2006. The Huskers play at Kansas (5-4, 1-4) this week before facing Kansas State at home in a game that could decide the North. They finish Nov. 27 at Colorado.
Pelini hasn't publicly announced the starter week to week, and he said he would continue to handle the situation in the same manner. He said Lee and Green would know in plenty of time who will be on the field first.
Lee's strength is as a game manager, while Green shows more potential to be a playmaker.
Asked if Lee would be a safer choice to navigate the Huskers through the final games, Pelini acknowledged that the junior is older and has more experience. Pelini didn't rule out designing a plan to play both, though he has said he doesn't like alternating quarterbacks by the series.
More like this story on KUsports.com