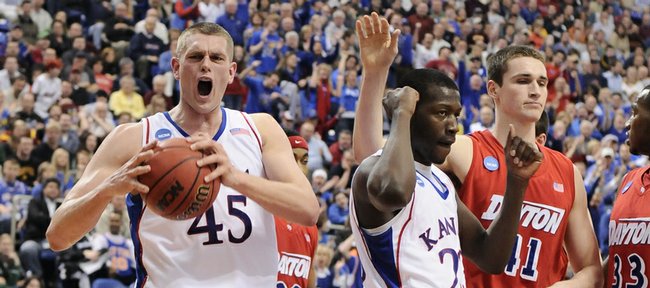 Fun-loving, easy-going Cole Aldrich, who often refers to himself as "goofy" in interviews, isn't happy-go-lucky all the time.
"Try getting around him when he's hungry," Cole's dad, Walter, cracked. "If he ever gets ornery, throw him a burger."
Or the basketball.
Aldrich, Kansas University's 6-foot-11, 245-pound junior center, must be fed for things to be right on and off the court.
"Cole definitely needs more touches. Cole told us that he is a good player and he definitely needs more touches," KU sophomore guard Tyshawn Taylor said of the prodigious pivot, who took just two shots the first half and five the second en route to 13 points in last Tuesday's exhibition rout of Fort Hays State.
He'll be prepared to accept additional inside feeds in today's 7 p.m. exhibition against Pittsburg State in Allen Fieldhouse.
"I don't think he tells us as much as he should, but he lets us know when he's not getting enough touches. Like the other day in the game, he was telling me a couple times, 'Look for me more.' We started to in the second half," Taylor said.
Just a freshman, Xavier Henry noticed how much better KU's offense flows on possessions the first-team preseason All-American touches the ball.
"He opens up everything. When people double team him it leaves people like me open," Henry said. "When he gets it, he either scores it or he is a real good passer so he kicks it out."
A year ago, Aldrich averaged 14.9 points a game while attempting 9.5 shots per game. He was 4-for-7 shooting and 5-of-6 free throwing against Fort Hays State.
"We've got to get Cole more touches," KU coach Bill Self said. "When things are going well and other guys are making shots, a lot of times we can forget about the big fella. We don't need to do that."
Self likes those possessions in which the ball is close to the goal.
"I look at it as let's get him touches more than shots ... touches in areas where he can shoot. If they take that away, hopefully he can become a better passer or better assist guy," Self said of Aldrich, who had 36 assists against 56 turnovers his sophomore season. "It'd be great if he got double-figure (shot) attempts. Last year Sherron averaged about 13-14 shots a game (Collins averaged 14.9 shots and 18.9 points) and Cole probably nine. Sherron's attempts should be comparable and Cole's a little bit more (than a year ago)."
Aldrich can understand why the ball didn't make its way inside much against Fort Hays State.
"I think early we struggled. That's the first game," Aldrich said. "That is kind of how it'll be. We hadn't been in front of everybody in six, seven months. We're just getting back in the flow and figuring out what we need to work on, and different stuff like that is always good."
The big guy is speaking up more this season, but hasn't been raising his voice too much with teammates.
"I think pretty much everybody has stayed focused," Aldrich said. "It's always tough for us because this time of year we are practicing long. We're going for a few hours. We're running up and down the court trying to get our feet under us. At times guys can get tired and fatigued. You've got to fight through it, realize practice is hard, but it'll also make the games that much easier."
The Jayhawks will open the regular season on Friday against Hofstra in another 7 p.m. tipoff in Allen Fieldhouse.
More like this story on KUsports.com