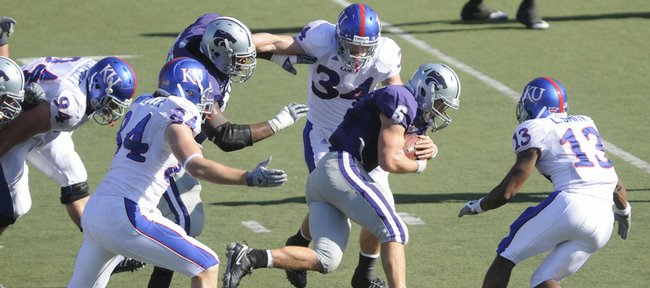 Well, the Kansas University football team's defense seems finally to have figured out how to stop the pass.

Problem is, now it's having all kinds of problems against the run.

This was evident during Saturday's 17-10 loss to Kansas State, when the Jayhawks gave up a season-worst 266 rushing yards while making Wildcats running back Daniel Thomas — a guy who was playing quarterback at Northwest Mississippi Community College a year ago — look like the second coming of Jim Brown.
A week after giving up 123 yards and three fourth-quarter touchdowns to Texas Tech tailback Baron Batch, the Jayhawks' normally stout rush defense again faltered down the stretch, as Thomas finished with 24 carries for 185 yards — 130 of which came in the second half.
"He broke a lot of tackles. He runs hard. He can make you miss. He has good cutting ability," KU coach Mark Mangino said of Thomas, who entered the game as the Big 12's second-leading rusher. "He's a big guy. You've got to wrap him up to get him on the ground, and we didn't always do a good job of putting him on the ground, that's for sure."
Nowhere was this more evident than on the game's final drive.
When Kansas kicked off with 5:20 to go — following a Jacob Branstetter field goal that pulled the Jayhawks within a touchdown — the team's only hope was a quick defensive stop and a chance to get the ball back with a couple minutes left on the clock.
Didn't quite work out that way.
Thanks in no small part to Thomas' ability to keep the chains moving — Thomas and K-State quarterback Grant Gregory combined for 40 yards on eight carries during the final series, converting on two third-down situations — the Wildcats were able to bleed the clock to death and return the Governor's Cup to Manhattan for the first time since 2005.
"Daniel is a beast," said Gregory, who finished with just 66 passing yards while attempting only three second-half passes. "It's his first year playing running back, and I think he's the best running back in the conference."
It was hard to argue otherwise. Thomas on Saturday became the Big 12's first 1,000-yard rusher this season, scoring his conference-best 11th rushing touchdown and leaving Kansas to address what appears to be a deteriorating rush defense.
"Every day, I'm sending mass texts to everybody, (safety Darrell Stuckey) is sending mass texts to everybody, that we've just got to continue to improve and come watch film together as a unit," KU defensive back Chris Harris said. "I feel like we've jelled together, and we've gotten better together. We've just got to keep improving, and hopefully we'll get a win."
With Saturday's game against Nebraska on tap and the team's postseason fate growing grimmer by the week, however, time is running out for Kansas.
But like they have all season, the Jayhawks will keep plowing forward, Mangino assured reporters.
"Certainly, we don't have a sense that we're in control of things when you lose four in a row," the coach said. "But I'm in the locker room with the players, I know our kids pretty well, and quickly their attention shifted to next week's game. It's the last game for our seniors at home, and our players unanimously agreed that they want to get a win for the seniors in our last game at Memorial Stadium."
More like this story on KUsports.com