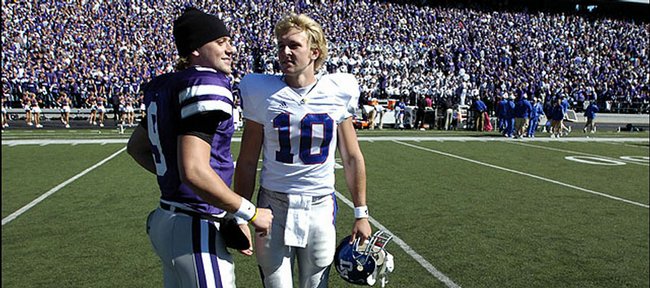 When Kansas University football coach Mark Mangino decided to pursue a quiet quarterback from Pittsburg High a few years back, he did so with the understanding that luring the player to Lawrence would not be an easy task.
For one thing, Mangino was attempting to sell KU football to a member of what could be described as the First Family of Kansas State football. Kerry Meier's brother Shad had starred for the Wildcats before going on to the NFL, where he'd spend five years as a tight end for the Tennessee Titans and New Orleans Saints, and his other brother, Dylan, at the time was a quarterback at K-State.
Also, the Jayhawks had yet to establish themselves as the state's top-tier program, having dropped 11 of 12 games to the Wildcats between 1993 and 2004.
"We were just down there recruiting our tails off, trying to get a really good player," Mangino said. "And we thought it would be an uphill battle."
What Mangino didn't know, however, was that Kerry Meier already was leaning against following his brothers to Manhattan. He liked the city of Lawrence and its artsy feel. He liked its proximity to Kansas City and the chance to carve his own collegiate path.
"With the past that my brothers had there, and with (Kansas State coach Bill) Snyder and all the things that coach Snyder and K-State did for my brothers, they have so much respect and appreciation for the program," Meier said. "And I have the same appreciation for K-State, as well. But at the time, I was ready to make my own name, and that's when I chose to come to KU, to try to establish my name, not as a 'Little Meier', but Kerry Meier."
Seems to be going pretty well so far.
Since losing a highly publicized quarterback battle to Todd Reesing prior to the 2007 season, Meier has transformed himself into one of the nation's most consistent receivers. Last year, in his first season as a full-time receiver, he smashed the school's all-time receptions record, finishing with 97 catches for 1,045 yards and eight touchdowns.
Through eight games this season, he ranks second nationally in receptions per game (8.1) and leads the Jayhawks with 65 catches and six touchdown receptions.
Despite his family ties to Kansas State, Meier insists his brothers did little to sway his college choice. They backed him 100 percent at the time, he says, and have continued to do so during a four-year career that will go down as one of the most memorable in the program's history.
"He's always been really independent," Shad said. "And I think at that point in his life, at that juncture, he'd seen two brothers go to one school, and we had fun, we had success and things like that. But I think he was ready to pave his own way through college: have a new experience and go through things firsthand instead of having somewhat of a lead on how to do stuff."
Still, with today's 11:30 a.m. Sunflower Showdown looming, it's easy to wonder what might have happened had he followed his brothers to Manhattan.
Given the Wildcats' current quarterback situation — Grant Gregory and Carson Coffman have been unable to match the level of production of Josh Freeman during his career — it's not inconceivable to think that Meier, had he chosen K-State, would be quarterbacking the Wildcats against Kansas today.
Of course, based on his obvious abilities as a pass-catcher, it's not hard to imagine that an astute Wildcats coach would have as a receiver by now, either.
"It was in his cards to be a receiver," Shad said. "You think how things play out, and you watch it, and you see his transition and how easy it was. It was in his cards. It shakes out exactly how it's supposed to."
And so here Meier is in Lawrence, part of a KU program that has shifted the axis of power in the state of Kansas. In the past four Sunflower Showdown games, the Jayhawks have emerged victorious in three. And while Shad became quite familiar with former Kansas governor Bill Graves during his career at K-State — "Fortunately, he was always in our locker room after the game," Shad said. "We got to see him a lot" — it has been Meier who has grown accustomed to the locker-room visits of government officials lately.
Kerry Meier is 3-0 against Kansas State in his career, and a victory today would — in addition to matching Shad's 4-0 record in the rivalry game — prove particularly beneficial in terms of Kansas' big-picture goals.
With the Jayhawks mired in a three-game losing streak — their longest since 2006 — and fighting to stay alive in what has proven to be an unpredictable Big 12 North race, it's no stretch to call today's game a must-win.
"There isn't really a whole lot of changes we've got to do, we've just got to go out and perform," Kerry Meier said. "What we've done in the past is what got us here, and we just have to get back to what we're doing. Confidence is a big thing right now, and getting back on track and getting confident in what we're doing and believing in what we're doing is what we need to do."
More like this story on KUsports.com