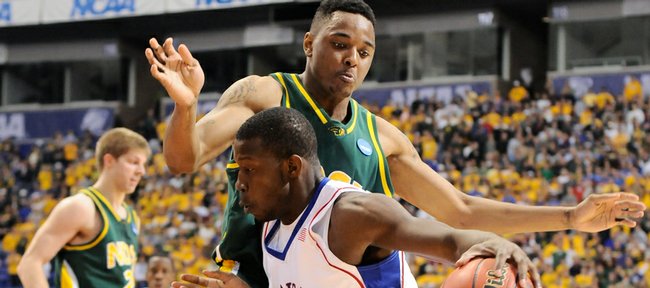 Mario Little, the subject of Kansas University's first "Pop-Up Video" of the basketball season, gives the production mixed reviews.
"I saw it. It was pretty funny," Little, Kansas University's senior guard/forward, said.
He was referring to a short spoof of the VH1 television show, which was shown on the videoboard during a timeout in the KU-Fort Hays State exhibition game Tuesday in Allen Fieldhouse.
Pop-up bubbles or info nuggets containing trivia on Little's life highlighted Tuesday's piece.
"None of that stuff was real. They made all that up, so don't believe it," Little said.
The video lightheartedly listed some of the famous "Little's" throughout history, including rappers Lil Jon and Lil Wayne, as well as Little John of Robin Hood fame and singer Little Richard.
One pop-up bubble said Little was as smooth as yogurt and followed that Little's favorite flavor was "Tutti Frutti," — the Little Richard song of the same name playing in the background.
"Not true. They tricked me into saying that," Little said with a laugh.
Whether Little will be able to watch Pop-Up Videos of his KU teammates in future Jayhawk games — or instead have to pay close attention to coach Bill Self's words in huddles — has yet to be decided.
The 6-foot-5 Chicago native is considering red-shirting — practicing but not playing in games until the 2010-11 campaign.
"It's still up in the air. I want to play. Of course I want to play, but I want to make the best decision," said Little, who is in the mix of making coach Bill Self's nine-man rotation.
"I'm kind of torn in between. I trust coach and the decisions that he makes. Hopefully everything will play out well."
Little, who is healthy following offseason surgery to repair a stress fracture in his lower leg, said "I don't know" when asked if he could handle sitting out the upcoming season.
"It's tough regardless, not playing," he said. "Just shooting around today, it was hard for me not to think about getting out there."
Little would have been ineligible for a red-shirt had he entered Tuesday's exhibition game, according to NCAA rules.
"I didn't want to throw it all away by playing (Tuesday)," Little said of KU's 107-68 rout of the Tigers.
He said he was impressed with the play of KU newcomers Xavier Henry, Elijah Johnson and Thomas Robinson, who combined for 29 points, 10 rebounds and five assists.
"They got all the nerves, the bugs, the butterflies out of them," Little said. "They all came in and played with confidence, which is good."
More on red-shirting
KU sophomore Travis Releford and junior Conner Teahan also sat out the game as they consider red-shirting.
"It's something we're trying to find out what is best for the team. We are trying to play it safe so none of us are playing," Teahan said of the three KU candidates.
Remaining at KU a fifth year would fit into Teahan's educational plans.
"I am probably going to have to stay an extra semester just because I am getting into business school a little bit late," said Teahan, a 6-5 guard out of K.C.'s Rockhurst High.
He acknowledged it's been tough not being in the playing rotation.
"It's been frustrating just because I really have been sitting out the first two years of my career," he said. "It's one of those things I always wanted to play here and I'll do whatever it takes to play here. If that means sitting another year, I'll sit another year. If they need me now ... I don't want to waste a year. I think I can contribute sooner or later and that's what I'm focused on."
Teahan has been impressed with all the talent Self and his assistants sign on a yearly basis.
"I sit there on the bench thinking, 'Geez, I've been working my butt off for the past two years and it's just like we keep bringing 'em in,'" Teahan said. "It's one of those things where you can't get mad at that. As a fan of KU, I've been trying to see KU succeed my entire life. Is it frustrating for me at times? Yes, it's frustrating but I want us to do well so that's all that really matters."
He's worked hard on his game.
"I feel I've been executing and gotten a lot better, a lot more athletic and have been able to do something on the defensive end which has always been my struggle as everybody knows," Teahan said. "Hopefully I'll continue to improve."