Wednesday, November 4, 2009
More from the game
Reader poll
Xavier Henry

38%

967 votes

Thomas Robinson

16%

421 votes

Elijah Johnson

37%

932 votes

Undecided

7%

181 votes
2501 total votes.
Audio clips
2009 KU-Fort Hays State basketball
Videos
KU vs. Fort Hays State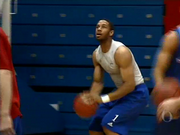 KU men's basketball got ready for the 2009-10 season with an exhibition matchup against Fort Hays State Tuesday, Nov. 3, 2009 at Allen Fieldhouse.
Reader poll
Travis Releford

35%

1437 votes

Mario Little

8%

367 votes

Both Little and Releford

47%

1957 votes

Neither of them

5%

237 votes

Other

2%

88 votes
4086 total votes.
Kansas University junior walk-on guard Conner Teahan did not play Tuesday. He's considering a possible red-shirt season. If he had played, he would not have been able to red-shirt. Only freshmen and first-year junior-college transfers can play in exhibitions and still be red-shirted.
"My situation depends on what Mario and Travis end up doing," Teahan said of Mario Little and Travis Releford, who will decide by Tuesday's exhibition against Pittsburg State whether they will red-shirt. "If they both red-shirt, I probably won't. If one of them doesn't red-shirt, I probably will (red-shirt). That's kind of what the situation is."
Teahan said he wants eventually to contribute in the rotation at KU and would red-shirt if that helps him attain his goal.
"We'll wait and evaluate before the next exhibition game," KU coach Bill Self said.
•
Buford doesn't enter game: Walk-on Chase Buford dressed, but did not enter the blowout. He was not injured.
"That was my decision," Self said. He did not say anything else about the decision — whether it had anything to do with the fact Buford was arrested in July on charges of operating a vehicle under the influence.
•
One Henry sits: C.J. Henry (sore knee) did not suit up for the game. Self said he's listed day-to-day.
•
Xavier shines: Xavier Henry hit his only shot attempt of the first half, a three. He finished with 14 points off 3-of-7 shooting (6-of-8 free-throwing) in 20 minutes.
"He likes scoring," Self said. "He has a knack for scoring. I thought he played fine. He is a good rebounder. He only got one tonight. Defensively he got spun around a couple times. That will happen. He will be a nice player. He is definitely a weapon we didn't have last year. His biggest strength is his body. He can make plays through his strength."
•
Stats, facts: KU has won 34 straight exhibition games, including a 20-0 mark under Self. ... KU started Tyrel Reed, Xavier Henry, Markieff Morris, Cole Aldrich and Sherron Collins. ... Nine of 10 players made their first shot. The exception was Collins, who later made three consecutive threes. ... Hays native Jordan Juenemann scored two points against his hometown school. ... Fort Hays State received $20,000 for playing the game.