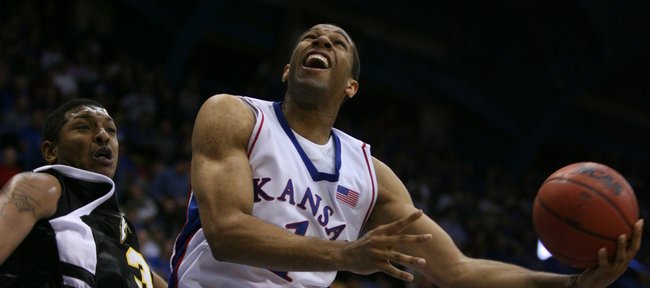 More from the game
Reader poll
Xavier Henry

38%

967 votes

Thomas Robinson

16%

421 votes

Elijah Johnson

37%

932 votes

Undecided

7%

181 votes
2501 total votes.
Audio clips
2009 KU-Fort Hays State basketball
Videos
KU vs. Fort Hays State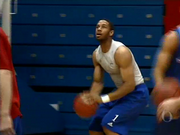 KU men's basketball got ready for the 2009-10 season with an exhibition matchup against Fort Hays State Tuesday, Nov. 3, 2009 at Allen Fieldhouse.
Reader poll
Travis Releford

35%

1437 votes

Mario Little

8%

367 votes

Both Little and Releford

47%

1957 votes

Neither of them

5%

237 votes

Other

2%

88 votes
4086 total votes.
9:58 p.m.
KU coach Bill Self's press conference is posted on the left. A couple quick notes from it regarding red-shirts.
• The coaching staff was considering a red-shirt for Elijah Johnson, but Self said that appears less likely now.
• Conner Teahan sat out tonight to keep his red-shirt options open as well. If either Little or Releford decide not to red-shirt, Teahan might decide to take one.
Kansas scoring
Collins 19, Taylor 15, X. Henry 14, Aldrich 13, Markieff Morris 12, Marcus Morris 10, Johnson 9, Reed 7, Robinson 6, Juenemann 2.
KU was 32-for-60 from the floor (53 percent), 7-for-17 from three (41 percent) and 36-for-43 from the free-throw line (84 percent).
FHSU was 23-for-68 from the floor (34 percent), 10-for-26 from three (38 percent) and 12-for-19 from the free-throw line (63 percent).
KU out-rebounded FHSU, 47-34. KU had 18 turnovers; FHSU had 21.
KU defeats FHSU, 107-68
Nice pass inside by Marcus Morris, who feeds Jordan Juenemann for a reverse layup against his hometown team.
Reed holds the ball for the final seconds, and KU finishes off a 107-68 victory.
KU 100/ FHSU 63 — 3:31 left in 2nd half
Nice transition basketball after a steal from Taylor. The sophomore threw it to Robinson, who dished a no-look pass right back to him for a layup.
Robinson picks up two quick fouls, and to keep the freshman tradition, he fouls out in just 12 minutes.
Nice work on the boards by the Morris twins, as Marcus fights for one offensive board and Markieff gets the next.
Tim Peintner is called for his fifth foul, and that's the fourth Tiger to foul out tonight. We haven't even made it to the four-minute media timeout, either.
Johnson shows great control on the break, weaving between defenders before dropping in a finger-roll. A red-shirt for him is looking less likely by the minute.
KU 89/ FHSU 58 — 7:37 left in 2nd half
Collins comes away with a steal in the backcourt, and he finishes the play with a finger-roll. Funny how, just when Xavier tied him as the scoring leader, Collins quickly put in six straight KU points.
One thing we've learned already about Xavier Henry: He doesn't care where his feet are when he shoots it. Another shot from 19 feet, and that's the third time I remember him putting up an attempt with a foot on the line.
KU 80/ FHSU 55 — 11:14 left in 2nd half
Best play of the night for KU, as Xavier Henry dives on the floor to pick up a steal for the Jayhawks. He tosses to Thomas Robinson, who gives off to Taylor in transition. The sophomore threw a long, high lob to Johnson, who went way up to throw it down with both hands. That got the students going.
Robinson shows his athleticism by elevating to block a shot from the weak side, but he's called for goal-tending.
Henry hits another three, and he's tied Collins as KU's leading scorer with 13. Henry has done it with just four field-goal attempts, going 3-for-4 from the field, 2-for-3 from three-point range and 5-for-6 from the free-throw line.
Robinson steals two extra possessions for KU, hustling to pull down two offensive rebounds. KU can't convert, though, as Collins misses a three and Marcus Morris is short on a jumper.
KU 66/ FHSU 38 — 15:32 left in 2nd half
Taylor, with his middle and ring fingers taped together on his right hand, tosses up a nice alley-oop to Aldrich, who slams it down.
Collins penetrates and then dishes out to Taylor, but the sophomore hesitates on the shot and instead decides to drive. Taylor has looked a bit hesitant to shoot wide-open threes tonight.
The Jayhawks have shown some good hustle on loose balls, as Aldrich saves a ball under his own basket and Markieff Morris leaps out of bounds to save another KU possession.
Aldrich puts in a pair of turn-arounds, and KU has started the second half with good energy and also a 10-0 run.
Xavier Henry shows his quick release, hitting a baseline jumper with a foot on the line.
Halftime scoring
Kansas
Collins 13 (4-for-7 shooting, 3-for-4 threes), Markieff Morris 7, X. Henry 7 (1-for-1 shooting, 4-for-4 free throws), Taylor 7, Reed 5, Aldrich 5, Robinson 4, Marcus Morris 4, Johnson 2.
KU was 15-for-26 from the floor (58 percent), 5-for-8 from three (63 percent) and 19-for-22 from the free-throw line (86 percent).
FHSU was 10-for-33 from the floor (30 percent), 5-for-13 from three (38 percent) and 10-for-14 from the free-throw line (71 percent).
KU out-rebounded FHSU, 20-17, in the first half. Both teams had 11 turnovers.
KU 54/ FHSU 35 — Halftime
Another three by FHSU's Jones, and Self calls a timeout. More teaching moments for the Jayhawks.
Collins hits a three from the right wing, and on the next possession, he pulls up and swishes another from the identical spot. The senior pumps his fists in satisfaction, and FHSU needs a timeout of its own.
Smart play by Markieff Morris on defense, as he anticipated contact by Dijon Smith in the post and fell backwards. You'll get an offensive foul call about 95 percent of the time there.
The Jayhawks have gotten a lot of free throws, but to their credit, they've hit them. After a pair of makes by Aldrich, KU has made 19 of 22 (86 percent).
Collins puts together a typical end-of-shot-clock display just before the end of the half, as he fakes a drive before pulling back and draining an 18-footer. At least FHSU's Ben Congiusta can tell people he was fooled by a future NBA player.
Following a tip from Ryan Herrman at the buzzer, KU takes a 54-35 lead into the break.
KU 41/ FHSU 26 — 3:45 left in 1st half
Following a steal, Elijah Johnson gets his first two in transition on a feed from Collins.
Taylor swipes away a steal, and Johnson gets to show off his ups, throwing down a one-handed slam. The freshman kept his first dunk simple, electing to make sure of the most important part: that it went through.
Taylor gets careless on a pass, and FHSU's Willie hassell intercepts and takes it in for an easy two. Taylor immediately races to the other end and gets fouled on a shot attempt. He must not have wanted to have the bad thoughts linger.
Johnson turns it over, and that's already nine giveaways for KU.
Markieff Morris follows by throwing one down with authority in transition, though, getting fouled in the process. He might have tried to lay that one up last year, but with the extra work in the weight room, there was a bit more explosion tonight.
KU 30/ FHSU 21 — 7:43 left in 1st half
Tyshawn Taylor leaves the court shaking his right hand. It looks like he might have a finger/hand injury, and he immediately goes to the locker room. That'll be something to keep an eye on. Remember, he dislocated his left thumb last month, so this doesn't appear to be a re-injury of that hand.
Strong move by Markieff Morris inside, but he misses a short turn-around. After starting 3-for-3, the Jayhawks are just 4-for-12 since (33 percent).
Fort Hays State is holding its own inside. After a pair of offensive rebounds for the Tigers, KU is leading the rebounding margin just 14-12.
Quick move by Taylor, who split two defenders while driving to the basket with his left hand before putting in a layup.
Aldrich puts in a layup and gets fouled. It's his first points and only his second field-goal attempt.
KU 19/ FHSU 11 — 11:58 left in 1st half
Elijah Johnson and Thomas Robinson both check into the game. Remember, freshmen can play in exhibition games and still qualify for red-shirts.
It doesn't take long for Robinson to make an impact, as he rebounds a missed free throw by Tyshawn Taylor and banks in a follow off the glass for two.
Unfortunately for Robinson, he remains active defensively, but not the way he wants. The freshman picks up two fouls in less than a minute.
Following a Dominique Jones three, Self calls timeout with KU leading 19-11. The Jayhawks still have a ways to go defensively.
KU 16/ FHSU 7 — 15:10 left in 1st half
Markieff Morris opens with the Jayhawks' season with a slam, as he dunks it home after getting a nice entry feed from Sherron Collins.
We get a glimpse of Xavier Henry's scoring ability on the next possession, as Markieff passes out of a double team and finds Henry for a three from the left wing that swishes through.
Henry has still looked a bit tentative on the perimeter. He seems to shy away from defenders, and a few of his passes haven't been as strong as they need to be.
Reed curls off a screen and swishes a mid-range jumper. The Jayhawks start off the contest a perfect 3-for-3.
Henry forces up a tough, 17-foot baseline shot, but he's bailed out by an FHSU foul. Two free throws later, and he leads the Jayhawks with five points so far.
Reed is beaten on a drive to the basket, but he makes up for it by skying high to block and FHSU player from behind. Collins rewards Reed on the other end, hitting him in transition for a rhythm three that hits all net.
6:59 p.m.
KU's starters: Sherron Collins, Cole Aldrich, Markieff Morris, Tyrel Reed and Xavier Henry.
6:37 p.m.
Already, I can see some changes this year that you might be able to notice on TV.
For one, the Jayhawks have red warmup pants with a blue and white stripe down the side. It seems like KU continues to incorporate the red more and more into its color scheme.
Also, the cheerleaders' outfits have a more old-school look, with white over the chest and a blue "KU" in the middle. The words "Rock Chalk Jayhawk" run down a red stripe on the left sleeve.
KU has a pretty good starting unit on half-court in street clothes: Mario Little, Travis Releford, C.J. Henry, Brady Morningstar and Jeff Withey. Conner Teahan also is in street clothes, so it doesn't look like he'll play either.
6:20 p.m.
Here are some notes about tonight's game.
• The last time these teams played in the preseason, KU defeated Fort Hays State, 93-56, before the 2007-08 season. Darrell Arthur led the Jayhawks in that game with 20 points, while Mario Chalmers had 14 and Sherron Collins added 12.
• Tim Peintner is the leading returner for FHSU, as he was honorable-mention All-MIAA last season. The 6-foot-6 senior forward averaged 12.3 points and 7.1 rebounds last season. Peintner scored three points against the Jayhawks in the 2007 game.
• FHSU has an enrollment of 9,000.
• The Tigers were 20-9 overall last season and are receiving votes in the preseason Division-II poll.
• FHSU led the MIAA in rebounding margin (+6.3) last year.
• KU has won 33 straight exhibition games.
• The Jayhawks are 19-0 in preseason games under coach Bill Self.
5:50 p.m.
Welcome back to the Newell Post Live, coming to you from Allen Fieldhouse where the Kansas Jayhawks are getting set to open their season with an exhibition game against the Fort Hays State Tigers.
We'll get to some notes about both teams later, but let's start with some discussion about red-shirts.
As you probably already have read in Gary Bedore's story, KU senior Mario Little and sophomore Travis Releford will sit out tonight's game while pondering red-shirts.
So my question is this: Which of those guys should take red-shirts?
Honestly, I think it makes sense for both of them to consider it.
With the addition of Xavier Henry, Releford is a talented player that is stuck at a position where he might not get many minutes this season. Plus, Releford is explosive but still a bit raw, meaning an extra year would only help him refine his game.
Little, on the other hand, could be a starter for next year's team, but with only one year of eligibility left, he also could get caught in a numbers game this year. He also might not be fully healed from his injuries, and a red-shirt would allow him to fully heal.
Be sure to vote in our poll on the left. And if you are Tweeting, use the hashtag "#kubball" to have your post show up on the left.