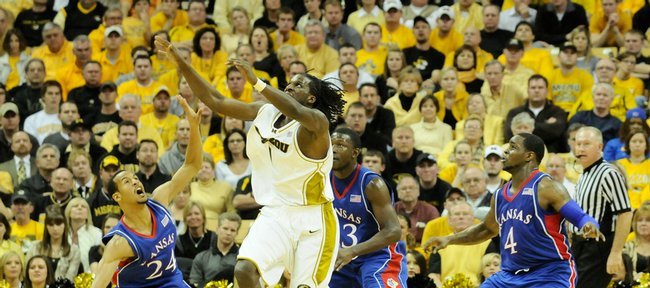 On the street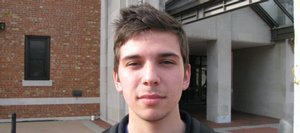 There was as much discussion Monday about who wouldn't be playing in tonight's Kansas University-Fort Hays State exhibition basketball game as who would be debuting for the Jayhawks.
KU coach Bill Self reported before practice that senior Mario Little and sophomore Travis Releford would be held out of the contest, to tip off at 7 p.m. in Allen Fieldhouse.
He's considering red-shirting both players. By playing in the game, both would give up a possible opportunity to red-shirt the 2009-10 campaign.
"We haven't made any decisions on red-shirting yet, but Mario and Travis are not going to play tomorrow," Self said. "The reason is, if they play tomorrow, they forfeit the right to ever red-shirt. We're going to give it another week and try to determine some things. Of course, the incoming guys, we can play them and still red-shirt them. It's kind of a screwy rule."
The NCAA lets coaches play freshmen and first-year juco transfers in two exhibitions and still decide to red-shirt them prior to the start of the regular season. Returnees are not given that opportunity.
"We talk about separation (between players)," Self said. "I don't think there's been the separation we'd hoped for two weeks in. I think everybody pretty much looks about the same. We'd like to give it another week before we make any definite decisions."
Self said no other non-freshmen were being considered as red-shirt possibilities. He said it was possible a freshman could red-shirt.
"A lot depends if we feel as a staff the guys we are playing can be part of our rotation. I think we've got a lot of good players," Self said. "I think it's a good problem to have. I also think this: We can't keep all of our good players happy if everybody plays.
"But if you were to red-shirt a couple that are starters at Kansas ... then, that's probably a pretty good tradeoff. Plus, it would probably ensure graduating by the time they left here. That's what we are probably looking at. (Of the) newcomers and Mario and Travis ... if they could be in our top seven or eight going into the season. If they can, great. If they can't, you have Brady (Morningstar) who will become eligible (after first semester) and you have Jeff Withey who will become eligible (after first semester). You have some situations that may not be the brightest from a numbers standpoint.
"I think the guys who are not going to play tomorrow ... both have a chance to be starters here. Maybe one of them will play this year. Maybe one of them won't. Maybe they'll both play. Maybe they'll both red-shirt. I don't know yet."
In a recent 60-minute intrasquad scrimmage, 14 Jayhawks scored at least 18 points. The leading scorer had 26.
"It's one of those things we haven't separated ourselves from the pack yet. It also means you don't guard anybody, too. Hopefully we'll get better at that," Self said.
Self said Tyrel Reed would play this season.
"I would if it's best for the team," Reed said of red-shirting, adding that he prefers playing. "I feel being at Kansas you have a chance (at national title) every year, but this year especially I definitely want to be out there."
Bumps, bruises: Guard C.J. Henry, who will not play tonight, is listed day-to-day because of a sore right knee that has kept him from practicing lately. ... Reed, who missed two practices due to a sprained right ankle, is expected to play. ... Tyshawn Taylor, who suffered a dislocated left thumb in September, said he's 100 percent healed. ... Morningstar has missed a week of practice time because of a sprained ankle.
Trash talking: KU's practices have been ultra-competitive. "There's some trash talking going on, which is fun," guard Sherron Collins said, identifying Releford as the squad's top trash talker.
"Travis is playing well. He's talking. He lets you know when he hits shots in your face, gets a deflection. As soon as he starts talking, it gets everybody talking. It's something good for the team. It makes it more competitive," Collins said.
Practices have been so competitive Collins said he has no clue who will play tonight. "We've got so many people I don't know what's what," he said.
Who's starting?: Self said the starting lineup would be a game-day decision. Which rookie is ready to shine? "I think if you put any of them in the starting lineup, I think they'll be ready," Collins said.
Of Xavier Henry, Collins said: "I think he's a natural scorer. I tried to guard him a few times, and I caught myself under the rim."
Of Thomas Robinson, Cole Aldrich said: "He's good. He's still running around like a chicken with his head cut off in practice, through plays and all that. The greatest thing is he's got a great attitude."
More like this story on KUsports.com