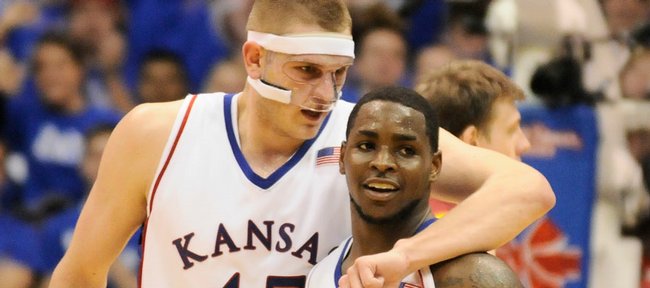 Cole Aldrich and Sherron Collins, who last month were named the Big 12's co-preseason basketball players of the year, shared another huge honor Monday.
The Kansas University standouts were tapped first-team Associated Press All-America, with Notre Dame's Luke Harangody, Kentucky's Patrick Patterson and Duke's Kyle Singler.
With each passing day, it continues to be difficult — if not impossible — for anybody to differentiate between the inseparable KU teammates/best buddies, who after last season were voted first-team All-Big 12 by the league's coaches and media members alike.
"It's almost kind of like he's the girlfriend and I'm the guy," Aldrich, a 6-foot-11 junior from Bloomington, Minn., said with a laugh. He received 49 votes from a 65-member national media panel to 5-foot-11 Chicago senior Collins' 39. Harangody led the way with 57 votes, while Patterson had 35 and Singler 30.
"Sherron is one of my favorite basketball players and favorite people in general. To have a teammate to share such an honor is huge for not only us individually but the whole state of Kansas and the University of Kansas," Aldrich added.
Now, about that "girlfriend" analogy ...
Aldrich was informed his little joke likely would end up on blogs all over America.
"I know it's going to be," Aldrich said. "I just like to tease Sherron about little things. I say Sherron is from the suburbs, but he's not really from the suburbs. That's the greatest thing about our relationship. We can have a little fun with you guys (media) and fun with each other."
Collins never knows what Aldrich will say next. "I don't know what he meant by that. I'll have to ask him when we get out there," Collins said.
The two are the sixth set of teammates to be named to the AP's preseason All-America squad and first since Duke's J.J. Redick and Shelden Williams in 2005-06. KU's Raef LaFrentz and Paul Pierce were honored in 1997-98.
"I think you'd be hard pressed to find two better players in the country than those two," coach Bill Self said.