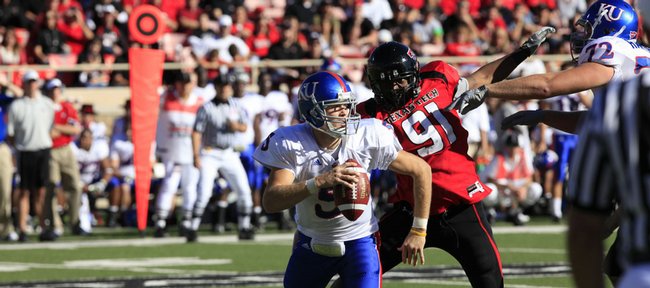 Related stories
Reader poll
Yes

60%

1530 votes

No

31%

804 votes

Undecided

7%

183 votes
2517 total votes.
Photo Gallery
KU vs. Texas Tech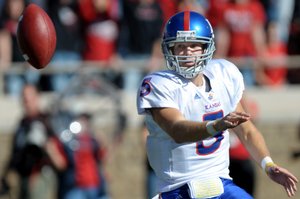 Pictures from the Jayhawks' game against the Red Raiders at Jones AT&T Stadium in Lubbock, Texas, on Saturday, Oct. 31, 2009.
Lubbock, Texas — The Texas Tech defense had one main objective Saturday when it came to Kansas University quarterback Todd Reesing: confuse him.
"We had a couple calls to focus on Dezmon Briscoe and (Kerry) Meier. They're really great players," TTU cornerback LaRon Moore said after his team's 42-21 victory, "but I believe we just focused in on them and had a different kind of coverages where Reesing didn't really know what we were doing. I believe that we mixed them up a lot.
"I believe we all did a great job, from the D-line to the linebackers to the secondary by confusing Reesing to where he couldn't get it to No. 10 (Meier) the whole night."
Meier finished with a season-low three catches for just 32 yards. The senior hadn't had three catches or fewer since the Nebraska game last season.
Reesing looked a bit off the entire game as well, completing just 20 of 35 passes for 181 yards.
"We're a defense that kind of fake-blitzes and stuff like that, so we just throw the offense off with our movement and stuff like that," TTU linebacker Brian Duncan said. "We knew that if we moved — if our outside linebackers moved around — it would just throw them off, because they like to check, they look to the sideline.
"We move one place and then switch back. It just messes them up."
After allowing 52 points to Texas A&M; last week, the Tech coaches focused on the basics in practice this week, from tackling drills to playing the with correct pad level.
TTU coach Mike Leach was pleased with his defense's effort, especially against Reesing.
"He is accurate. He does make good decisions. He runs the unit great and has been a guy that is ridiculously competitive to the point where he's succeeded where others didn't think he was going to," Leach said. "Playing against him and overcoming him, I think, is pretty big."
The postgame news conference also gave Leach plenty of time to sound off on a wide array of topics.
For one, he explained more fully what he meant by his "fat little girlfriends" comments.
After his team's 52-30 loss to Texas A&M; last week, Leach was quoted as saying: "As coaches, we failed to make our coaching points more compelling than (the players') fat little girlfriends. Fat little girlfriends have some obvious advantages. For one thing, their fat little girlfriends are telling them what they want to hear, which is how great you are and how easy it's going to be."
Leach said he learned the term from an offensive line coach he worked with at a football camp.
"And so, that's kind of floated around our place for a while. It's a figure of speech," Leach said. "Too high a level of relaxation. Too much listening to the outside.
"And so to those who are offended, I'm offended that you don't think that I get to exercise my first-amendment rights. So that makes two of us. That's pretty much all I have to say about that."
When asked about quarterback Taylor Potts, who entered the game for Tech in the second half, Leach started on a tangent about judging quarterback talent.
"People ask me the quarterback question all the time, and, 'What does it take to make a good quarterback?' I'll tell you who doesn't have the answer is most of the NFL scouts who select them," Leach said, "because if they did, then all first-round draft picks would be remarkably successful."
The coach didn't stop there.
"I wish I had a dollar for each time somebody said, 'All he's got to work on is his accuracy.' Well, name one of these guys that had to work on is his accuracy that became accurate. I'd be interested to hear who, because I can't think of any," Leach said.
" ... Or, 'He's really big.' Well, have him play defensive end. 'He can throw the ball really far. He just has to work on his accuracy.' Well, I've got a whole bunch of defensive ends out there. They'd love to play quarterback. They'd really like to. And they can throw it a long ways."
Leach ended his press conference by saying that choosing his quarterback for future weeks would be a gametime decision.
"I think it's very suspenseful and fun for everybody. So we're looking forward to it," Leach said with a smile. "I'm on the edge of my seat waiting to see myself."
More like this story on KUsports.com