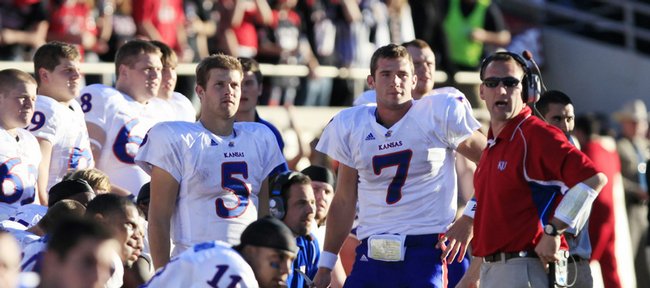 Lubbock, Texas — Todd Reesing has discussed a good number of things during postgame news conferences.
In his three years as the Kansas University football team's starting quarterback, the senior from Austin, Texas, has talked big wins, tough losses and several things in between.
What he never has discussed — what, given his stature as the most accomplished quarterback in school history, he could not have imagined ever discussing — is being benched in a seemingly winnable football game.
Yet, there was Reesing on Saturday night, in a nondescript room in the bowels of Jones AT&T; Stadium, trying to relay his surprise at being pulled midway through the fourth quarter of the Jayhawks' 42-21 loss to Texas Tech.
"I was (surprised). I'm not going to lie," he said, and he looked like he meant it. "At that point, we were two possessions down, by no means was the game over."
But with the team's offense sputtering, and Reesing unable to get things going for the third straight week, Kansas coach Mark Mangino did the unthinkable: He benched the team's best player in favor of red-shirt freshman Kale Pick.
"The last series he was in there, (Reesing) short-armed two passes and had a fumble," Mangino said. "More than anything, I thought maybe Kale would give us a little bit of a jump or something. I just didn't feel good about the offense as a whole."
While the coach indicated the benching was strictly performance-related, however, Reesing said following the game that he'd been struggling with a groin injury sustained in the team's Oct. 17 loss to Colorado.
"I'm not one to make excuses," Reesing said. "It's been a hard time practicing during the week because of it. I've got to do what I can to get ready and then play through it on Saturday. But I'm not going to say that that has anything to do with the last three weeks, because it hasn't. It's just something that you deal with as a part of football."
The situation was more than a little bizarre.
Four weeks earlier, Mangino had stood behind a podium and argued that Reesing, the player who had been so integral in the team's recent rise to prominence, deserved to be in the conversation for the Heisman Trophy. And while the idea of hyping his players — even one as distinguished as Reesing — for individual honors seemed a bit out of character for Kansas' eighth-year coach, his argument was hardly outlandish.
Through five games, Reesing ranked among the nation's leaders in nearly every significant passing category. He'd marched the Jayhawks through a predictably easy nonconference schedule with little difficulty, then thrown for a career-high 442 yards and four touchdowns in a narrow but momentum-building victory over Iowa State.

There was no reason to figure that things wouldn't continue in this manner for the foreseeable future.
But then came Colorado and the two first-quarter turnovers — an interception and a fumble — that led to two Buffaloes touchdowns and, eventually, the Jayhawks' first loss of the year.
Then came the three first-half interceptions against Oklahoma, two of which led to Sooners scores in a Sooners win.
And then came Saturday, a day when nothing seemed to go right. For most of the afternoon, Reesing struggled to get the ball into the hands of his receivers. He looked hesitant to scramble in his usual way and fumbled twice, one of which was returned for a touchdown.
In the first half, he completed nine of 18 passes for 88 yards, was sacked four times and lost 37 yards on the ground, though it still looked like — struggling quarterback and all — Kansas might be able to sneak out of Lubbock with a victory.
The teams entered halftime tied at 14, and when Reesing connected with receiver Dezmon Briscoe for a six-yard touchdown pass at the end the third quarter, it seemed to represent a major shift in momentum.
Following a botched snap that led to a turnover and a Red Raiders touchdown, however, Reesing found himself standing on the sideline, helmet pulled over his head, watching as Pick ran draw play after draw play from the quarterback position and teammates tried to make sense of the benching.
"Obviously, I think it was a big surprise to the whole team that he came out," said junior receiver Dezmon Briscoe, whose third-quarter touchdown reception from Reesing made the players the nation's top active scoring duo. "I don't really know exactly why he came out or what really happened."
After the game, Mangino gave no assurance that Reesing would be under center when the Jayhawks take on Kansas State next Saturday in what is no less than a must-win, indicating that Reesing, like every other player, is constantly being evaluated.
Reesing, meanwhile, was left to deal with the fact that — for the third straight week — the Jayhawks weren't able to get the job done.
"We continue to say we're going to bounce back, and the last two weeks we just haven't," Reesing said. "At this point, it's gut-check time. Either accept it and move forward and play with some heart the next few weeks and get to a great bowl game and see what happens, or you can quit.
"And we're not guys that are going to quit," he added. "Not one guy on this team is going to lay down and say it's over."
More like this story on KUsports.com