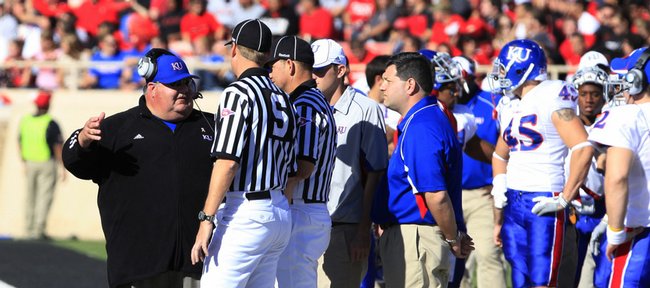 Related stories
Reader poll
Yes

60%

1530 votes

No

31%

804 votes

Undecided

7%

183 votes
2517 total votes.
Photo Gallery
KU vs. Texas Tech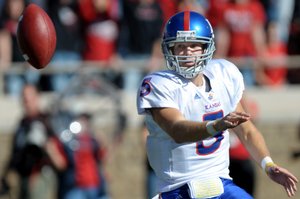 Pictures from the Jayhawks' game against the Red Raiders at Jones AT&T Stadium in Lubbock, Texas, on Saturday, Oct. 31, 2009.
Lubbock, Texas — Of all the things that went wrong during his team's 42-21 loss to Texas Tech on Saturday — and there were quite a few to choose from — none hit Kansas University coach Mark Mangino harder than the lackluster play of the team's offensive line.
A week after being dominated by a highly-touted Oklahoma defensive line, the unit gave up a season-high six sacks to the Red Raiders, while the Jayhawks' run game managed just 71 yards.

"We can no longer play the way we are," Mangino said. "We're not efficient in the run game. We're not physical. We don't finish blocks, and our pass protection, at times, has become suspect, as well."
While Mangino allowed that the unit's youth has been a factor this season — the Jayhawks returned only two starters from last year's line and is breaking in a new left tackle in Tanner Hawkinson — he vowed that if the current starters couldn't get the job done, he'd find players who could.
"I believe we've regressed the last two or three weeks in that area," Mangino said. "I have not been pleased for the last few weeks with the development of the offensive line, and I think if it's necessary to make changes, I'll make changes."
Another day, another slow start
They've analyzed it, tinkered with it and fretted over it, but Kansas coaches just can't figure out how to get the team's high-powered offense going early in games.
For the second straight week, the offense failed to score in the opening quarter. In four Big 12 games this year, meanwhile, the unit has racked up just nine first-quarter points and none since a 34-30 loss to Colorado on Oct. 17.
"We have a case where the players are not performing well and all of us coaches are not coaching well," Mangino said. "We have to take a look at ourselves and see what we're asking our players to do, how people are playing us on defense."
Pass rush effective in loss
Although the score would suggest otherwise, Saturday's game proved a positive step forward for a defense still trying to settle into a groove.
Jake Laptad, Maxwell Onyegbule, Jeff Wheeler, Chris Harris and Darrell Stuckey each finished with a sack, as the Jayhawks finished with five total sacks — the third time this season they've finished with at least five in a game — and held the nation's top passing attack to just 253 yards through the air.
"If the offense plays bad, we've got to play good," said KU linebacker Arist Wright, who finished with two pass breakups and a fumble recovery. "If we play bad, (the offense) has to play good. Everybody got together and said that we've got to focus and get things done every week. Not just one game; not just some other game. Every week."
Mangino addresses third-quarter kickoff
After Texas Tech had been flagged for back-to-back personal-foul penalties, the Jayhawks were set to kick off from the Red Raiders' 40-yard line — a situation in which some coaches might have opted to try an onside or squib kick in an effort to make use of the penalty yards.
However, because of what Mangino deemed a lack of confidence in placekicker Jacob Branstetter's ability to execute a short kick, the team chose to kick the ball through the end zone for a touchback, giving the Red Raiders the ball at their own 20.
"Branstetter, all he's capable of is kicking the ball off the tee deep," Mangino said. "You saw against Oklahoma, we tried to kick a little pooch kick, it didn't work. We've tried squib kicks in practice, they've gone out of bounds. So we figured, 'Let's make sure that they get it on the 20 and not do anything stupid.'"
Reesing moves up conference total yardage list
Despite an otherwise rough outing, Kansas quarterback Todd Reesing did manage to inch up the Big 12's career-total-yardage list Saturday.
With 170 yards from scrimmage, the senior from Austin, Texas, surpassed Bret Meyer of Iowa State for sixth place on the Big 12 career total yards list with 10,557. Meyer finished his career with 10,422 yards.

Outfit switch-ups prove futile against Tech
For the second straight year, Kansas has mixed up its uniform selection against Texas Tech, and for the second straight year, things have not ended well.
A year after sporting their alternate red jerseys in a 63-21 loss to the Red Raiders in Lawrence, the Jayhawks sported blue pants Saturday for the first time since 2004.
Unfortunately for Kansas, both games ended in lopsided losses.
Southern domination
Texas Tech completed its sweep of the North. The Red Raiders defeated Nebraska, Kansas State and Kansas by an average score of 46-15.
Two-way threat
Bradley McDougald became KU's first player since Aqib Talib (fifth game of 2007 vs. Kansas State) to have both an interception and reception in the same game.
More like this story on KUsports.com