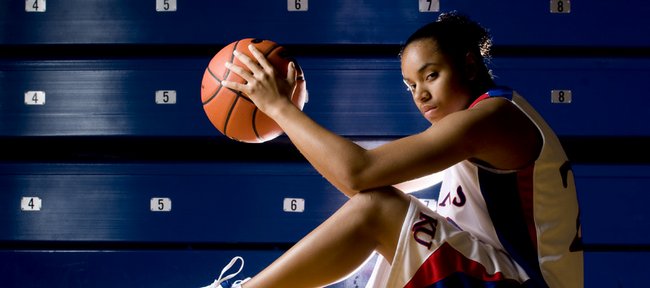 Probable starters
PITTSBURG STATE
F — Nicole McCombs, 6-1, Sr.
F — Lauren Brown, 6-6, Fr.
C — Larissa Richards, 6-3, Soph.
G — DePrice Taylor, 5-8, Sr.
G — Maya Onikute, 5-6, Sr.
KANSAS
F — Danielle McCray, 5-11, Sr.
F — Aishah Sutherland, 6-2, Soph.
C — Krysten Boogaard, 6-5, Jr.
G — Sade Morris, 5-11, Sr.
G — Angel Goodrich, 5-4, Fr.
Tipoff: 2 p.m. today in Allen Fieldhouse.
Radio: Jayhawk Network, including 1320 KLWN.
Television: Sunflower Broadband 6.
Today will be Angel Goodrich's coming-out party.
After missing last season due to a knee injury, Goodrich will be making her debut with Kansas University's women's basketball team.
Will the 5-foot-4 point guard be overanxious for the exhibition game against Pittsburg State? Will Goodrich try too hard and therefore attempt to do too much?
Not likely, says KU coach Bonnie Henrickson.
"I'd be surprised," Henrickson said. "Angel has such a calm demeanor. That's her personality, and that's what we want in a point guard."
Tipoff will be at 2 p.m. in Allen Fieldhouse. Sunflower Broadband 6 will carry a live telecast.
Goodrich was supposed to be the Jayhawks' regular point guard last season, but she tore an ACL in the second preseason practice and wore a medical red shirt while KU went all the way to the WNIT championship game.
Goodrich will be the only new face in today's starting lineup, but there will be another first-time starter. Soph Aishah Sutherland, who came off the bench in 29 games last year, will open at a forward slot.
Otherwise, the opening lineup will consist of incumbents Danielle McCray and Sade Morris on the wings and Krysten Boogaard at center.
At the same time, a handful of newcomers are also likely to log minutes against the Gorillas, particularly freshman Monica Engelman, who has emerged as the No. 1 wing off the bench.
"She's probably made the biggest impact of the newcomers," Henrickson said of the 5-11 San Antonio prep product. "She's probably better than I thought she would be. And I knew she was good, or I wouldn't have recruited her."
Junior-college transfer Rhea Codio no doubt will see some time as Goodrich's sub, but Henrickson is still looking for a fourth inside player behind Boogaard, Sutherland and Nicollette Smith.
Candidates for that opening are senior Porscha Weddington and freshmen Annette Davis and Carolyn Davis.
"None of them have emerged yet," Henrickson said.
Lawrence High product Tania Jackson would probably be in that mix, too, but she tweaked her knee again — like Goodrich, she tore an ACL last year — and missed a couple of practices.
"It's nothing that will shut her down," Henrickson said, "but we want to be cautious."
NCAA Div. II Pittsburg State was picked to finish third in the MIAA in a preseason coaches' poll. Emporia State, the MIAA preseason favorite, will be KU's final exhibition foe a week from today.
More like this story on KUsports.com