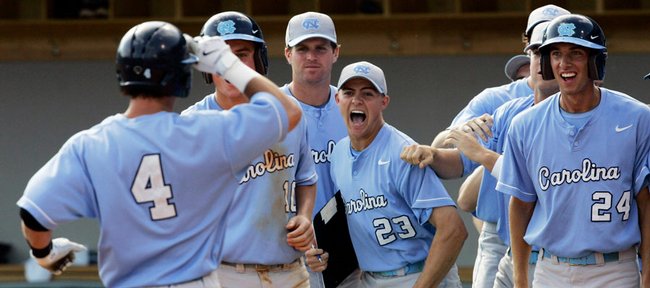 Chapel Hill, N.C. — After beating Coastal Carolina earlier in the day to earn a spot in Sunday night's game against top-seeded North Carolina, the Kansas University baseball team couldn't overcome a potent UNC lineup, falling 12-1 to the eighth-ranked Tar Heels at Boshamer Stadium.
North Carolina, which entered the game with a 2-0 record in the double-elimination Chapel Hill regional tournament, scored seven runs in the top of the third inning to break open what had been a previously scoreless game and put an end to what arguably has been the Jayhawks' best season under seventh-year coach Ritch Price.
"It's a big step forward for us, obviously, and I think it's one of those things where we're still trying to grow and mature as a team," said Price, who led the Jayhawks to a 39-24 record and a program-best fifth-place finish in the Big 12. "And I think we'll be better for the experience a year from now, and in the future, that we were able to get to the championship game today."
In order to set up Sunday night's matchup against the Tar Heels, Kansas first had to climb out of an early tournament hole, the result of an 11-3 regional-opening loss to Coastal Carolina on Friday. The Jayhawks rebounded to defeat fourth-seeded Dartmouth on Saturday, and held off the Chanticleers, 5-1, on Sunday afternoon to improve to 2-1 in the double-elimination tournament.
Sunday evening, however, they ran out of gas against a UNC team that had won its previous two regional games by a combined score of 19-7.
Kansas pitcher Travis Blankenship, making his first start of the season, cruised through the first two innings with relative ease, but things quickly devolved for the junior left-hander in the top of the third.
UNC's Jacob Stallings kicked things off with a one-out single to left field, and Ben Bunting and Dustin Ackley reached first on a hit batsman and a walk, respectively, before a Kyle Seager single scored the game's first two runs. Ryan Graepel followed with a single to left field to add another run, and two batters later, KU reliever Brett Bollman gave up a grand slam to Garrett Gore to stake the Tar Heels to a 7-0 lead.
The Jayhawks never recovered.
Three North Carolina pitchers combined to throw eight scoreless innings, led by starter Adam Warren, who gave up just five hits and struck out eight — with no walks — in 62⁄3 innings.
"He kept us in check most of the day, and (hat's) off to him," said KU third baseman Tony Thompson, who was 2-for-4 with an RBI and a run. "He was a fantastic pitcher, one of the best we've seen all year."
The Tar Heels, who slammed the Kansas pitching staff for 16 hits, added one run in the fifth, off of a solo home run by Gore, one in the sixth, two in the eighth and another in the ninth, as KU relievers Bollman, Paul Smyth and Colton Murray combined to give up six runs on 11 hits.
Kansas' lone run came from Thompson, who homered off North Carolina reliever Patrick Johnson in the ninth inning for his school-record 21st home run of the season. In the process, Thompson extended his hitting streak to 20 games and concluded the season as the Big 12 leader in batting average (.389), home runs (21) and RBIs (82).
He also headlined a strong Kansas showing on the All-Chapel Hill Regional team. Five of the 11 players named to the team were Jayhawks, including Thompson, pitcher Shaeffer Hall, shortstop David Narodowski, right fielder Brian Heere and first baseman Zac Elgie.
What should be equally encouraging for Price is that each of those five — with the possible exception of Hall — is expected to return next season.
"We're looking forward now," Thompson said. "I think we put Kansas baseball on the map with what we've done this year. We have a really good, young team, and we have a lot of guys coming back, so we're pretty excited for next season."
Kansas 5, Coastal Carolina 1
Facing elimination in its first game of the day, Kansas rallied to beat No. 15 Coastal Carolina and avenge a lopsided loss to the Chanticleers earlier in the tournament.
In place of usual third-day starter Lee Ridenhour, KU junior reliever Cameron Selik threw 62⁄3 of shutout ball before giving up a solo home run to Coastal Carolina's Jose Iglesias in the top of the seventh that tied the score at 1.
Kansas answered quickly, as Thompson scored the go-ahead run in the bottom of the seventh on a James Stanfield RBI groundout, and David Narodowski recorded a two-run single that bumped the Kansas lead to 4-1.
Thompson, who finished 4-for-5 at the plate, later hit his 20th home run of the season in the bottom of the eighth inning.
Reliever Brett Bochy pitched the final 21⁄3 innings for the Jayhawks, earning the victory to conclude the season with a 6-0 record.
More like this story on KUsports.com