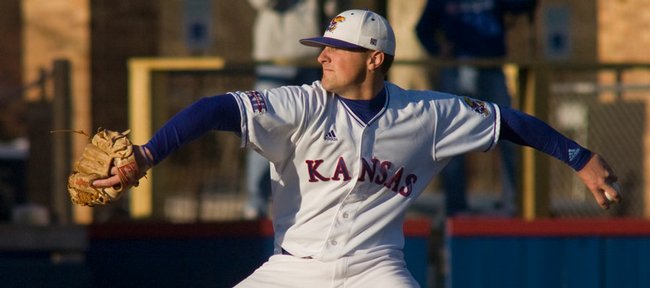 And ... they're back.
A day after suffering a deflating loss to No. 2 seed Coastal Carolina in the opening round of the NCAA Tournament, Kansas University's baseball team pounded Dartmouth, 16-0, to snap a four-game losing streak and improve to 1-1 in the double-elimination tourney.
KU starter Shaeffer Hall retired the first 14 Big Green batters en route to a complete-game shutout. He scattered five hits over nine innings in his best outing since tossing a no-hitter in his first start, Feb. 20, against Air Force.
"After we got beat up yesterday on the mound, especially when you need to turn your team around, you start with the starting pitcher," KU coach Ritch Price said. His Jayhawks will face Coastal Carolina at noon today in a must-win for both teams. "And he was really special today."
Unlike Hall's last outing, when he pitched well against Kansas State in the first round of the Big 12 tournament but failed to get much support as KU stranded 12 runners in a 5-4 loss to the Wildcats, KU (38-23) wasted little time scoring Saturday.
For the first time in four games, KU scored first, thanks to a two-run home run from senior catcher Buck Afenir in the top of the first inning and a third-inning solo home run by shortstop David Narodowski, his third at regionals and fifth of the postseason.
KU used a five-run fourth inning to break the game open.
Afenir and third baseman Tony Thompson led off the inning with back-to-back singles. Left fielder Casey Lytle reached on an error on the next at-bat to score Afenir from second. After center fielder Nick Faunce was hit by a pitch to load the bases, freshman first baseman/right fielder Zac Elgie homered to left field for a grand slam that pushed Kansas' lead to 8-0.
"I just go up there and I just kind of go through the approach that our coaches have told us throughout the season and stick with it," said Elgie, who was 2-for-5 with six RBIs. "I got ahead in the count and was just waiting on a fastball strike, and I got a fastball and put a good swing on it."
The Jayhawks, who knocked out Dartmouth starter Kyle Hendricks after just four innings, plated two in the fifth, five in the sixth and one in the seventh — on a Jason Brunansky RBI single.
Ten different KU players had hits. The team's 16-run victory margin was its biggest ever in NCAA Tournament play. The Jayhawks' 17 hits were the most by KU in an NCAA Tournament game since a 19-hit performance against Ohio State in 1994.
"There's not much you can say when you get three hits and you don't score a run," Big Green coach Bob Whalen said. His team finished with a 27-18 record.
"Most of that was we just had a tremendous game pitched against us by (Hall) from Kansas. He was just exceptional. Unfortunately, in baseball, sometimes that's going to happen."
Kansas will now turn its attention to Coastal Carolina, a team that handed the Jayhawks an 11-3 tournament-opening thumping on Friday. The Chanticleers (47-15) are coming off a 14-5 loss to North Carolina on Saturday, a game that dropped them to 1-1 in the tourney.
A victory over Coastal would push KU into a 4 p.m. contest against North Carolina (2-0 in the tournament, 44-16 overall). To emerge from the Chapel Hill regional, KU would have to beat the Tar Heels once more, at 5 p.m. Monday.
"We'll try to put a plan together that gives us a chance, obviously, to win a doubleheader," said Price of his approach for today's pitching assignments. "We may mix and match it a little bit. I've done that in the past and have had some success with it."
More like this story on KUsports.com