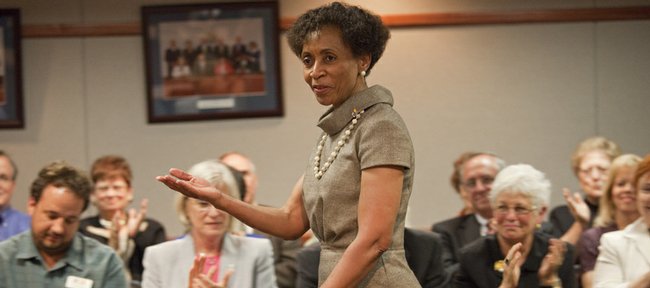 Kansas University's next chancellor is Bernadette Gray-Little.
Gray-Little is provost and executive vice chancellor at the University of North Carolina-Chapel Hill. She is a former psychology professor who served as dean of UNC's College of Arts and Sciences before being named provost.
The Kansas Board of Regents made the announcement shortly after 3 p.m. Friday, but the first official confirmation came in a post on KU's Facebook page. Gray-Little, KU's 17th chancellor, is the university's first black and female chancellor.
In remarks to the Board of Regents, Gray-Little, 64, said raising the rate of undergraduates who graduate in four or five years and increasing research and private fundraising must be accomplished to move KU forward.
She said she was comfortable at UNC, but, after speaking with the search firm that contacted her and others, she made the decision to make the move.
"It just seemed like a wonderful opportunity to come into this role," she said during an abbreviated meeting with the media. No salary figure was announced.
Her husband, Shade Little, is an assistant dean for academic support services at UNC. She has two children and one grandchild.
Gray-Little said she would leave it to others to comment on the symbolism of her becoming KU's first black woman as chancellor, and said she hoped the committee looked to identify the best person they could find.
She said minorities in leadership positions were increasing elsewhere.
"I think that's happening around the world and the country," she said. "It's about time."
The board chose Gray-Little after a search committee interviewed eight applicants, and forwarded three finalists to the Board of Regents, who interviewed them Thursday and Friday. The board reached its decision shortly before the 3 p.m. announcement.
Gray-Little said she was notified she had been awarded the position less than an hour before the announcement was made.
Donna Shank, regents chairwoman, said the board was overwhelmed with how impressive Gray-Little was in the interview.
The board factored in her experience overseeing UNC's medical center campus, which has achieved a National Cancer Institute designation, her familiarity with top-flight athletic programs, as well as her leadership at a leading research institution when determining the hire.
"She identified priorities for KU that are absolutely in line with our priorities for KU," Shank said.
Gray-Little will become KU's chancellor on Aug. 15. She will replace Chancellor Robert Hemenway, who is leaving to teach and write a book on intercollegiate athletics.
"I congratulate Dr. Gray-Little on being selected for the best job in the world," Hemenway said in a statement. "Good universities always make good hires, and this is an excellent hire. I offer any assistance I can give in ensuring her transition is smooth. KU will be in good hands."
Kansas Athletic Director Lew Perkins also lauded the hire.
"All of us at Kansas Athletics are very excited about working with Dr. Gray-Little," he said in a statement. "She has had terrific experience at a university rich in academic and athletic tradition, which will serve her well here. We very much look forward to working with her to advance the goals of the University of Kansas."
Gray-Little was honored this year by the UNC Alumni Association with its distinguished service citation. She grew up in eastern North Carolina before attaining a Fulbright scholarship and a doctoral degree in clinical psychology from St. Louis University.
The new chancellor will meet with the university's community at 1 p.m. today on the sixth floor of the Kansas Union.