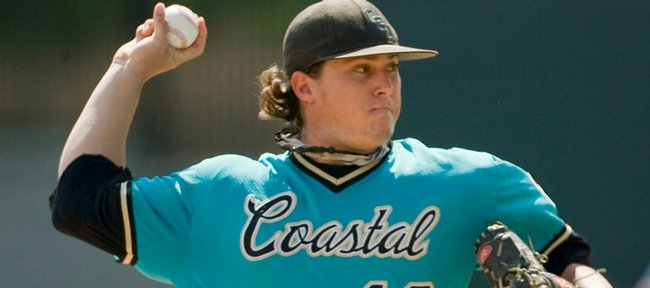 Kansas University's baseball team is off to a shaky start in the NCAA Tournament.
Coastal Carolina jumped on KU starting pitcher T.J. Walz for three runs in the first inning and, thanks in part to the strong pitching of Nick McCully, never looked back in an 11-3 victory over the Jayhawks on Friday afternoon at Boshamer Stadium.
KU (37-23) which has dropped four straight games and six of seven, will meet Dartmouth (27-17), a 5-2 first-round loser to host North Carolina at noon today.
UNC (43-16) will meet Coastal Carolina (48-14) at 4 p.m.
"They played like they were a Top-20 club today in I think every phase of the game," KU coach Ritch Price said of the Chanticleers, ranked 16th by ESPN/USA Today and 20th in the Collegiate Baseball poll. "They were very, very aggressive early in the count and physical with the bat. Their starting pitcher obviously was special."
Coastal Carolina's McCully (8-1) allowed four hits in 71⁄3 innings. He struck out four and allowed all three runs.
Walz (8-3) allowed six runs in 22⁄3 innings.
"They were hunting the fastball really well. I wasn't hitting my spots very well, and they made me pay for my mistakes," said Walz, a sophomore from Omaha. "I've given up my fair share of home runs this year. I just try and bounce back. I have a little more determination afterwards — after giving up a shot like that."
He was referring to a three-run, first-inning shot off the bat of David Anderson. Anderson's 20th homer of the season followed a leadoff single by Rico Noel and a hit batsman.
"I don't think it was nerves at all," Price said of his pitcher's troubles. "I think one of the great things about playing in the Big 12 or playing in the SEC or the ACC is you're prepared to play in this environment, and he's been really good for us.
"He had a bad outing in the Big 12 tournament where he didn't have a very good breaking ball, and he was behind in the count, and it continued today. I mean, I've never seen him drop his elbow like he was doing on his breaking ball today.
"Normally, he has a plus breaking ball, but I think obviously that's a long season and a grind, and pitching close to 100 innings and being 155 pounds (and 6-foot tall). Obviously we have to get him in the weight room and try to get him stronger for next year."
Coastal Carolina's 15-hit attack off six KU pitchers spoiled the day of KU shortstop David Narodowski, who hit a pair of solo home runs and had three hits.
"Everybody dreams of hitting home runs in the NCAA Tournament.You get here and you just want to do whatever you can to help your team win and get ahead," said Narodowski, a junior from Vancouver.
He answered the Chanticleers' solo run in the second by blasting his first home run of the day, a solo shot to center field. In the fifth inning, the Kansas shortstop struck again with a line drive down the line in left field to bring the Jayhawks within 6-2.
Coastal Carolina, which scored a run in the bottom of the fifth, put the game away in the sixth. Daniel Bowman hit a two-run homer to right field and Taylor Motter added an RBI single.
KU sophomore Tony Thompson extended his hitting streak to 17 games with a ground ball that hit the foot of baserunner Brian Heere. Thompson's streak is his third of the season of at least 14 games.
Adam Rice had three hits and drove in three runs for Coastal Carolina, a Big South Conference championship team that has won four straight and 15 of 16.
"I thought it was a great display of Coastal baseball on our kids' part," coach Gary Gilmore said. "They had great focus today the way they started out the game swinging the bat, taking that focus they had when they showed up at the ballpark.
"David's big home run early set the tone for the day offensively for us. He (McCully) was outstanding pretty much all day. And what times he did get into a little bit of a jam, he was able to luck out and then he got a couple of balls for him. But for the most part he was in control pretty much all day long."
In order to make it to a super-regional, Kansas must win four games in a row.
Such a feat isn't without precedence at KU. In 1993, the Jayhawks lost their regional opener to Fresno State, then came back to beat Tennessee, Rutgers, Clemson and Fresno State to advance to the College World Series.
More like this story on KUsports.com