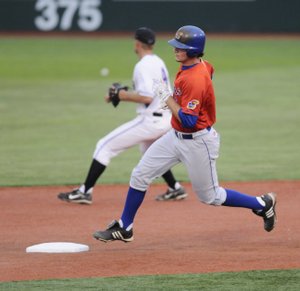 To glance over the Kansas University baseball team's 2009 roster is to begin to understand the potential for 2010.
Of the 34 players making up this Jayhawks team — a group that put together a 37-19 regular-season record and the best conference finish in school history — only four will be lost to graduation at the conclusion of the season. Six players who earned some form of Big 12 recognition are expected to be in the lineup on opening day next spring, and all five members of the team's surprisingly potent starting rotation should return, as well.
All of this means that if conventional wisdom is to be trusted — if ability indeed improves with experience — the Jayhawks could be bound for even bigger things entering the '10 season.
As Kansas coach Ritch Price bluntly put it earlier this week, "We're going to be even better next year."
Entering today's 1 p.m. NCAA Tournament opener against second-seeded Coastal Carolina in Chapel Hill, N.C., third-seeded Kansas is focused solely on the task at hand: figuring out a way to win three straight games and advance to its first Sweet 16 since 1993.
But even on the eve of such an occasion — KU is making just its fourth NCAA regional appearance in school history — the team's younger players admit they sometimes allow their minds to slip a few months into the future.
"It's exciting to think about it," said sophomore third baseman Tony Thompson, whose breakout 2009 season earned him a spot on Louisville Slugger's All-America third team. "Of course, we're trying to win for the seniors and get them as far as we can. But we know we've got good talent coming back, and we know we'll have a good shot to do well in the league next year — and probably the year after that."
Things always can go wrong, of course. Sometimes, for one reason or another, particular teams don't mesh well. Injuries to key players are always a concern. And the four seniors who will have to be replaced are not exactly slouches.
Catcher Buck Afenir was a second-team All-Big 12 selection this season, a No. 4 hitter whose nine home runs and 60 RBIs helped propel the team's offense, and closer Paul Smyth was named all-conference honorable mention despite struggling with injury throughout much of the season. Outfielder Nick Faunce and first baseman Preston Land, meanwhile, were everyday players throughout much of the spring.
But with an abundance of talented youngsters in prominent roles — in the team's starting lineup on the opening day of last week's Big 12 tournament, five players were freshmen or sophomores, and seven are expected to return next season — there's reason for anticipation.
And perhaps nowhere is that more prominent than in the team's pitching staff.
Barring any unforeseen developments, 15 of the team's 16 pitchers will return next season, including current weekend starters T.J. Walz (8-2, 4.18 ERA) and Lee Ridenhour (6-3, 4.65) and injured but highly touted left-handers Andy Marks and Wally Marciel.
"Our pitching's better than it's ever been," Price said Monday. "If you look at how young we are, we start a sophomore on Saturday, we start a freshman on Sunday. We're pitching freshmen and sophomores out of the bullpen."
As can be expected, the dependence on youth this season has led to occasional problems.
Following the Jayhawks' winless showing in the Big 12 tournament, for instance, Price blamed at least part of the problem on players' lack of experience in high-intensity games, a sentiment players didn't refute.
"We haven't been here since '06," Ridenhour said during last weekend's conference tournament. "And there's only a handful of guys that have really played in this environment."
The hope is that, following the Big 12 tournament and the likely battles they'll face this weekend, players will be better equipped to handle the inevitable bumps in the road that come when playing in a conference as deep and talented as the Big 12.
"It's invaluable," former KU coach Floyd Temple said of the experience young players are gaining this season. "That's how they come along. They get that experience with each game they play. It's not an overnight deal, it's just a matter of playing. If you have talent, that makes a difference. But it's a process that they have to go through."
One step in that process begins today.
Against Coastal Carolina, the team's youngest players will find themselves thrust into their first true postseason tournament of the season (while the Big 12 tournament was no doubt intense, this weekend's double-elimination regional provides the first dose of "win-or-go-home" pressure).
The goal, naturally, is to win as many games as possible.
At the same time, Price views it in part as an opportunity for his younger players to gain the experience of playing high-pressure baseball — something that, if all goes according to plan, will pay significant dividends heading into 2010.
"Hopefully we can build on this weekend and see what happens," said junior second baseman Robby Price. "But next year is definitely looking pretty strong."
More like this story on KUsports.com