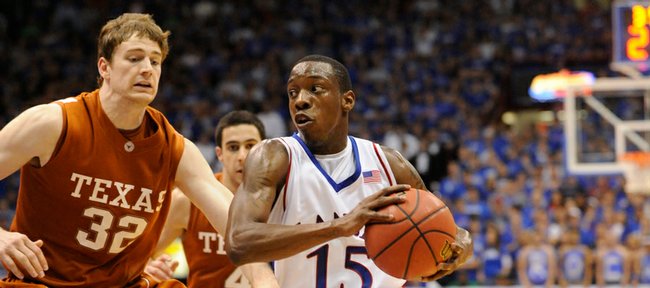 Tyshawn Taylor has come a long way since his senior year at St. Anthony High School, when the New Jersey native was regarded as the No. 77-ranked prospect in the basketball recruiting Class of 2008.
"This shows hard work does pay off," Taylor, KU's 6-foot-3 sophomore point guard/shooting guard said Wednesday after he and 16 other college players were selected to attend the 2009 USA Under 19 National Team Trials June 16-18 at the U.S. Olympic Training Center in Colorado Springs, Colo.
In all, 17 players will compete for 12 roster spots on the USA Under 19 world championship team.
"It shows how much I've improved. Instead of me talking about it, this shows it," added Taylor, who will be reunited with former St. Anthony teammate Dominic Cheek at the trials.
"It'll be fun, like old times," Taylor said. "Cheek is one of my favorites to play with. I wanted him to come to Kansas to get to play with him. I hope we both make it."
Cheek, the No. 30-rated player in the Class of 2009, is headed to Villanova.
At the trials, Taylor and Cheek will be joined by Kemba Walker, UConn; Al-Farouq Aminu, Wake Forest; Drew Gordon, UCLA; Kenny Boynton, Florida; Darryl Bryant, West Virginia; DeAngelo Casto, Washington State; Seth Curry, Duke; Gordon Hayward, Butler; Darius Miller, Kentucky; Arnett Moultrie, UTEP; Ralph Sampson III, Minnesota; John Shurna, Northwestern; Howard Thompkins, Georgia; Klay Thompson, Washington State and Terrico White, Mississippi.
"There's a lot of great players on that list. It's an honor to be included," said Taylor in a phone interview from Jersey. "I'm excited to get to try out, but now I've got to make the team. Coach (Bill) Self told me it's not a cakewalk. Just because I'm invited doesn't mean I'm on it. I've got to work really hard to make the team."
In an attempt to do that — and improve on his 9.7 point, 3.0 assist average of a year ago — Taylor has been working out daily this offseason.
He reports he's up to a solid 182 pounds, compared to 174 his frosh season.
"I hit the weight room and get a lot of shots up every day," Taylor said, adding that he's happy to be home, "chillin' and enjoying family and friends.
"I'm working on being a point guard and distributor, being a true point guard more. Playing for the USA will help if I'm at the point. I played it a little last year. We've got a lot of talented players on our (KU) roster. I've got to play well if I want to contribute to the team."
Self is convinced the USA Basketball opportunity will benefit Taylor.
"This is great for Tyshawn," Self said Wednesday. "He had a terrific freshman year and this opportunity to play against the nation's best will enhance his preparation for next year.
"I have no idea," Self added, asked if he thought Taylor would make the squad. "He'll have to play. It'll be tough. I hope so."
Taylor does too. He calls the invitation his biggest accomplishment in his hoops career.
"Until we get a national championship," he said.
Training camp for the selected finalists will begin June 19, with the 12-member USA roster being announced before the team's departure for New Zealand on June 25. The Under 19 World Championships begin on July 2. Sixteen countries will battle for the 2009 FIBA U19 World Championship for Men title July 2-12 in New Zealand.
Pittsburgh's Jamie Dixon will serve as head coach of the team. Chris Lowery of Southern Illinois and Matt Painter of Purdue will serve as assistant coaches.
More like this story on KUsports.com