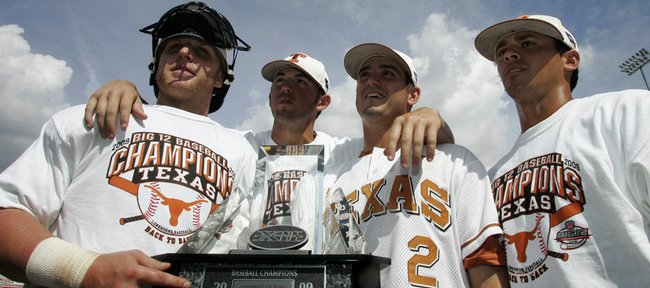 Oklahoma City — Sporting a banged-up hand and a new nickname, Cameron "four-finger" Rupp still was able to provide the pop that pushed Texas to its fourth Big 12 baseball title.
Playing with his right ring finger bandaged up, Rupp hit a grand slam during an 11-run outburst in the fourth inning as the top-seeded Longhorns beat Missouri, 12-7, Sunday to repeat as conference champions.
"It felt a lot better today than it did yesterday, that's for sure," said Rupp, who split his finger open a day earlier when he smashed against a Kansas State player's bat while trying to throw out a baserunner from behind the plate.
Rupp moved from catcher to designated hitter and had the big hit in an inning filled with free passes from the Tigers. He earned a hearty pat on the back from his coach, who called him "four-finger Rupp" in his postgame news conference.
It took four relievers to get out of the fourth after Missouri starter Scooter Hicks (5-3) let the first two hitters reach base. Texas' big inning was fueled by four walks and two batters who were hit by pitches.
Rupp then delivered the exclamation point with a line drive that cleared the 400-foot mark in center field to make it 11-1.
The Longhorns (41-13-1) became the first team to win back-to-back titles since they pulled off the feat in 2002 and 2003.
More like this story on KUsports.com