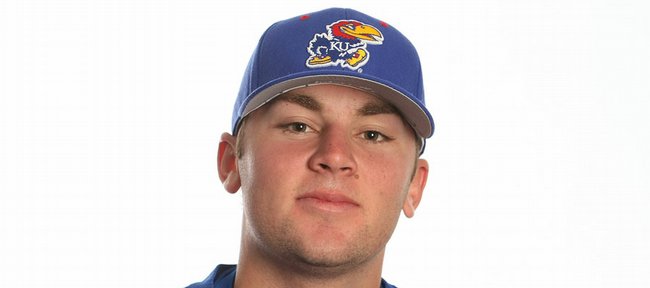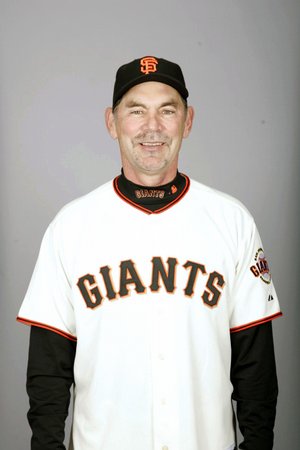 Oklahoma City — In many ways, Kansas University sophomore pitcher Brett Bochy is just like his 30 or so teammates: Sweating through daily workouts, dealing with the stresses that come with being a student-athlete, battling to make a name for himself in the ultra-competitive world of Big 12 baseball.
In one very big way, however, he is not.
Bochy, a sophomore reliever who is 5-0 with a 4.91 ERA this season for Kansas, is the son of San Francisco Giants manager Bruce Bochy, and despite his subtle approach to the matter — teammates say you'd never know his major league ties if you didn't hear about them from someone else — Bochy represents an intriguing figure in the Jayhawks' locker room.
"It's pretty awesome to turn on the TV and be like, 'Oh, that's Bochy's dad,'" said Kansas third baseman Tony Thompson on Friday. "I mean, every time you turn on ESPN, you can't help but see him."
Like any offspring of baseball royalty, Brett has benefited from a unique perspective with which to view the game. As a child, he spent his summers going to work with dad, padding around major league clubhouses containing some of the game's preeminent players. He chatted up late San Diego Padres star Ken Caminiti on a regular basis. And during the height of the Barry Bonds steroid scandal, he had a front-row seat to the media horde that awaited Bonds at his locker each day.
"The clubhouse was like a big playground to me," said Brett, after striking out two in 1 1⁄3 innings of relief in a 9-3 KU loss to Texas on Thursday. "It definitely helped me out. Being around the game and seeing it from that perspective, it definitely had a big impact."
Unless they pester him with questions, however — which they often do — teammates are not likely to hear much about it from the younger Bochy.
"He's real humble about it," said Kansas freshman pitcher Lee Ridenhour. "If I ask him a question, he'll answer it. But it's not like he's going around saying, 'My dad's a big league manager.'"
As it happens, the Bochy family is no stranger to KU coach Ritch Price. Brett's older brother, Greg, played for Price when the latter was the coach at Cal Poly, and the families kept in touch over the years, as Price moved on to Kansas and Brett developed into a standout at Poway (Calif.) High.
Brett signed with the Jayhawks out of high school in 2006, taking a red-shirt in his first year at the school before making 13 appearances in '08, finishing with a 5.94 ERA in 16 2/3 innings of relief.
This season, he's seen even more action out of the team's bullpen, earning victories over then-No. 17 Oklahoma State, Nebraska and Creighton in 27 total appearances.
And while coaching the son of a major league manager could be seen as a rather intimidating venture — there are helicopter parents, and then there are helicopter parents who possess an MLB manager of the year trophy, as Bochy does — Price has only good things to report.
"(Bruce) loves his sons, he's been great supporters of theirs," said Price. "But not one time has he ever called me, not one time has he ever come and talked to me about something his son is doing or something he thinks we should be doing."
This is not to say he has been a stranger to the program, however. Each winter, he spends a weekend attending KU practices in Lawrence, and during the Jayhawks' trip to Arizona State in March, Bruce made the trip to Tempe to spend the weekend with Brett and his KU teammates.
Although, in the presence of one of the game's great minds, Kansas' players weren't exactly lining up to pick Bruce's brain.
"We got to talk to him a little bit," said Thompson. "But it was kind of a star-struck thing. I didn't talk to him too much — I was a little afraid."
Heading into next season, Brett will look to shore up a few areas of his game — namely, getting ahead in the count and gaining better command on his off-speed pitches — and based on his success this spring, he'll likely be at the forefront of a talented group of young pitchers battling for extended playing time, as the Jayhawks lose only four seniors and will look to improve upon an already stout pitching staff.
"I'm fine with my role now," said Bochy of the possibility of moving into a starting role at some point in the future. "We'll see how it goes in the offseason, see what the coaches want to do. But I feel good going into next year, and I just want to keep the momentum going."
More like this story on KUsports.com