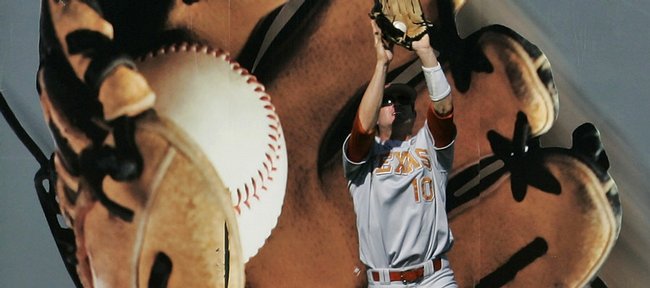 Oklahoma City — On Wednesday, in a Big 12 tournament-opening loss to Kansas State, the story of the game had been the Kansas University baseball team's inability to execute with runners on base, as KU stranded 12 runners in a one-run setback.
In a 9-3 loss to top-seeded Texas on Thursday, however, the Jayhawks struggled in merely getting runners on base.
Facing Texas ace Chance Ruffin, who had gone 6-0 after losing to the Jayhawks earlier this season, Kansas couldn't muster the magic that had carried it to a three-game sweep of the then-top-ranked Longhorns earlier this season.
"That was a pretty dominant performance," Kansas coach Ritch Price said, "in every phase of the game."
With the exception of a shaky eighth inning — KU center fielder Nick Faunce tripled to left field to score Preston Land, then scored on a passed ball one batter later — Ruffin was virtually unhittable in giving up three runs on four hits and striking out six. He never allowed the Jayhawks to find the offensive groove they enjoyed against the Wildcats.
Offensively, meanwhile, Texas was just as stout.
Thursday's game was approximately four minutes old when UT's Brandon Belt slammed a two-run home run that glanced off the top of the elevated wall and into the right-field Bud Light Party Deck (not to be confused with the Chick-fil-A 'Eat More Fowl' Pole).
Now, an early Texas lead was not exactly breaking news. Combined this season, UT has outscored opponents, 41-7, in the first inning. And against Texas A&M; earlier this month, a team picked as the preseason No. 1, Texas had scored all five of its runs in the first, holding on for a 5-4 victory.
So, no, this wasn't the end of the world for KU.
But the Longhorns put up four more runs in the fourth. And then they put up two more in the fifth. By this time, facing a 8-1 deficit against a team that did not appear to possess many discernible weaknesses, one thing was brutally clear: The Jayhawks were playing a different Texas team than the one they swept to open the conference schedule in March.
No fielding miscues, like the ones that had hampered them in the teams' first meeting of the year, a 5-4 Kansas win. No laissez-faire approach, allowing KU to hang around late into the game. Texas simply took the field and proceeded to prove why it is the nation's No. 5 team, tagging Jayhawks starter T.J. Walz with the worst outing of his sophomore season.
After giving up a two-run home run in the top of the first, Walz appeared to find a groove, throwing two scoreless innings in a row. But with two runners on in the fourth, and having already given up an RBI single to Brandon Loy, Cameron Rupp homered to deep right field to push the Longhorns' lead to 6-0.
"I actually felt really good today," said Walz, who gave up a season-high eight runs on nine hits before leaving after five innings. "I felt like it was two pitches — the home run and the home run. If I could take those back."
He couldn't, of course.
And so the Jayhawks were faced with the unenviable task of coming from behind against the Big 12's top program.
"You know with the pitching staff they have, you're not going to get too many real big innings," said third baseman Tony Thompson, who finished 1-for-4, managing to extend his season-long hit streak to 15 games. "You need to get a few here, a few there, and try to get back in the ball game. (But) Ruffin was just really tough tonight."
There was a glimmer of hope in the bottom of the eighth, when Faunce scored to make the score a somewhat more manageable 8-3. At the time, there was nobody out, and the top of the Kansas order was due up.
But like they had all day, the team's most reliable hitters failed to execute. Ruffin retired David Narodowski, Robby Price and Brian Heere in order to get out of the eighth, then breezed through Buck Afenir, Tony Thompson and Casey Lytle in the ninth.
In all, KU's one through five hitters went a combined 2-for-20 on Thursday, as Kansas fell to 0-2 in pool play and ended what slim hope it had of advancing to Sunday's tournament title game.
What's more, KU's tournament showing may or may not have raised another issue: Whether the team's collective resume will be enough to warrant an NCAA Tournament berth.
Despite his team's recent woes, however, and the possibility that the Jayhawks could leave Oklahoma City without a victory — their Saturday matchup is against Baylor, a team that earned a 2-1 series victory over Kansas in Lawrence this spring and is now 1-1 in tournament pool play after Thursday's 9-4 loss to Kansas State — Price seemed unconcerned about his team's chances of continuing its season past the weekend.
"I have no doubts," said Price, whose team has gone a combined 9-6 against the Big 12's top four teams. "We feel like we did everything you're supposed to do. We went to Arizona State, we went to Arkansas, we swept Wichita (State).
"We played some real good teams on the road to be where we're at."
More like this story on KUsports.com