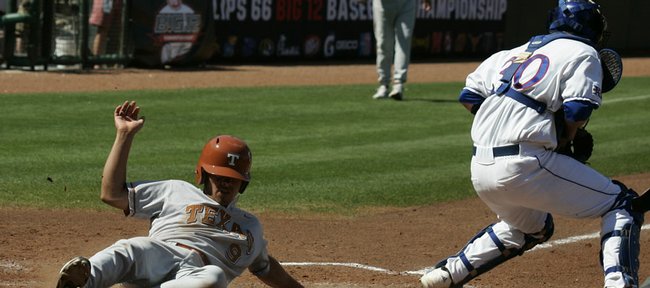 Audio clip
KU baseball postgame press conference vs. Texas
9th INNING: Since nothing else seemed to work out for them Thursday afternoon, at least the Jayhawks can take solace in this: their first triple play since 1999.
With two on and no one out in the top of the inning, KU shortstop David Narodowski caught a sinking liner, then threw to second baseman Robby Price, who caught UT's Connor Rowe off base and threw to first to triple up Michael Torres.
Of course, the novelty was certainly short-lived. Longhorns starter Chance Ruffin finished off his second complete game of the year, inducing flyouts from KU's Buck Afenir and Tony Thompson before striking out left fielder Casey Lytle to end the game.
The loss drops Kansas (37-21) to 0-2 in the Big 12 tournament and effectively ends their chances of playing in Sunday's championship.
The Jayhawks play eighth-seeded Baylor at 9 a.m. Saturday in what will be their final game in Oklahoma City.
8th INNING: It wasn't exactly a game-breaker, but KU designated hitter Nick Faunce's triple with one on in the bottom of the inning scored Preston Land for the Jayhawks' second run of the game. One batter later, Faunce scored on a passed ball by UT pitcher Chance Ruffin to make the score 8-3.
Ruffin, though, retired the team's next three batters to limit the damage.
A day after the bottom of the order struggled to get much going offensively, it has been the meat of the Jayhawks' order that has come up short today. Through eight innings, the first five batters in the team's lineup have gone a combined 2-for-18.
KU reliever Brett Bochy retired the side in the top of the eighth.
7th INNING: Three KU pitchers combined to get three Texas batters out in the top of the seventh. Reliever Brett Bollman started the inning, getting Travis Tucker to flyout to right field. Left-handed reliever Travis Blankenship then entered to retire Brandon Belt, and righty Brett Bochy was then brought in to face pinch hitter Preston Clark, who struck out looking.
Kansas standout Tony Thompson notched a double in the bottom of the inning, stretching his season-long hit streak to 15 games in the process. But that would be all the Jayhawks would get.
All-Big 12 second-team catcher Buck Afenir struck out to start the Jayhawks' half of the inning, making the usually potent No. 4 hitter 0-for-3 for the day.
6th INNING: Neither team got much going in the sixth. Kansas reliever Brett Bollman (5-0, 3.10 ERA) retired the side in order, and Texas' Chance Ruffin nearly did the same, walking KU designated hitter Nick Faunce to lead off the inning before regrouping to breeze through the Jayhawks' David Narodowski, Robby Price and Brian Heere.
Stat to consider: When trailing after six innings, KU is 1-17 this season.
5th INNING: Already facing the daunting task of beating the Big 12 tournament's top-seeded team, the Jayhawks had to deal with a bit of bad luck, as well.
With one on and one out in the top of the inning, a shallow pop-up appeared to be caught by KU left fielder Casey Lytle, until the third-base umpire signaled that the ball had hit the ground. The replays showed that Lytle had indeed made the catch. However, after Kansas coach Ritch Price left the dugout to argue the call, and after a short meeting of the game's four umpires, it was ruled a base hit, putting runners on first and second with one out.
Walz walked the Longhorns next batter to load the bases, and UT's Brandon Loy hit a sacrifice fly to score Brandon Belt on the following at-bat (UT's second run of the inning) before Walz struck out Cameron Rupp to get out of the inning.
Texas starter Chance Ruffin held the Jayhawks scoreless in the bottom half. Through five innings, Ruffin has allowed just one run on two hits.
Kansas will bring out right-handed reliever Brett Bollman to start the sixth inning, replacing Walz.
Walz' final line: five innings, nine hits, eight runs, two walks, six strikeouts.
4th INNING: Things started off shaky for KU starter T.J. Walz. He struck out the Longhorns' first batter, but then gave up a lined single over the head of shortstop David Narodowski and a walk to UT right fielder Kevin Keyes. Longhorns shortstop Brandon Loy followed with an RBI single to center field that pushed the Texas lead to 3-0.
Then they got much worse. On the next at-bat, Texas' Cameron Rupp blasted a three-run home run over the right-center field wall — his seventh of the season — to make the score 6-0. Walz's six earned runs mark the most he's has given up in 14 appearances this season.
If Kansas hopes to stay in the game, it'd better find a way to do it soon, according to the statistics: In games in which it the Jayhawks have trailed after four innings, they are a dismal 5-14.
KU managed to get on the board in the bottom of the inning, thanks to shortstop David Narodowski's leadoff home run to center field — his second of the tournament. But each of the team's next three batters — the team's No. 2, No. 3 and No. 4 hitters — failed to reach base.
3rd INNING: KU's starter T.J. Walz appears to be finding his groove. After giving up a single to Longhorns third baseman Michael Torres, he induced a double-play groundout to finish his second consecutive scoreless inning. Walz also appears to have his recent mental block under control. Against K-State in last weekend's regular-season-ending series, the sophomore right-hander continuously attempted pickoff plays to first base, even in situations in which there was no threat of a steal. Following the game, Kansas coach Ritch Price called it a mental block that Walz would have to fight through. So far today, despite allowing two baserunners, Walz hasn't thrown to first once.
Unfortuantely for Kansas, UT starter Chance Ruffin was just as successful, striking out two of the three batters he faced — KU's Preston Land and Nick Faunce — to end the inning.
Land's strikeout marked the school-record 237th of his career.
2nd INNING: A rather uneventful second inning. KU start T.J. Walz settled down to retire the Longhorns' batters in order, striking out UT center fielder Connor Rowe to end the half-inning.
In the bottom half, Tony Thompson and Casey Lytle both sent flyballs deep into the outfield. Unfortunately for KU, both were hit to the deepest part of the field and caught just shy of the warning track.
1st INNING: Things didn't start off great for the Jayhawks, as UT's Michael Torres led off the game with a single to right field. He was bunted over by No. 2 hitter Travis Tucker, and then Brandon Belt promptly homered over the right field wall to give the Longhorns a 2-0 lead. KU starter T.J. Walz settled down to retire the team's next two batters, but by that time, the damage had been done.
Texas starter Chance Ruffin had little trouble in the bottom half of the inning, retiring each of Kansas' first three batters — David Narodowski, Robby Price and Brian Heere.
Pregame
Greetings from the Big 12 tournament, where the Kansas University baseball team will attempt to bounce back from a one-run loss to rival Kansas State in Wednesday's game against top-seeded Texas today at 3 p.m.
As expected, the Jayhawks will throw sophomore right-hander T.J. Walz (8-1, 3.50 ERA, 80 strikeouts, 27 walks) against Longhorns ace Chance Ruffin (8-2, 2.96 ERA, 85 strikouts, 19 walks). Kansas will be the home team after playing as the visitors on Wednesday.
Two notable changes to today's starting lineup include Nick Faunce, who pinch hit Wednesday, in center field and James Stanfield, who replaced designated hitter Zac Elgie to finish with two hits and two RBIs against K-State, at designated hitter.
With Wednesday's loss to the Wildcats, the Jayhawks likely cost themselves a shot at Sunday's Big 12 title (although there is still a slim chance they could get their depending on the developments throughout the next three days), although a victory over Texas today would greatly increase their chances.
KANSAS' KEYS TO THE GAME:
1. Execution with runners on base: If Wednesday's game taught Kansas anything, it's that the team can't afford to strand a large number of runners — an issue throughout much of the season. Despite out-hitting K-State 15-10, Kansas could never take control of the game, leaving 12 runners on base against the Wildcats and never building their lead to more than one. On average this season, the Jayhawks have stranded more than eight runners per game, and on 17 occasions this season, they've stranded 10 or more. Execution with runners on base could easily be the difference in today's game.
2. Defensive eptitude: In games in which the Jayhawks have made two or more errors this season (which includes Wednesday's loss to the Wildcats), the team has gone just 9-10, compared to 28-10 when they've made one error or fewer.
3. T.J. Walz's ability to limit the damage: On most occasions, the Jayhawks haven't need perfection from their starting pitcher — rather, a solid performance in which runs have been kept to a reasonable number. When Kansas has given up five or fewer runs in a game, the team has gone 30-6 (30-5 before Wednesday's loss). What's more, of Walz's 12 career victories, six have come against ranked teams. If Walz can hold Texas to four or five runs, which he did last time against the Longhorns in giving up just three hits and three runs in 5 1/3 innings, the Jayhawks should be in the game heading into the late innings.
WHY THE JAYHAWKS WILL WIN:
They have a psychological advantage. In three games against the Longhorns this season, the Jayhawks have never suffered defeat and trailed only once, for half an inning. The teams played three one-run games against UT in March, and while Kansas is just 9-10 this season in one-run games overall this year, three of those wins came against the Longhorns.
Meanwhile, Kansas coach Ritch Price intentionally scheduled a grueling early-season road trip out West, during which the Jayhawks took on multiple ranked teams, hoping it would pay off in the latter stages of the season when games really mattered. And needing a victory to stay alive for a chance at Sunday's championship game — and possibly to ensure a spot in an NCAA regional — today's game is as big as it gets for Kansas.
WHY THE LONGHORNS WILL WIN:
They have to. Following a surprising loss to eighth-seeded Baylor on Wednesday (Baylor entered the game with a 10-game losing streak in the conference), Texas took a step backwards but is still very much in the running for a conference title. Because the team is the No. 1 seed, and because the tie-breaker to advance to Sunday's championship game is based on a team's seed, UT will play for the title as long as they can finish pool play with a 2-1 record and no team goes unbeaten.
The Longhorns are also pitching their ace. Chance Ruffin, the son of former big leaguer Bruce Ruffin, is 8-2 this season with a 2.96 ERA. In his last outing against the Jayhawks, he struggled a bit, giving up eight hits and five runs (four of which came during a big fourth inning for the Kansas) in 7 2/3 innings. Since then, however, he has gone 5-0 and helped the Longhorns secure the regular season Big 12 championship.
Being swept by the Jayhawks to kick off their conference season back in March, meanwhile, was not exactly in the plans for then-top-ranked Texas. And a shot at payback — especially in a venue as prominent as the Big 12 tournament — will likely be on the minds of the team's players.
More like this story on KUsports.com