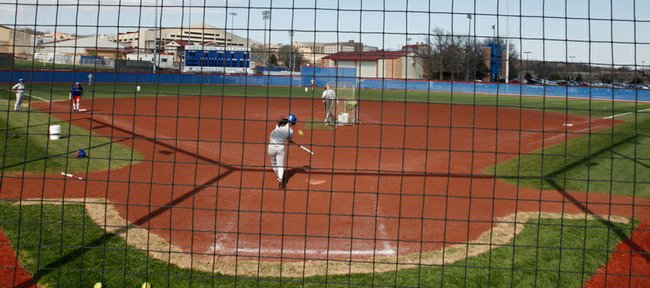 Clang. That's the sound of the gate slamming shut on another Big 12 Conference sports season.
The hay is in the barn. The standings are complete. And once again Kansas University's overall ranking is uninspiring from a competitive standpoint.
Sure, KU won the men's basketball championship again, but Bill Self's team was in rarefied air compared to the other sports. Take a guess about the second-highest finish by the Jayhawks against the rest of the league.
It's fifth place.
Actually, KU rowing wound up in third place at the Big 12 Championships, but that was in a field of three. And Kansas' women's swimming and diving team was fourth in a field of six.
KU's fifth-place finishers were baseball and women's golf and, on paper anyway, the golfers were better because they competed against a full boat, whereas only 10 league schools have baseball.
It's worth noting it hasn't been that long that women's golf was a league doormat, so the fifth-place finish was impressive. At the same time, I'm not bagging on baseball. This is the first time in coach Ritch Price's seven seasons that the Jayhawks have posted a plus-.500 league record.
What about football? The Jayhawks were 8-5 overall and pummeled Minnesota, 42-21, in the Insight Bowl. No doubt the Jayhawks finished strong, stunning Missouri in the regular-season finale, but six other schools had a better conference record than KU's 4-4.
So for record-keeping purposes, KU was first in men's basketball, fifth in baseball and seventh in football. Kansas has only three other men's sports, and they're all track-related — cross country, indoor track and outdoor track — and they were, to put it euphemistically, undistinguished.
In fact, the wheels fell off in men's track, with the Jayhawks finishing 11th at the Big 12 Indoor and 12th at the league outdoor meet last weekend in Lubbock, Texas. Men's cross country posted an eighth place in last fall's conference championships.
Kansas has almost twice as many women's sports at the varsity level: 11.
As mentioned, rowing — which held its first league-sanctioned championship this spring — was third, swimming was fourth in the conference meet and golf fifth. Otherwise, no KU women's sport earned a standing higher than the sevenths notched by basketball, soccer and tennis.
Eight-place placers were cross country and volleyball. Ninths went to softball and indoor track. Alone in 10th was outdoor track.
You could say basketball's seventh place was deceptive because of the way coach Bonnie Henrickson's team made that stirring run through the WNIT before falling in the championship game to South Florida. But the WNIT is not the NCAA, and KU hasn't qualified for the NCAA Tournament since 2000.
Summarizing, not a single one of the 10 KU women's teams came close to capturing a conference championship and, except for basketball, it was the same for the Kansas men.
Still, it's no secret the whole is not equal to the sum of its parts when it comes to the perception of Kansas University athletics. Football and men's basketball always will be in the spotlight, and right now everyone likes what they see.
More like this story on KUsports.com