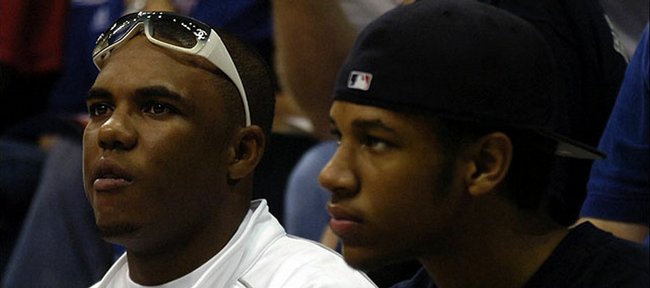 C.J. Henry might not be overshadowed by his brother, Xavier, much longer.
"I see him as a guy that's going to challenge to play a ton of minutes," Kansas coach Bill Self said Tuesday after C.J. was officially admitted to Kansas University.
C.J., a 6-foot-4, 210-pound guard, will be eligible to play for KU in the 2009-10 season alongside his brother. He was a non-scholarship freshman at Memphis last season.
Though C.J. hasn't gathered the same headlines as his talented brother Xavier, Self said KU was getting a much better player than many people realized.
"Xavier, deservedly so, gets a lot of credit," Self said. "And the reason C.J. hasn't gotten the credit is because he's kind of been out of sight the last several years. But out of sight doesn't mean that he can't play.
"I really believe we're going to be pleasantly surprised with the impact he'll have on our program."
C.J. orally committed to play basketball for KU in 2005 before choosing to play professional baseball. He was selected 17th overall in the 2005 MLB Draft and played three years in the minor leagues before deciding to attend Memphis.
"One thing that people may forget: This is a professional athlete that's been trained," Self said. "He's big, he's strong, he's mature, and he can really shoot the basketball. I think that he could certainly add to our perimeter game."
Former Memphis coach John Calipari (now with Kentucky) told Self that C.J. had developed into one of the team leaders in the guard's one season at Memphis.
"That's hard to do when you don't even play," Self said. "He'll be good for our guys."
C.J. sat out all of last season with a broken bone in his foot. Self said that the guard was about 90 percent healthy now, and the hope was that he would be fully recovered by the early summer months.
Though he hasn't officially played organized basketball in four years, C.J. has continued to keep himself around the game by shooting and playing pickup games. He also spent some of the summers working out with Xavier and his father, Carl.
Self said C.J. hadn't decided if he was going to room with his brother at Jayhawker Towers on the KU campus.
C.J., who will be a sophomore next season, will not have to sit out a year for transferring because he was a non-recruited athlete at Memphis. After deciding to give up on baseball, he called Calipari to see if there was an open spot for him at the school, meaning the Tigers didn't pursue him.
During his senior season at Putnam City (Okla.) High School in 2005, C.J. averaged 23.2 points, 4.1 assists and 2.4 steals. He also earned all-state honors.
"He's a guy that can play point guard and can shoot," Self said. "We've got some guys that certainly have played college minutes and performed well. But he's a guy that will come in and he'll challenge for significant minutes right off the bat."
More like this story on KUsports.com