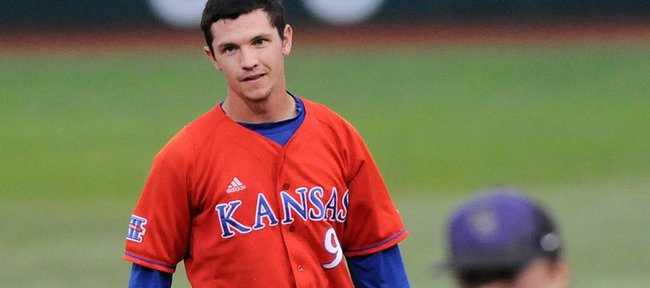 Manhattan — In a sense, Kansas University's baseball team was hoping to steal one Friday night against rival Kansas State.
The Jayhawks were confident in their chances, and they had wriggled their way into the Top 25 by knocking off a number of nationally ranked opponents throughout the course of the season.
But in K-State starter A.J. Morris, a junior right-hander ranked in the top three nationally in wins and earned-run average, the Jayhawks were taking on what might very well be the best pitcher they will see all season.
"We knew going in that they had the hammer tonight," Kansas coach Ritch Price said. "And we just hoped to play well enough to find a way to win."
In the end, they did not. The Jayhawks failed to get much of anything going offensively, striking out eight times and scattering just seven hits in a 4-1 series-opening loss to the 11th-ranked Wildcats.
In the end, this was not exactly a surprise. In 13 season starts entering Friday's game, Morris had gone 11-1 with a 1.67 ERA. He had averaged nearly a strikeout an inning and led the nation in wins. On a regular basis, he had mowed down some of the nation's best teams, including five ranked in the Top 25.
And Friday at Tointon Stadium, he did not veer much from this routine.
After giving up one run in the top of the third inning — Kansas second baseman Robby Price walked and later scored on a Buck Afenir sacrifice fly — the 6-foot-2 Morris, from Humle, Texas, did not allow another base-runner until the eighth inning, when the Jayhawks put runners on first and third before Morris forced an Afenir popout to end the inning.
Using a low-90s fastball and an especially effective series of breaking balls, Morris threw his fourth complete game of the season, striking out eight and walking one in his first outing since suffering his only loss of the year, a 6-0 setback to Texas Tech.
"He had probably some of the best stuff we've seen all year," said KU third baseman Tony Thompson, who went 1-for-4 with two strikeouts despite entering the game leading the Big 12 in home runs, RBIs and total bases. "You just think about coming back tomorrow, and we're going to have to ground it out the rest of the weekend."
Meanwhile, Kansas starter Shaeffer Hall — after allowing just two hits and no runs in the first five innings — could not overcome a rough patch to start the sixth inning, when the first five Wildcats battered reached base and K-State scored all four of their runs.
Following Friday's game, which marked K-State's eighth consecutive victory over Kansas, the series now returns to Lawrence, where Kansas has gone an impressive 23-3 this season and will look to avoid a letdown like the one it endured in last year's season-ending series.
In 2008, needing just one victory to secure a spot in the eight-team Big 12 tournament, the Jayhawks allowed a 5-0 series-opening loss to turn into a K-State sweep on the final weekend of the conference season, keeping them out of the postseason for the second straight year.
"I have no doubts," said Price, asked if he felt confident his team had the resolve to bounce back and win the series. "They're good at home. We're good at home. We're looking forward to going home, and our best guy pitches tomorrow, so we knew we had to win this series, and we still have an opportunity to do that."
The good news for the Jayhawks is that they've likely seen the best of the Wildcats' pitching staff. Kansas State's probable starters for today's and Sunday's games — Lance Hoge and Todd Vogel — have combined for fewer victories (nine) and strikeouts (65) than Morris alone.
"With a guy like that," said Thompson of Morris, "sometimes you've just got to tip your cap to him and get ready for the next guy that comes out there."
More like this story on KUsports.com