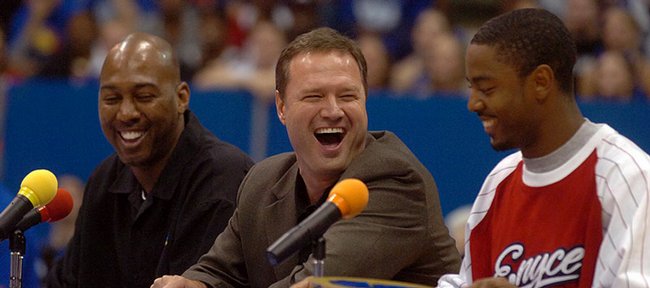 Aaron Miles, who played pro basketball in Greece this past season, in Spain in 2007-08 and in France in '06-07, doesn't know where he'll land during the '09-10 campaign.
"I'm not opposed to anything right now," said the 26-year-old former Kansas University point guard, who splits time in Lawrence and his native Portland in the offseason with his fiancee and baby boy.
He was back at Allen Fieldhouse on Wednesday visiting with KU's coaches just a couple of days after returning from Athens, Greece, where he competed for Panionios On Telecoms Athens.
"I've got to see what's best for my family. That's the most important thing. I'll take it from there and see where God leads me," Miles said.
Miles, who likely will play in one or more of the 2009 NBA summer leagues (he has yet to contract with a team), averaged 11.3 points off 45.4 percent shooting with 3.5 assists in 27 games in the Greek League. He averaged 10.2 points off 42.7 percent shooting, and 3.3 assists in 10 games in the Euroleague.
"I just love basketball. I'll continue to play as long as I can," Miles said. "I'd love to get back into the NBA. We'll just wait and see."
The 2005 KU graduate played in 19 games with the Golden State Warriors in '05-06, then after getting released finished the season in the NBA Developmental League.
Since then, it has been a great adventure overseas for KU's all-time assists leader.
"I played against Sasha in the Euroleague. His team beat us badly. They beat us twice," Miles said of Sasha Kaun's CSKA Moscow squad. "They made it to the championship and lost. I played against Billy Thomas over there before he came back to play in the NBDL (for league champ Colorado).
"I played against Kenny Gregory. He was in Greece then midway through the season moved to Spain. (Playing overseas) is a great experience, (but) it's nice to come back and hear English-speaking people, be on U.S. soil and see my fellow Americans. It's even better to see familiar faces and family."
Miles' girlfriend, Mikki, gave birth to Aaron, Jr. on Dec. 16, the same day his former teammate Wayne Simien's wife, Katie, gave birth to the couple's second daughter, Rael Simien.
"Aaron Marquis Miles, Jr., aka 'Deuce,''' Miles said with a laugh.
"That's my Deuce. That's the Second."
Miles was pleased to learn his buddy, Simien, who played in Spain last season, has decided to enter the ministry. Simien also makes his home in Lawrence.
"I knew that was going to happen. I didn't know it'd happen as soon as it did, as far as him retiring and jumping all the way into it," Miles said. "I'm happy for Wayne. If that's where his passion is at, I commend him for taking that step."
Meanwhile, Miles' best friend, former KU guard Michael Lee, is just completing his first season as a full-time college assistant coach — at Gardner-Webb, which went 13-17 this past season.
"I'm happy for him. It's an opportunity for him to grow as a coach and learn more and get experience," Miles said. "Hopefully the team can do a little better next year and continue to grow as a team and him grow as a coach so one day he an become a head coach and I can be his assistant."
Lee and Miles were inseparable through grade school, high school and college.
"Yeah," Miles said, asked if he missed Lee. "That's been my brother since I was a kid. I talk to him every couple days. Even when I'm over there, I call and talk to him. We check in with each other all the time."
Miles isn't ready to copy Lee and enter coaching.
"I can't do that just yet," said Miles, who still loves to play the game too much. "When the time is right, when God tells me, then I'll come coach."
Cothron to attend camp: Luke Cothron, the No. 9-rated player in the Class of 2010, will attend Bill Self's Elite camp in June, Rivals.com reports.
Documentary: KU guard Tyshawn Taylor is one of the players featured in the documentary, "The Street Stops Here," a story about coach Bob Hurley and his St. Anthony High basketball program. To see a trailer and learn more about the movie, which has yet to be aired, check thestreetstopsheremovie.com.
More like this story on KUsports.com