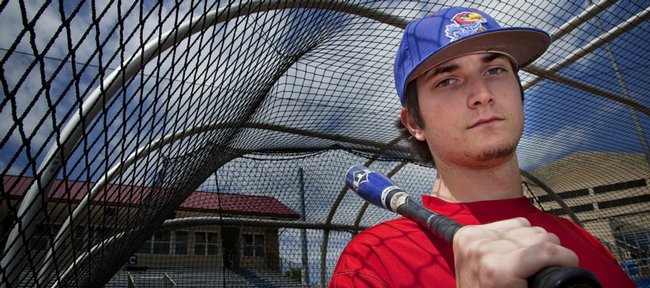 Chart topper
Tony Thompson sits near the top of multiple categories in the Big 12.
With a minimum of 50 at-bats, he ranks:
• 1st in HRs (17)
• 1st in RBIs (71)
• 1st in total bases (146)
• 2nd in doubles (20)
• tied for 3rd in hits (75)
• 6th in batting (.362)
Tony Thompson stopped in the middle of breakfast with his baseball team. Sometimes the best ideas come at the craziest of times.
He needed to do something for his grandmother Betty Brandt — the one who'd picked him up from preschool and laughed the loudest and made sure to go to all his baseball games.
Sure enough, the high school junior found his answer among milk, toast and eggs in front of him.
"ILMOBABA."
That would the best way to show her that he cared.
Winning over a family
Ever since attending a junior all-star game, Kansas University coach Ritch Price never stopped watching Tony Thompson.
The first time Price saw him, Tony, KU's sophomore third baseman from Reno, Nev., was taking batting practice. The high schooler was routinely hitting pitches over the light tower in left field.
The next time the coach visited, on July 4 at a Connie Mack Tournament, Tony came to the plate in the last inning with two outs, the bases loaded, and his team down three. A few pitches later, Tony blasted a walkoff grand slam to win it.
Price wasn't about to lose this one.
The coach perfected the walk. At every one of Tony's games he attended, Price would get up between innings, walking deliberately down from one end of the bleachers to the other to make sure everyone in the stadium knew a KU coach was there.
He finally was able to make his pitch at an in-home visit. Price talked about a team that had just won a Big 12 tournament championship, and one that would need a third baseman right away.
The two-hour presentation was so good that Tony's mother, Terry, started crying.
Price couldn't help but smile. He calls it one of the greatest moments he's had in recruiting.
"He knew that he won my mom over," Tony says, "and he was probably going to win me over, too."
Early signs of power
Tony's dad, Tim Thompson, kept waiting for the Little League statistics. They usually were made available for the 12-and-under league coaches halfway through the season. Finally, Tim realized what the holdup was about. The league statistician didn't want to release the stats with Tim's son — 10-year-old Tony — leading the league in hitting.
"He ended up having to do it anyway," Tim says with a laugh.
It wasn't the only early indicator of Tony's power. In Tony's first fallball game with his brother, he hit a home run on his first at-bat.
Tony was 8. His brother, Tim, was 11.
Most of the others in the league were 11 as well.
Here's another story: After his junior year of high school, Tony's summer-league team was forced to play on a junior varsity field because of construction.
In Tony's first at-bat, he received a high fastball and walloped it deep to left field.
The ball carried over the wall, over the street behind the wall, and hit a house on the next block.
Not only that, Tony's ball sailed so far it hit the roof on the opposite side of the house.
Tony remembers the owners of the house coming out and yelling at the players on the field.
They never were too happy with Tony.
That's because he hit the house three more times that summer.
A slugger's rhythm
Tony Thompson does the exact same thing every time he walks to the plate at Hoglund Ballpark.
His father, Tim, calls it Tony's rhythm. When looking for it, you see it.
The 6-foot-5 sophomore smoothes out the dirt in the right-handed batter's box, then takes two practice swings. After readjusting the top of his pine-tar-splotched helmet with his right hand, he steps into box, then tugs back slightly on his pants near his right hip.
His stance is spread wide — he says to help him keep his weight back so he can hit breaking pitches better — with a stiff left leg extended toward the pitcher. As he lowers his bat to brush his right shoulder, it immediately pops back in the air again, like a college student who's just realized he's dozed off during an Economics lecture.
The routine worked well for Tony in high school. He had 16 home runs his junior year and 18 his senior campaign, both in seasons that lasted about 30 games.
For a while, though, Tony felt lost when he first arrived at KU. He says the biggest trouble was adjusting to the speed of Division-I pitchers.
Through 10 games his freshman year, he hit just .176. Through 21 games, he was still stuck at .194.
His teammates and coaches stuck with him. Teammates encouraged Tony after he struck out, telling him that he'd get it the next time. Price kept putting his name in the lineup.
It all started to change for Tony in the Baylor series.
He had started to see the ball better, but any doubts he had about himself were put to rest in Game 2 against the Bears.
In the fifth inning, he drove a home run off Shawn Tolleson — currently the No. 23 college prospect in the 2009 MLB Draft, according to Baseball America.
Tony remembers the confidence that came after the home run: "I think I can start doing this now," he thought to himself.
Even after a slow start, the third baseman finished the year with a .276 average and five home runs.
This year, though, he vowed he was going to be better.
A gift from grandma
Tony Thompson didn't expect it.
After a game, Betty had picked him up and taken him to a sporting goods store.
The 11-year-old Tony immediately was drawn to a black, DeMarini baseball bat. He told Betty it was one of the coolest ones in the store. They left without buying it.
The next day, when they saw each other, Betty handed the bat to him.
"Here you go," she said. "I guess that's yours now."
Putting the work in
Terry Thompson says she isn't surprised at all by the new Tony.
In fact, she's more surprised that you're surprised.
"When Tony sets his mind to something," she says, "he does it."
Never was that more evident than earlier this year.
Tony never had a problem with his weight until this season. After coming to KU at 225 pounds, his weight had ballooned to 235.
"I felt like I was pretty much a slug out there," Tony says.
So he made an adjustment. And quickly.
In August, he decided he was done with junk food. No more Mexican food. No more pizza. No more cheese, though he says that was the most painful.
In their place, Tony made up his own diet centered on vegetables and pasta. He also stayed after team conditioning to do extra sprints and long-distance running on his own.
The pounds melted away. In two months, Tony had lost 30 pounds and was down to 205.
Elite KU status
Before Tony Thompson even stepped on campus, coach Ritch Price predicted he'd set KU's all-time home-run record.
Tony is well on his way now. He leads the Big 12 in home runs (17). Travis Metcalf's school record of 18 home runs looks like it might not stand. Ryne Price's career mark of 35 home runs doesn't look too safe, either (Tony has 22).
Not only that, Tony is leading the league in RBIs with 71. The next-highest on the list, Missouri's Greg Folgia, sits in a distant second with 61 RBIs.
Terry has enjoyed watching it 1,600 miles away in Reno. Oftentimes, she and Tim and their youngest son, Thomas, gather around the computer to watch Tony's games over the Internet.
After every home run, they exchange high-fives and yell out in excitement.
Terry only wishes that Betty was still here to watch.
"She would have loved to have seen this," she says softly.
All for Baba
They all called her "Baba."
One of Tony's cousins couldn't ever pronounce "Grandma." Baba was what came out instead. Betty had insisted that all her grandchildren call her that.
She loved it when Tony and his brother threw curveballs. She'd sit behind the plate, just waiting for the ball to break into the dirt. And when it did — and a poor 14-year-old had struck out once again against Tony — she'd laugh and laugh and laugh.
"Motherrrrr," Terry would say, emphasizing the last syllable to show her disappointment.
Terry laughs when recalling those days now. Betty Brandt loved to see her grandkids play baseball.
Tony knew the end was coming his junior year of high school. Betty was diagnosed with Lymphoma. The chemo wasn't working.
The day finally came when Tony was given the bad news. His grandmother's suffering was over.
Tony decided he would play for her. He figured out how at the breakfast table.
He needed to do something for Betty Brandt — the one who'd picked him up from preschool and laughed the loudest and made sure to go to all his baseball games.
He took out a black Sharpie and wrote out eight letters on the underside of the bill of his baseball cap.
Later that day, in his first two games without his grandmother, in a pair of games against one of toughest teams and pitchers in his high school's conference, Tony hit five home runs.
His message to his grandmother remains on the left side of each of his caps today. It's the same eight letters he first wrote four years ago.
ILMOBABA. "In loving memory of Baba."
"I feel like every time I hit one, it's for her," Tony says. "Just how much she gave for me and sacrificed to make sure I was doing well.
"I feel like everything I do on the field and in school is for her."
More like this story on KUsports.com