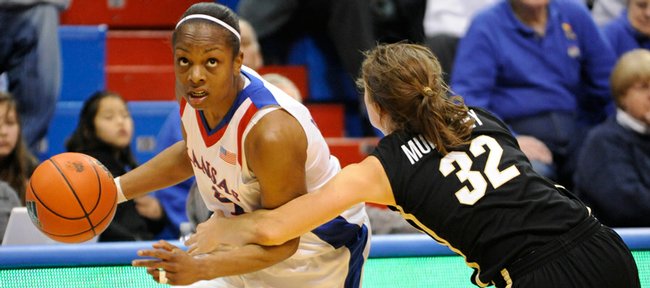 Throughout the first 20 or so years of her life, the idea of a consequential tryout has been a laughable matter for Kansas University guard/forward Danielle McCray.
As a three-time DiRenna Award finalist at Olathe East High, her spot on the Hawks' roster was locked in. As one of the most promising recruits in KU women's basketball coach Bonnie Henrickson's tenure, there was never any question she figured prominently into the Jayhawks' plans.
"I had to try out in high school, but I knew I was on the team," McCray said on Tuesday. "There was never a time I've just been like, 'Oh my gosh, I don't know if I'm going to make it.'"
Heading into this weekend's USA Women's World University Games trials in Colorado Springs, Colo., however, where she is one of 30 of the country's top college players invited to compete for 12 roster spots, that's precisely the position she finds herself in.
And on the eve of her four-day audition, held Thursday through Sunday at the U.S. Olympic Training Center, she admits to finally experiencing pre-tryout nerves.
"I'm getting that nervousness, trying to get ready and talking to people about what I need to do," said McCray, who averaged 21.6 points and 7.7 rebounds per game as a junior last season. "... But once I lace up my shoes and start playing, I'll be fine."
In the meantime, her preparation for the showcase — in which she'll be competing against a number of all-Americans, including Connecticut's Maya Moore and Stanford's Jayne Appel — has been extensive.
Two or three workouts a day have become commonplace over the past few weeks for McCray, an honorable mention all-America selection following the 2008-09 season.
"Saturday night I was in the gym from eight (o'clock) until 11," said McCray. "I was at 24-Hour Fitness in Olathe with a friend, just shooting and doing drills and playing — doing things that you normally don't do."
She's become a staple at the KU rec center as well, nudging her way into the all-male games, where many of the clueless participants roll their eyes at the initial sight of a girl taking the court.
"You always get the first shot wide open," she said.
The goal this weekend is to build upon a breakout '08-'09 season in which the Jayhawks advanced to the finals of the Women's National Invitational Tournament and McCray finished in the top 10 in the Big 12 in 10 statistical categories.
And a strong showing against the nation's best players would certainly accomplish that.
"I look at the list, and that's a lot of great players," McCray said. "There aren't a lot of players who even get to try out, so whatever the outcome is, it's going to be a good experience for me."
After the weekend, the team will be narrowed to 15 finalists, who will return to Colorado Springs on June 18 for training camp.
That number will be trimmed to the final 12 before the team departs for Belgrade, Serbia, on June 25.
More like this story on KUsports.com