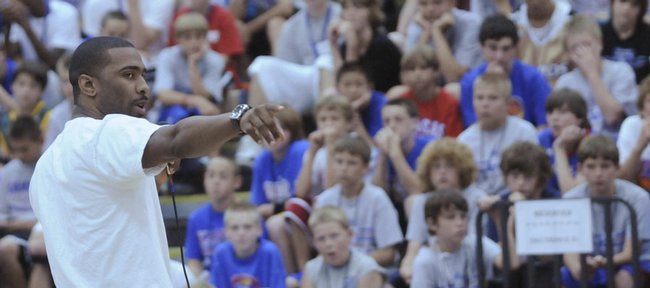 Former Kansas University basketball player Keith Langford — who recently led his La Fortezza Virtus team to a first-place finish at the 2009 EuroChallenge — has finished third in most valuable player voting in the Italian League.
"Usually they give it to somebody whose team finished in first place. His team was fifth. To finish third (in voting) is a great honor," Langford's agent, Michael Whitaker, said Monday.
Former Clemson guard Terrell McIntyre of regular-season champ Montepaschi Siena was tapped the league's top player.
Langford embraced a sixth-man role in averaging 12.9 points, 3.6 rebounds, 2.5 steals and 1.5 assists in 29 games. He averaged 14.7 points and 3.5 rebounds in earning MVP honors at the recent 15-game EuroChallenge.
His squad is currently competing in the first round of the Italian League playoffs.
"At first it was tough for him to embrace his role," Whitaker said of the 6-foot-4 Langford, who played 28.0 minutes per game. "(But) it'll catch NBA eyes. He's a guy you could bring off the bench to fill it up. I told Keith in all honesty, 'If you make an NBA roster, this is how it'll be.'"
Langford's Italian League team is close to signing him to a new two-year, $2 million deal, Whitaker said.
However, Langford is hoping for a buyout clause that would let him out of the contract if he makes the roster of an NBA team this summer or fall.
Langford plans to play for the Los Angeles Lakers' summer-league team in Las Vegas.
"A lot of teams have called. The (Washington) Wizards called. That situation didn't look good. They have 14 under contract," Whitaker said. "The (Memphis) Grizzlies called. The Lakers have only eight under contract for next year, with only one on the team required to play summer league. You want to get with a team where you have a chance to play (many minutes in the summer) and make the team."
Robinson update: Former KU guard Russell Robinson — who averaged 12.3 points and 4.4 assists per game this past season for Reno (Nevada) of the NBA Developmental League — told Rivals.com he'll attend a minicamp with the Cleveland Cavaliers in late June.
He also has been invited to play for the Orlando Magic in the NBA summer league in Orlando, Fla.
Robinson hit 44.8 percent of his shots, including 36.7 percent from three in 50 games. He said he also has received interest from the San Antonio Spurs and Golden State Warriors.
Thomas to decide soon: Transferring KU forward Quintrell Thomas' AAU coach tells Zagsblog.net that Thomas will choose either UNLV, St. Joe's or Siena "in the next day or so."
Stephenson update: Lance Stephenson, a 6-6 guard/forward from Lincoln High in Brooklyn, N.Y., has yet to choose a college. He's believed to be interested in Arizona and Memphis, but has not yet visited either school.
KU stopped recruiting Stephenson after landing Xavier Henry of Oklahoma City.
CBSsports.com's Gary Parrish writes that "even traditionally powerful schools that need players, like Arizona — are passing on Stephenson like he's Hamburger Helper at Cousin Eddie's."
Parrish's anonymous sources said that they believe "dealing with his father will create more headaches than wins, and/or that the NCAA might eventually question whether Stephenson's amateur status has been compromised. He has been a high-profile prospect since before high school, a notable talent on the summer circuit where agents and the runners who gather for them tend to invest in the futures of potential stars."
More like this story on KUsports.com