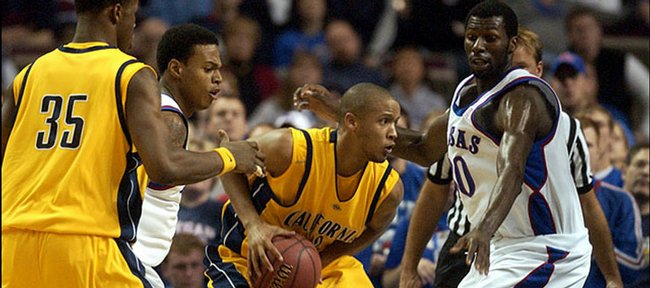 The acting bug has bitten former Kansas University basketball player Omar Wilkes.
"I've always enjoyed being the entertainer," said the 24-year-old Wilkes, who on Fridays and Saturdays performs in the comedic thriller, "Eavesdropper," at the Underground Annex in his hometown of Los Angeles.
"I always have been doing plays going as far back as grade school. I focused all my energy on basketball for a long time. Acting's always been a passion. Now that my playing days are over, I've shifted gears," Wilkes added.
Wilkes — he played at KU in 2003-04 before transferring to the University of California where he graduated with a degree in Social Welfare in 2007 — is starting to build a nice acting resume´.
Wilkes, who has filmed some commercials, worked as an assistant to the production team on the Will Smith movie, "Hancock."
"It was a chance to see what's going on behind the scenes. It's cool to be on the set with somebody like Will," Wilkes said.
He also was in one scene in the upcoming movie, "Shrink," which stars Kevin Spacey.
"I had five words in a scene with Kevin Spacey. It's a small part that will probably get edited out," Wilkes said.
As to what he learned working with Spacey, Wilkes said: "That you can't stare and watch with your mouth open on camera. You've got to act like you've been there before. It (movie) went to Sundance (Festival) and did pretty well. It's out in August or September, I think."
Up next is a trip to Colorado where Wilkes will be filming a trailer for a movie that he'll help pitch to financiers and also "doing auditions for whatever my agent sends me out on."
Wilkes satisfies his craving for basketball by playing in a league with fellow actors. He still follows KU's fortunes — as well as Cal's — and keeps in touch with former KU walk-on Nick Bahe, who finished his career at Creighton.
"Congratulations on last year's championship and keep up the great work," Wilkes said, asked if he had any words to pass on to the Jayhawks.
"I'll always have a soft spot in my heart for the Jayhawks. I did catch the (2008 title) game against Memphis. I was in half party-mode, half watching it. When KU was losing at the end, I was trying to not pay attention. Then I saw Memphis strike out at the free throw line and Mario hit the shot."
Though he graduated from Cal, Wilkes will remain a fan of both programs.
"I put on a KU shirt sometimes when I work out at 24-hour fitness," Wilkes said. "I'll hear Rock Chalk chants when I do that. It's so weird to see a Jayhawk T-shirt in Los Angeles that people will usually say something to me."
More like this story on KUsports.com