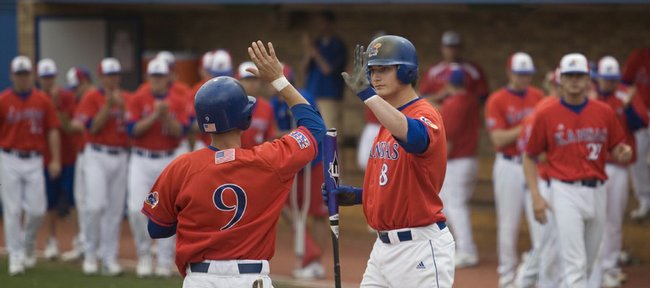 Columbia, Mo. — Preston Land's two-run single in the top of the fifth broke a 3-all tie, and David Narodowski and Casey Lytle each had a career-high four hits as the 23rd-ranked Kansas baseball team trumped Missouri, 7-4, Saturday at Taylor Stadium.
The Jayhawk victory evens the series at 1 and gives KU a 35-17 overall record, 13-10 in the Big 12. The 13 conference wins is the most for Kansas since going 17-8 in the Big Eight Conference in 1994.
MU fell to 29-23 and 15-11 in the Big 12.
KU trailed early, but in the fifth, Narodowski led off with his third home run of the season to tie the game.
Then after loading the bases with two outs, Land broke the game open with a two-run single. The senior first baseman has just two hits in three games against Missouri this season but has five RBIs after hitting a three-run homer against the Tigers on April 22 in Kansas City.
"That was a really big at-bat for him early in the game," KU coach Ritch Price sad. "He doesn't have a lot of hits (against Missouri), but he's been able to come up with guys on base and drive them in for us. He's in there for his defense, and he's in there to drive in runs, and he did both today."
After Missouri's Greg Folgia brought the Tigers within 5-4 with a leadoff homer in the fifth, the Kansas bullpen slammed the door, allowing no runs on one hit over the final three innings.
Sophomore starting pitcher T.J. Walz picked up his seventh victory of the season, scattering four runs on seven hits with three walks and five strikeouts.
"Coming back to win today was absolutely huge," Price said. "We got down early, and T.J. (Walz) didn't have his best stuff. He battled through six innings and kept us in the game, which is all we can ask. We had some great at-bats in the middle part of the game and were able to get on top and the bullpen slammed the door."
The Jayhawks and Tigers meet again at 1 p.m. today.
More like this story on KUsports.com