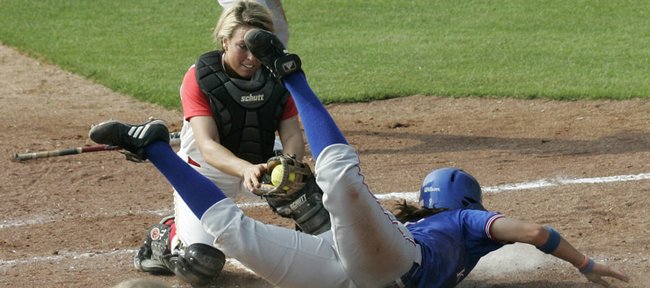 Oklahoma City — Kansas University held Iowa State to just one hit through five innings, but the Cyclones' Amanda Bradberry hit a two-out, two-run home run in the bottom of the sixth for the game's only runs in a 2-0 ISU decision over the Jayhawks in the first round of the Big 12 Softball Championship.
The setback ended the Jayhawks' season and marked the final game for retiring coach Tracy Bunge.
"I've really enjoyed my time with the University of Kansas," Bunge said. "I have a lot of great memories from my time here. I feel very privileged to have been a part of this for as many years as I have."
The No. 9 seeded Jayhawks, who also lost to ISU in their regular-season finale less than a week earlier, wrapped up their season with a 21-31 overall record.
No. 8 Iowa State, which goes on to play top-seeded Oklahoma today, improved to 26-28 overall.
The Jayhawks had chances Friday, but stranded 11 runners, including leaving the bases loaded in the fourth and stranding two runners in scoring position in both the third and seventh innings.
The Jayhawks outhit the Cyclones, 8-4, and were perfect on defense compared to three ISU errors.
Senior Val George tossed a complete game, allowing just four hits and one walk while striking out five batters.
Also playing their final game for KU were seniors Val Chapple, Stevie Crisosto, Dougie McCaulley and Elle Pottorf. Chapple went 2-for-4 from the plate, and Allie Clark also finished with a pair of hits, while Crisosto, McCaulley, Amanda Jobe and Ally Stanton each added one hit.
McCaulley, for the second straight year, was named to the All-Big 12 second team.
Also Friday, Chapple was named one of four members of the All-Big 12 academic softball team with a perfect 4.0 grade-point average.
In addition to Chapple, a senior third baseman from Olathe East, George, Pottorf and Jobe compiled GPA's of 3.20 or better and made the first team.
KU's second-team selections — all with at least a 3.0 GPA — were Crisosto, Brittany Hile, Liz Kocon, McCaulley and Sarah Vertelka.
More like this story on KUsports.com