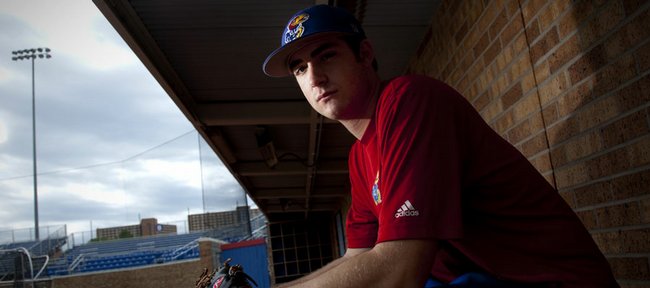 Lee Ridenhour wants to talk about Texas A&M.;
It is an overcast Monday in March, and Ridenhour, the supremely talented freshman right-hander for the Kansas University baseball team, is lounging in a chair in the KU media-relations office, less than 24 hours removed from enduring the first rough outing of his young career — a 6-5 loss to the Aggies in which he gave up six runs on four hits.
And while one might assume that he wouldn't mind shoving the A&M; game into the deepest annals of his subconscious, he has instead steered the conversation directly back toward it, an apparent attempt to scour the wreckage to see which lessons can be pulled from it.
"Yeah, but you've got to look at yesterday's start," he is saying, shrugging off a question about his early-season dominance. "For instance, what do I need to work on? I know there are going to be times when you struggle. There are going to be times when you don't really feel it. But when I can't get into a rhythm, what is it going to take to still put the team in position to win the game?"
He pauses, seeming to ponder the question.
In a sense, developing answers to question like these is a large part of why Ridenhour is at KU, having passed up an opportunity to sign last summer with the Minnesota Twins, who selected him in the 31st round of the 2008 free-agent draft.
Yes, the success he has enjoyed in his first year in Lawrence has been a pretty nice perk. Ten weeks into the 2009 season, he is 5-2 with a 4.04 ERA, although those numbers fail to do justice to the impact he has had on this year's Kansas team. In his 12 starts this season, the Jayhawks — who are currently ranked No. 23 in the country and preparing for a three-game road series with Missouri that begins tonight — have gone 8-4, and on only three occasions has he allowed more than three earned runs in a game.
More than the success, however, it is the desire for self-improvement that seems to drive him — the process of self-analyzing, of figuring out where the holes in his game are located and then figuring out how to patch them up.
So, yes, he'll tell you that he's happy with how things are going this spring. And that, yes, he's surprised himself a bit this year. But he'll also remind you that there is plenty of work still to do. That he has embarked upon a kind of undergraduate education in collegiate baseball, one in which each game is a lesson, each at-bat a test.
Introduction to Div. I Baseball 100
Course description: Developing and understanding of the basic tools necessary to compete at the Div. I level, understanding past accomplishments do not necessarily result in future success.
Here is a story: After Kansas' coaches sweated through last summer's draft — after they spent weeks wondering whether he'd sign with the Twins and after they'd finally locked up the player KU coach Ritch Price later would call the best pitching prospect Kansas ever has signed during his tenure — Ridenhour arrived on campus in August and promptly proceeded to get abused by Kansas' veteran hitters during the fall season.
In high school, while he was busy earning all-state, all-Kansas City Metro and all-conference honors at nearby Shawnee Mission West High, Ridenhour had not run into too many problems on the mound.
During his first few weeks in Lawrence? Not quite as easy-going.
The 90 mph fastball that screamed past flailing batters a year earlier? At best, it was an average pitch at the collegiate level. The lack of an effective off-speed pitch was equally apparent, and the pitches he could get away with throwing down the middle against 18-year-old preps were being driven out toward Naismith Drive on a regular basis.
"What he found out," says Price, "was that he had to make a quality pitch every time."
Over time, things began to improve. He learned the tricks necessary to compete at the Div. I level. That meant understanding that the game boasts a far greater level of complexity in college than it does in high school. That a 92 mph fastball was different than a 92 mph fastball that nipped the outside corner. That perfecting pitches — not just throwing them — would be crucial to his success.
"It wasn't like I didn't have good stuff," Ridenhour says, "it was just a matter of developing what I had."
Over the course of the fall, he began to do that. He got shelled, worked harder, got shelled some more, made adjustments, got shelled a little bit more and slowly began to figure out how to pitch at the college level.
By opening day, he'd progressed enough that the team's coaches had decided to tuck him into a midweek starting role, let him cut his teeth against some of the team's lesser nonconference opponents, and see what happened.
Trial By Fire 250
Course description: Curriculum includes learning by doing, being thrown into unenviable situations and adapting to intimidating surroundings quickly.
As it happened, a thunderstorm in Tennessee paved the way for Ridenhour's emergence this season.
Originally scheduled to make his debut against an underwhelming Bradley team on Feb. 22, that changed after the game was been rained out and Kansas' coaches found themselves in need of a starter for the Jayhawks' game against No. 21 Arkansas a few days later.
That starter would be Ridenhour.
Even though he had made significant strides throughout the fall and winter, however, coaches weren't quite sure what to expect in Fayetteville. He was still a freshman, after all, and this was still Arkansas.
As Jayhawks pitching coach Ryan Graves put it recently, "It's not really a team you want to start a freshman out against."
That became quickly apparent during the Razorbacks' first at-bat of the game, when Ridenhour gave up a leadoff single. The next inning, he walked the leadoff batter, and in the third, thanks to a walk and a double, he put runners on second and third.
But a funny thing happened. Every time it started to look like the wheels might come off and the freshman was going to succumb to the obvious pressures of the situation, he responded.
Through three innings, he didn't allow a run. Through four, the Jayhawks held a solid 5-1 advantage.
It wasn't a flawless performance. He gave up an RBI single in the fourth and a home run in the fifth, but when he left the game following the fifth inning, the Jayhawks led 6-2 and ended up holding on for a 9-3 victory, handing the Razorbacks their first loss of the spring and catching the attention of the Jayhawks' coaching staff.
Crisis Management 300
Course description: Learning to keep your team in games, even on days your fastball has no bite, your slider has no slide and your change-up is non-existent.
Ridenhour followed up his victory over Arkansas with equally impressive performances against North Dakota (five innings, five hits, two earned runs), Wichita State (eight innings, three hits, no runs), San Diego State (seven innings, three hits, one run) and Texas (62⁄3 innings, eight hits, two earned runs), gaining confidence and momentum with each successful outing.
Things were going so unbelievably well, in fact, that it began to look as if he were incapable of turning in a poor performance.
But on March 29, against an Aggies team that began the season ranked No. 1 in the nation, things were a little off. The following week, during a preposterously windy day against visiting Baylor, he lasted just three innings, giving up six runs on seven hits in a 21-9 Jayhawks loss.
He managed to rebound well in his next three starts, allowing just five runs in 171⁄3 innings against Oklahoma State, Texas Tech and Nebraska, but the rough outings let him know that, despite his successes, he was far from a finished product.
"You never want (to lose), but in a sense, yeah, it was probably good to go through that," he says. "When you struggle like that, you've got to find a way to still win the game. I know there were things I could have done, and maybe if I do those, six runs could have been three runs and we could have won the game."
Maintaining Success 400
Course description: Building upon the principles learned in previous courses, using on-field success as a motivational tool, continuing to find ways to make developmental advances.
And so here we are, on the homestretch of what has been an unexpectedly successful season. On Wednesday, Ridenhour won his fifth game of the season, against Wichita State, and this weekend, he figures to play a prominent role coming out of the bullpen.
At this point, there is no denying his impact on a team that — thanks largely to its pitching — likely will be making its first appearance in the Big 12 tournament since 2006.
"As far as mound presence and how he conducts himself on the mound," Graves says, "he's as good as we have."
But maintaining his rate of development will be key heading into next year.
Occasionally, Ridenhour admits, he allows his mind to wonder what it would be like had he signed with the Twins, what it would be like to devote his days strictly to baseball instead of worrying about midterms and early-morning classes, to be living the dream instead of preparing for it.
But he also wonders — and this is what should be encouraging to Kansas baseball fans — whether he'd have the same opportunities he has had in his first year at KU.
In less than a season of college baseball, he has stared down hitters from some of the nation's top teams, put himself into jams, worked his way out of them. He has experienced things he's not sure he would have been at the professional level.
The 2011 Major League Draft (the first time he'll be eligible) isn't far from his mind. This is still the long-term goal. Ridenhour makes no secret of his desire to play at the game's highest level, and he wouldn't mind doing it for the Twins, the team that gave him his first opportunity a year ago next month.
"I'd love to do that," he says.
These are issues for another day, however.
For now, there are still lessons to be learned. Pitches to be mastered. The occasional wreckage to be picked through.
For now, the education continues.
More like this story on KUsports.com