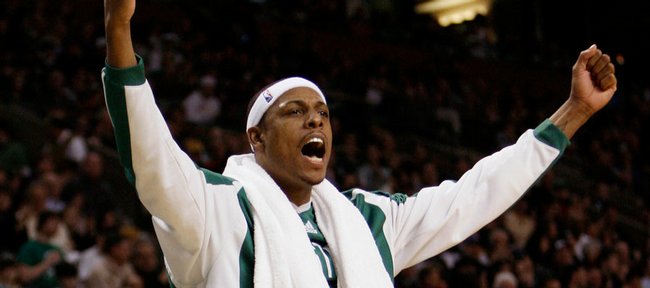 Reader poll
Kevin Durant

6%

91 votes

Paul Pierce

82%

1114 votes

Chauncey Billups

8%

117 votes

Other

2%

30 votes
1352 total votes.
Together, Kansas University and Texas make up nearly half of the Big 12 players currently playing in the NBA.
Of 41 Big 12 players in the NBA, 19 of them (46.3 percent) wore a Jayhawk or Longhorn uniform in college.
It makes perfect sense when looking at the last four seasons of Big 12 hoops. From the 2005-2006 season to the recently completed 2008-2009 season, Kansas and Texas have, between them:
• Faced each other in the Big 12 tournament title game three of the past four years.
• Won the past four regular-season Big 12 titles (KU outright in '08-'09, '06-'07; shared in '07-'08, '05-'06).
• A combined conference record of 101-27.
• A national championship, three Elite 8 appearances and a Sweet 16 appearance.
Also consider:
The leading Big 12 scorer in the NBA right now: UT's Kevin Durant (25.3 points per game).
The conference's leading rebounder: UT's LaMarcus Aldridge (7.5).
The Big 12's leader in assists: UT's T.J. Ford (5.3).
Don't expect the power to shift any time soon. No. 1 will likely be the only preseason ranking given to the Jayhawks by any publication next year. ESPN.com's Andy Katz has UT trailing closely at No. 4.
The 19 KU and UT players in the NBA could balloon to nearly 30 in the next two years with names like Sherron Collins, Cole Aldrich, Xavier Henry, Marcus Morris, Markieff Morris, A.J. Abrams, Damion James, Dexter Pittman, Avery Bradley and Jordan Hamilton.
But what about the rest of the conference?
After KU's 11 NBA players and UT's eight, only Missouri (four) and Oklahoma State (four) even come close. And, well, it's not really even that close.
Texas A&M; and Kansas State have three NBA players apiece, while Nebraska (two), Iowa State (two), Colorado (one), Baylor (one), Oklahoma (one; not for long, though) and Texas Tech (one) round out the conference.
Here's my all-Big 12 NBA team, if I were to vote on a team today:
1. Chauncey Billups, CU, Denver
Mr. Big Shot (17.7 points, 6.4 assists) would be an ideal fit for any team at point guard. Best trade in the history of the Nuggets franchise? Acquiring Billups for Allen Iverson.
2. Paul Pierce, KU, Boston
The Truth (20.5 points, 5.6 rebounds) is the Big 12's most polished NBA player. This would be a super-experienced backcourt with Pierce and Billups both winners of an NBA championship.
3. Kevin Durant, UT, Oklahoma City
Durant, easily the Big 12 player with the highest ceiling, improved his play in just about every category this season. Durant just completed his second year in the league. His points per game improved from 20.3 to 25.3; his rebounds from 4.4 to 6.5; assists from 2.4 to 2.8; free throws made from 4.9 to 6.1; FT's attempted from 5.6 to 7.1, which proves he's becoming more aggressive.
4. Drew Gooden, KU, San Antonio
Gooden's becoming quite the journeyman (Memphis, Orlando, Cleveland, Chicago, Sacramento, now the Spurs), but his 11 points and seven boards per game are solid.
5. LaMarcus Aldridge, UT, Portland
Aldridge is finally becoming the force the Blazers thought he'd be (18.1 points, 7.5 boards). He averaged just around those numbers in six playoff games this year as well.
Four of these five are Jayhawks or Longhorns. Sounds about right.
More like this story on KUsports.com