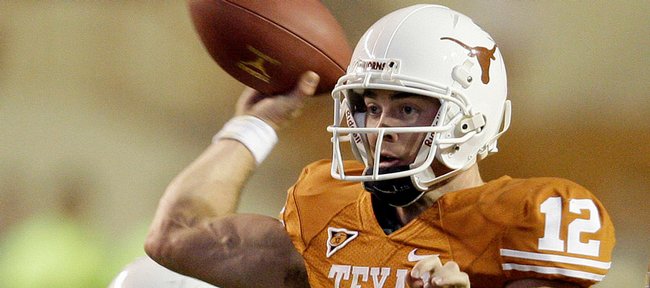 Fort-Worth, Texas — Don't expect too many changes in Big 12 South football this fall.
When the dust settled last season, Texas was fourth in the final Associated Press poll with a 12-1 record, Oklahoma (12-2) was fifth and runner-up to Florida in the national championship game, Texas Tech (11-2) finished 12th, and Oklahoma State (9-4) was 16th. Those four schools have the bulk of their talent returning next fall.
With the resurgence of Baylor and with Texas A&M; expected to improve, the Big 12 South is shaping up to be as tough as it ever has been.
"I'm guessing that there's probably going to be at least four teams in the Top 20 and maybe three of them in the Top 10," Oklahoma State coach Mike Gundy said. "So I'm guessing it's going to be pretty tough."
Gundy has heard cries from other coaches about how difficult it is to survive in, say, the Southeastern Conference. Now he truly understands their plight.
"But the difference is when you play in this division and this league, you have to be ready to play each week," Gundy said. "You have to get your players prepared to play a Texas, and then if you win, then you better get them ready Tuesday to practice to get ready to play an Oklahoma or a Texas Tech or whoever it may be.
"And that's the most difficult part, in my opinion, as a coach is to continue to take these men and get them to play at a high level each week. So I don't think there's any question it's a difficult league, but that's a good thing."
What will make the Big 12 South so challenging this fall is that every team except Texas Tech has a returning starting quarterback.
Two of those quarterbacks — Oklahoma's Sam Bradford and Texas' Colt McCoy — finished one-two in last year's Heisman Trophy voting, with Bradford also claiming the Davey O'Brien Award.
Oklahoma coach Bob Stoops says the Big 12 South could be the toughest division in the nation.
"I think it probably was as well a year ago," Stoops said. "And with so many experienced quarterbacks and big-play guys that are back, then you can see where you've got a legitimate (claim) there."
Tech coach Mike Leach, who has groomed Taylor Potts to replace three-year starting quarterback Graham Harrell, agreed.
"I think the fact that good quarterbacks are back is a big key because it provides a level of leadership," Leach said. "And I think that leadership through the summer allows you to get really good, solid, productive work."
Baylor is excited to build around fleet-footed quarterback Robert Griffin, who was named a first-team freshman All-American. Still the Bears went just 4-8 last season.
"We felt like, arguably, the South is the toughest division in America, and I don't think that's shocking anybody saying that," Bears coach Art Briles said. "We need to be a part of it; we don't need to just be a member and say, 'Hey, we're in the South.'
"I think we need to be a player. If you're going to play football, if you're going to do whatever you do, do it against the best."
More like this story on KUsports.com