Photo Gallery
Jayhawk Invitational 2009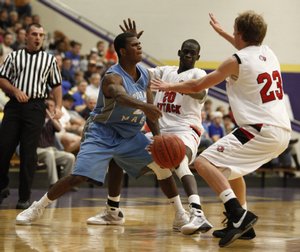 Highly-touted basketball recruits squared off May 1-3 at locations around Lawrence.
One of the top high school basketball players in the state of Missouri feels right at home in Kansas.
"I've been here several times — for the KU-Mizzou game (March 1), and I came here for team camp (last summer)," said 6-foot-3 St. Louis Chaminade sophomore sensation Bradley Beal.
"Kansas is a great school. It's one of my top schools," Beal added after scoring 17 points in the St. Louis Eagles' 71-54 victory over Minnesota Pump N Run Saturday at Haskell's Coffin Complex.
Beal — he scored 24 and 22 points in the Eagles' first two games in the Jayhawk Invitational — is considering KU, Missouri, Florida, Illinois, Indiana, Purdue and others.
Several current KU players were on hand to watch him hit five of 15 shots (one three) and six of six free throws against Minnesota.
"I could have played better, could have shot better," said Beal, who grabbed four rebounds.
One off day from the field won't tarnish Beal's reputation.
He's already a prep legend of sorts in Missouri after exploding for 30 points in Chaminade's 80-70 Class 5A state title victory over Grandview High.
He scored 15 of his team-high 19 points in the fourth quarter in helping Chaminade rally from an 18-point deficit in the final eight minutes of a 66-65 state semifinal victory over Rock Bridge.
"Bradley in the finals … he was lights out," Chaminade coach Kevin Lee told Illinihq.com. "He was great. When he's going, there's no one better than him.
"What a difference a year makes from freshman to sophomore year," Lee added. "He grew some more. He got a little bit stronger. He's always had that sweet shot. He just became a natural. In the summer, he showed me some things. But to make a run like this (to state title), I have to be honest with you, no, I didn't think we'd do it."
Those who watched Beal play Saturday at Haskell likely would agree with Brad's own assessment of his game.
"Smooth overall," he said. "I play real calm and relaxed. I don't let anything bother me out there."
He said he doesn't mind the attention that being a top recruit brings.
"It was fun," he said of playing Saturday before a hundred or so fans, including several wearing KU T-shirts. "They've been coming to watch me in high school. I'm used to it."
•Tourney tidbits: Future KU guard Royce Woolridge of the Arizona Magic scored 24 points in a pair of victories Saturday over Legacy X Factor and MSB Roadrunner. He had 26 in a loss to Minnesota Fury — a loss that ousted Woolridge's team from the tourney. ... KU recruit Harrison Barnes, a 6-6 guard/forward from Ames, Iowa, scored 32 points and had 10 rebounds in All-Iowa Attack Red's victory over MSB Roadrunner. ... The 17 and under finals will be held at 3 p.m. today at Haskell. The 15 and under finals are at 12:40 p.m., and 16 and under finals 1:50 p.m., both at Haskell. ... Several KU players, including 7-foot newcomer Jeff Withey, attended games Saturday. Withey said he reported to KU in December weighing 212 pounds. He's now up to 229. Other KU players seen at Haskell: Mario Little, Marcus Morris, Markieff Morris, Jordan Juenemann.
•KU-Memphis still on tap: Rumors are rampant that KU now will play Louisville instead of Memphis in a one-day doubleheader on Nov. 17 in St. Louis. KU senior associate athletic director Larry Keating said Saturday that — as of this weekend — KU is still scheduled to meet Memphis, with Louisville meeting Arkansas in the other game. Keating said TV officials have mentioned switching the matchups in St. Louis, but as of now "nothing has come back to us concrete."
More like this story on KUsports.com