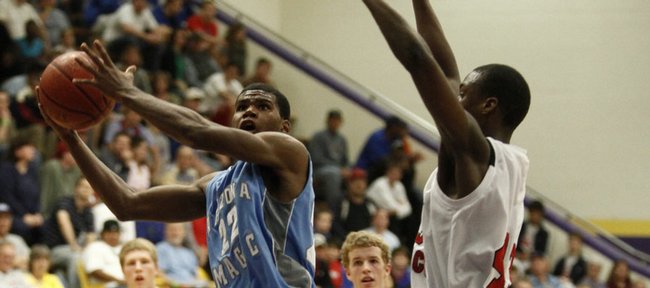 Photo Gallery
Jayhawk Invitational 2009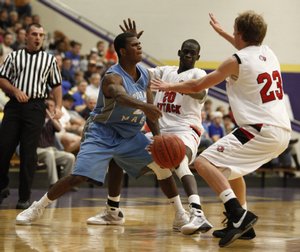 Highly-touted basketball recruits squared off May 1-3 at locations around Lawrence.
Royce Woolridge insisted nerves weren't a factor on Friday night. Playing big games in front of bigger crowds, after all, is nothing new for Kansas University's first men's basketball commit from the class of 2010.
His Arizona Magic AAU coach, Kenny Mullins, knew better, though. This was different from other tournament trips. This was Woolridge's first opportunity to play as a Jayhawk commit in front of his future home fan base in Lawrence.
"He said he wasn't nervous," Mullins said. "But any 16-year-old kid in an environment like that, going to Kansas, there's probably going to be a little bit of pressure. He wants to play well. I'm sure he was nervous."
The extent of Woolridge's jitters may never be known. He hid them too well with his performance on opening night of the Jayhawk Invitational Tournament. Despite his team's 78-67 loss against the All- Iowa Attack, Woolridge did not disappoint, scoring a game-high 29 points in front of roughly 2,000 people at Haskell Indian Nations University.
Woolridge, a 6-foot-3 shooting guard from Phoenix Sunnyslope High, demonstrated his ability to penetrate the lane with his crossover dribble and finish difficult layups in traffic. He shot 11 for 25 overall but 10 for 18 from inside three-point range, all while being matched up against All-Iowa Attack's 6-6 small forward Harrison Barnes, another top recruit from the class of 2010.
"It was fun having somebody like that guarding me," Woolridge said.
Barnes finished with 23 points and nine rebounds on 8-of-17 shooting from the field.
Woolridge said the butterflies in his stomach dissipated as tipoff drew closer, in part because family members from Johnson County and Iowa made the trip to Haskell.
"It was good to see them, kind of calmed me down a little bit," he said.
Mullins said Woolridge's poor three-point shooting performance (1 for 7) was atypical and expected his guard would bounce back today.
"Every guy has an off night from the floor, but he did a good job of attacking the basket like he usually does," Mullins said.
Woolridge, who is ranked by Rivals.com as the No. 88 prospect in the class of 2010, was asked if the low recruiting ranking bothered him. He did not hide his disappointment, particularly because fellow Phoenix shooting guard Daniel Bejarano, a Texas commit, is listed at No. 16.
"Actually, I do care," Woolridge said. "In Phoenix, there's another player ranked way higher than me. Everybody's like, 'How come?' I was like, 'I dunno. I dunno why they do me like that.' But, I'm going to keep playing, try to get higher. Show people that I'm good enough to be at the top with everybody else.
Woolridge figures to move up if he continues his strong play this summer on the AAU circuit. That continues today when his Arizona Magic play two games at Lawrence High, the first at 8 a.m. and the second at 12:40 p.m.
More like this story on KUsports.com