Photo Gallery
Jayhawk Invitational 2009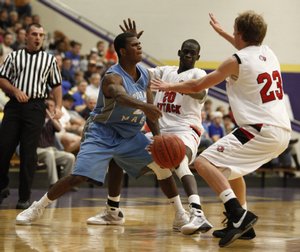 Highly-touted basketball recruits squared off May 1-3 at locations around Lawrence.
Harrison Barnes waved to the fans after receiving a loud ovation at the end of his All-Iowa Attack's 78-67 victory over the Arizona Magic on Friday night at Haskell's Coffin Complex.
"I'm feeling the love from the Kansas fans. It was nice," Barnes, Rivals.com's No. 4-rated player, said after scoring 23 points and grabbing nine rebounds.
Barnes, a 6-foot-6, 205-pound junior guard/forward from Ames (Iowa) High, hit eight of 17 shots, including three of seven threes. He also dished three assists, including two second-half lobs that resulted in dunks.
He also expended a lot of energy guarding 6-foot-3 future KU player Royce Woolridge, who scored 29 points off 11-of-25 shooting, including one of seven threes. Woolridge did not guard Barnes.
"He's a very explosive player, very low (to the ground), with tight handles and can get to the rim," Barnes said of Woolridge.
Barnes played a physical brand of defense versus Woolridge, who had several nice drives to the hoop.
"We were both trying to win the game. It got intense after a while. I have no hard feelings," Barnes said of the duo's aggressive play.
Barnes — he attended both Late Night in the Phog and the KU-Tennessee game last season in Allen Fieldhouse — has a final list of 12 schools.
They are: KU, Duke, North Carolina, Oklahoma, Stanford, Minnesota, Southern California, UCLA, Iowa State, Florida, Kentucky and Texas Christian. He said he'll definitely take five official visits his senior year.
"I've been impressed with the community support," Barnes said. "Allen Fieldhouse was packed for Late Night and the students were gone. It was packed for the Tennessee game and the students were on break. The fans (including 2,000 Friday at Haskell) are really passionate. Coach (Bill) Self is personable, easy to talk to, has great relationship with his players. I feel I have a great relationship with him."
l Late arrival: Barnes arrived at Coffin Complex 20 minutes before tip. He and his mom made the drive from Ames to Lawrence.
"I had to take a test (Friday afternoon)," said Barnes, who has a near-perfect grade point average. "We were pushing it a little bit."
l Jayhawks in the crowd: Several KU players were on hand including Cole Aldrich, Brennan Bechard, Marcus Morris, Markieff Morris, Travis Releford, Tyshawn Taylor, Jeff Withey and Mario Little.
l Schedule: Barnes today will play at 10:20 a.m. and 12:40 p.m. at KU's Ambler Center. Woolridge will play at 8 a.m. and 12:40 p.m. at Lawrence High.
l Henrys on TV: Future KU players C.J. and Xavier Henry appeared on ESPN's First Take show on Friday morning.
Xavier revealed that he will wear No. 1 and his brother No. 13 at KU. Both wore 13 in high school in honor of their dad, Carl, who wore 13 at KU.
"We came to an agreement on that one," Xavier said.
l Stephenson update: Lance Stephenson, a 6-foot-6 senior guard/forward from Brooklyn, N.Y.'s Lincoln High, has eliminated St. John's and Maryland from his list of schools, the New York Daily News reports. The Daily News says Stephenson is considering Arizona, Memphis and possibly Kentucky. KU, which has filled its 13 scholarships for next season, had no room for Stephenson after landing Xavier Henry.
More like this story on KUsports.com